IATA warns of 'de-globalisation'; latest traffic casts doubt on the bottoming of air travel declines
Analysis
Premium air travel markets continue to deteriorate, despite positive signs from some of the world's leading economies, prompting a worrying new warning from the International Air Transport Association (IATA). The deterioration in international air travel in, to and from Asia during May, despite recovering economies in the region, says IATA, is a troubling sign of "what is being called 'de-globalisation'".
IATA stated that premium volumes within and to/from the Asia Pacific region deteriorated in May-2009, falling 31.6%, against a 26.6% decline in 1Q2009, "despite continued growth in China and signs in Japan and Australia that economic activity is starting to turn up". The industry body stated a large part of this deterioration may represent the impact of passenger concerns about swine flu (following the region's experience with SARS in 2003), but warned "other more worrying influences" could be at work.
China's phantom demand, diverting from regional growth?
IATA observed, "with most of Asia's private sector unburdened by the debt holding back a recovery in spending in North America and Europe, the Asian economies are expected to be the first out of recession. China's GDP is expected to accelerate in the second quarter. However, perhaps because the economic recovery is focused on generating a domestic recovery in each economy, the boost to international travel is more limited".
It added, "many of the economic recovery packages introduced by governments around the world have either explicitly or implicitly tried to focus additional spending on domestic production, including incentives for domestic bank lending at the expense of cross-border capital flows. There is a danger here that the boost to other economies through trade and capital links will be reduced".
China's growth in the early part of this century has been largely responsible for rapid expansion throughout the region. However, with Beijing's current preoccupation in stimulating domestic demand through government pump-priming could well be undermining this leadership role in a bid to prop up the domestic economy. The inherent risk, if this is a correct scenario, is that domestic growth in China is in fact wholly dependent on the government's fiscal intervention.
Doubts about hitting the bottoming of the well
The number of passengers travelling globally on premium tickets in May fell 23.6%, compared to a 22% decline in April and a 19.2% fall during 1Q2009. Premium travel numbers have been in decline now for 12 consecutive months and the latest figures for May-2009 "cast doubt on the view that a bottom to the travel decline has been reached", according to IATA.
IATA total premium traffic growth: Feb-07 to May-09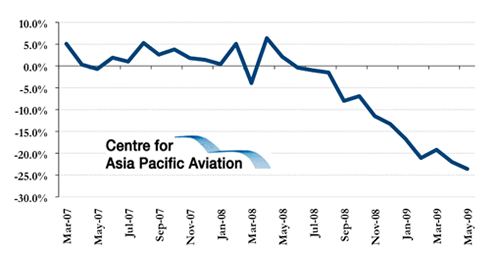 The airline body added the "stabilisation" seen earlier in passenger kilometres flown now appears to have been due to a small rise in the average distance flown, "due to the geographical pattern of changing travel markets, and not to a stabilisation of passenger numbers".
Even bigger impact on revenues
IATA notes that while premium passengers account for only 7-10% of total numbers, they are responsible for 25-30% of passenger revenues. Premium fares fell at an accelerating rate through Apr-2009 to a level around 20% lower than last year. Moreover, IATA observes, "premium seats are being discounted on average much more than economy seats, despite the latter usually being the more price-sensitive segment of the market".
The bottom line is a further 20% decline in average premium fares on international markets in May-2009 translates into a shocking 40-45% fall in premium revenues.
Premium traffic: May-09 vs May-08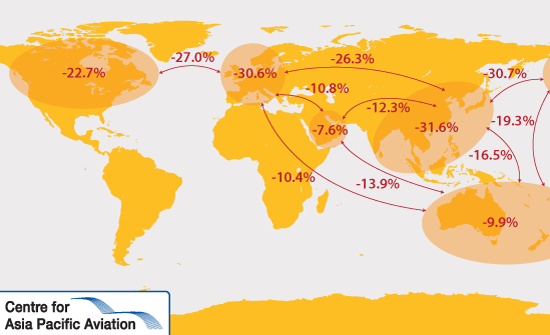 Asia hit hardest
IATA noted the following on premium demand by region.
"The picture was very mixed across the regions. Markets from Europe-Middle East and Middle-Far East are growing for economy travel, but this may represent a shift by business travellers to the back of aircraft and a larger market share of Europe-Far East markets being gained by Middle Eastern airlines rather than any sign of travel demand revival.
"African cross-border markets (along with China's domestic travel) are perhaps the only unambiguous signs of growth, supported by growing economies, with premium travel up 1.1% in May".
Premium traffic: YTD 2009 vs YTD 2008
Within-Asia premium down 31.6% in May-2009 and H1N1 still a concern
"At the other end of the spectrum in May was Asia, where travel deteriorated further, despite signs of an early economic revival, partly Influenza A(H1N1) concerns but potentially also a worrying sign of 'de-globalisation'. Within the "Far East" premium travel was down 31.6% in May, across the Pacific down 30.7% and from Europe to the Far East down 26.3%; all following rather smaller declines in the first quarter. The impact of H1N1 on air travel was shown more clearly in the 62.4% fall in total passenger numbers within central America during May.
Showing signs of stabilisation, but not revival as yet were the large transatlantic and the within-Europe travel markets. Premium travel across the Atlantic fell by 16.5% in May, compared to 18.4% in April and 17.8% in 1Q2009".
Outlook: 'De-globalisation'. Is this recovery or merely adjustment?
If IATA's warning about 'de-globalisation' forces play out, the airline industry as we know it is indeed in considerable strife.
The Centre's view is that there are numerous conflicting interpretations that can be made of statistics emerging on the back of the various government interventionist packages. This judgment is based on the absence of any clear sign that the airline industry – typically a very useful forward indicator – has yet turned the corner.
For example, China's recent domestic traffic growth figures have been strong (albeit measured against weak figures in the equivalent months in 2008), but this has largely been driven by very significant discounting and against the background of great largesse from Beijing. This is not the same as a recovery; it is more like a good adjustment to continuing difficult conditions.
If that interpretation is correct, then each month's data now will help fill out the picture, especially when freight bookings for the pre-Christmas 2009 quarter start to show. Carriers like FedEx remain extremely cautious on this front, while key Asian carrier cargo yields continued to deteriorate last month. If the shattered air freight market does not recover strongly over the next three or four months, we will know we are in for a long struggle.