IATA seeing improved premium demand in Asia; Thai Airways shares gain on upbeat 1Q2010 outlook
Analysis
IATA, in its Premium Traffic Monitor for Jan-2010, stated that premium (and economy) traffic continued to show "very strong growth" within Far East/Asian markets, reflecting the strong economic upturn being experienced in this region, driven by growth in the Chinese economy. Premium traffic 'within Far East' markets increased 15.5% in the month.
Overall air travel (measured by passenger numbers) increased 5.7% in Jan-2010, with traffic (RPKs) growing at a faster rate (by 6.4% in the month), as average distances flown were increased by the concentration of the upturn in the relatively longer route areas of Asia.
Premium travel shows signs of recovery: IATA
By seat class, both economy and premium travel are now growing at a similar pace, with the number of economy passengers up 5.7% in Jan-2010 and premium passengers up 5.5%. However, IATA was quick to note that this year-on-year growth rates give a "misleading impression of the stage of the cycle in these air travel segments".
Passenger traffic growth by fare type: Jan-2007 to Jan-2010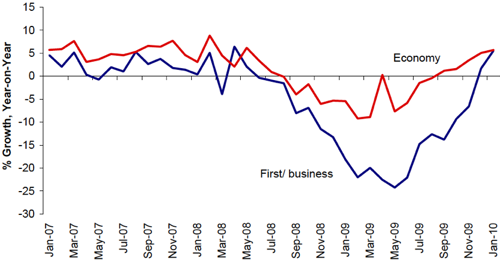 IATA added that premium travel is recovering ahead of economy travel, rising 0.2% over Dec-2009 levels and rising to be 9.4% above its early 2009 low point. However, premium travel remains more than 16% below its previous peak. By contrast, economy travel slipped 0.7% on its Dec-2009 levels, but is 6.9% above its low point.
Premium travel fall may merely have been "cyclical", as recovery coincides with trade upturn

IATA, meanwhile, commented that the reduction in premium travel demand in 2009 raises an important question as to "whether that decline was cyclical and likely to be reversed, or a permanent structural loss". The Associated added that it believes the 16% reduction in premium travel number experienced in 2009 represented a "very large cyclical fall", as the declines matched "very closely" the decline in world trade. IATA added, "at the moment there is no reason to expect this trade upturn to stop so further gains in business and premium travel are likely in the months ahead. However, IATA added that there has been a "steady and structural shift" of business travellers from premium to economy seats on the within-Europe market.
Premium passengers and world trade growth: Jan-2006 to Jan-2010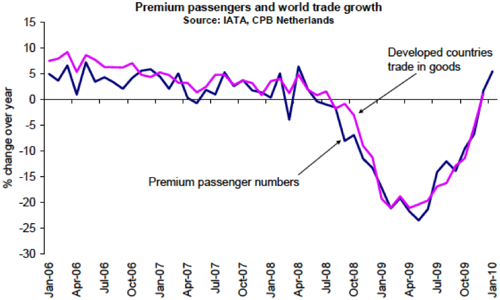 Average fares on the rise, but remain below previous peak
In terms of premium revenues/yields, IATA stated average fares have risen by approximately 10% for both premium and economy seats since mid-2009, increasing international passenger revenues by 20% from their mid-2009 lows by Jan-2010, after an 18% FY2010 decline in total international passenger revenues and a near 30% fall in revenues from premium passengers.
However, IATA cautioned that although premium revenues are up 20% from their low and showing positive year-on-year growth rates again, there is a further 30% to be regained before early 2008 premium revenues levels are reached. Economy revenues are now 7% below their previous peak.
IATA total premium traffic growth: Jan-08 to Jan-2010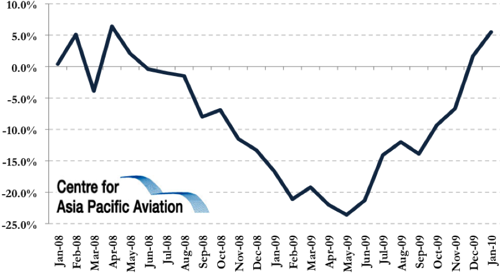 Both premium and economy travel are rising most strongly in the regional markets of Asia and South America, reflecting the relative strength of the economies in these regions. North Atlantic markets saw positive growth but remain sluggish, according to IATA, which added that Pacific (Americas-Asia) markets also remain "rather sluggish". Middle Eastern markets continue to benefit from long-haul market share gains by local airlines.
Thai Airways shares gain on upbeat 1Q2010 outlook
Thai Airways' shares surged 10.8% yesterday, to a near two-year high, on expectations that Thailand's national carrier would report strong 1Q2010 earnings boosted by improved tourism. Last week, the carrier announced plans to sell up to 1 billion new shares to the public and shareholders, including the Finance Ministry, as part of efforts to strengthen its long-term financial position.
Separately, however, the carrier was downgraded by Goldman Sachs Group, from "buy' to "neutral". Goldman Sachs also downgraded Air China (shares up 2.1% yesterday) and China Southern (-0.6%). Air China was lowered from "neutral" to "sell", while China Southern was cut from "buy" to "neutral". China Eastern Airlines, however, was raised from "buy" to "strong buy" by Chian Jianyin, resulting in the its stock gaining 5.1% yesterday.
Garuda Indonesia aiming to increase revenue and net profit by 15% in 2010
In the Indonesian market, Garuda Indonesia, CEO and President, Emirsyah Satar, stated the carrier is targeting a 15% increase in revenues and net profitability in 2010, as demand recovery occurs. Mr Satar added that the carrier is anticipating an increase in passenger numbers of over 20%, to over 12 million.
Garuda Indonesia also stated that it is close to reaching an agreement on the restructuring of USD241.2 million of debt, which will extend maturity of its European Credit Agency loans by seven years. The carrier has restructured its total debt from approximately USD868 million at the end of 2006 to approximately USD528 million as of Jan-2010. The carrier added that it plans to invest USD110 million in expansions plans, including the delivery of 24 aircraft this year, with plans to raise USD300 million from its IPO in 3Q2010. See related article: Indonesian aviation enters an exciting new chapter: Outlook 2010.
For this and more coverage of the region's aviation updates, subscribe to Asia Pacific Airline Daily. Other highlights in today's edition include:
Japan Airlines Corp Chairman planning to return the carrier to monthly profitability from Autumn;
Cathay Pacific cabin crew considering an Easter strike over roster policy changes;
Pax on scheduled cross-Strait services reach 3.9 million;
V Australia launches Melbourne-Johannesburg service;
Air India revises international routes following losses of USD441 million.
Asia Pacific selected airlines daily share price movements (% change): 17-Mar-2010