How low can aircraft values go?
George Dimitroff, Senior Analyst at Ascend, looks at the downhill journey in aircraft values form peak to trough.
A question that we get asked very often is; just how far can market values drop from the peak? All kinds of ratios and percentages are quoted. Panicking investors carry out ingenious analyses reaching conclusions such as "if they've gone down 15% since the beginning of the year, then they'll be down 30% by year end!" Of course such assessments are not necessarily valid because values do not change at a constant rate, although such behaviour is not impossible either.
Although, as many disclaimers tell you, past performance is not necessarily an indicator of future results, it is a good starting point and can provide some guidelines. We decided to look at a couple of narrowbody aircraft; the A320-200 and the 737-300, as well as a couple of widebodies; namely the 767-300ER and the A330-300 and see how their values have behaved in three downturns: the early 1990s, the early 2000s and the present downturn.
What is interesting is that the first two downturns that we look at had relatively different durations. The peak of aircraft values in the first was reached in 1990 and the market bottomed out for most types by 1993, so values went from peak to trough in three years. However, the second downturn that we looked at actually began in 1998, just after the Asian crisis, and saw values decline rather gradually through the dotcom bubble bursting, followed by an accelerated drop after the events of 9/11. The values cycle reached its bottom in 2003, September 2003 to be precise, although some aircraft types such as the A330 actually bottomed out early in 2002.
So we had a three year ride to the bottom in the early 1990s but a more prolonged five year fall from 1998 to 2003. Furthermore, the last downturn was to a large extent isolated to the aviation industry and driven by fear of flying rather than serious underlying economic problems, (demonstrated by the fact that the decline from 1998 to 2000 was much more gradual). But the same cannot be said for the current downturn, which is definitely driven by economic and financial problems.
Since a picture says more than a thousand words, it is helpful if we illustrate the value behaviour of the aforementioned aircraft types. It would not be fair to plot the value drop for selected years of build, especially in a longer downturn such as 1998-2003, because aircraft depreciation due to ageing would also kick in and distort the results. However it is possible to look at a constant age aircraft and we have done this under three scenarios – a new aircraft, a five year old and a 10 year old aircraft. This means that we compare a new aircraft value at the peak with a new aircraft value at the trough, and the same goes for the five and 10 year old examples.
For the narrowbodies, the constant-age value chart looks something like this: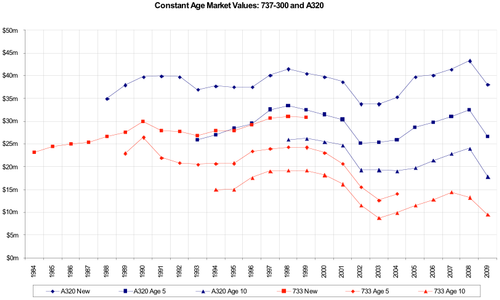 It can be seen that the value of a new 737-300 peaked in 1990 at $30 million, as did the value of a five year old example at $26.5 million. The values bottomed-out in 1993 for both aircraft types, before beginning a gradual recovery. Values for both a new and a five year old 737-300 fell by 11% from peak to trough – a relatively small figure considering what we have witnessed in more recent times. The A320, which was a relatively new design, saw a drop of just 7% for a new-build aircraft; from $40 million in 1990 to $37 million by 1993.
However, things were not so smooth for either of the two types in the following downturn. The value of a five year old 737-300 fell by a staggering 48% between 1998 and 2003, while that of a 10 year old example fell by 54% from peak to trough. This can be attributed not just to the prolonged duration of the downturn but also due to the 737-300 being superseded by newer technology (737 NG) and production ended in 1999. Strong demand and high values for the type in the mid to late 1990s would also have contributed to the large percentage drop.
On the other hand, the A320 which represents newer technology, despite being in production since 1988, experienced smaller drops – 19% for a new aircraft, 24% for a five year old machine, and 26% for a 10 year old example. Nonetheless these drops were much larger than what either of the two types saw in the early 1990s.
The current downturn, in what we have seen of it so far, has already caused damage to values in just one year (July 2008 to July 2009) that is comparable to what took five years in the last downturn. A 10 year old A320 has already seen a 26% drop in value in the last year (same as 1998-2003), while the younger examples have done slightly better – 12% drop for a brand new A320 and 18% drop for a five year old example. However, considering what happened during the last downturn, this could only be an indication that there is room for further decreases, and a bottom that could perhaps be reached by 2010 or later?
A 10 year old 737-300 meanwhile fell by 34% between its peak in 2007 and today. The smaller drop compared to the 54% in the post 9/11 era is perhaps an indication that as an out-of-production type, values for 737 Classics never recovered to the levels that they were at in the 1990s, despite strong demand in the 2004-2007 period.
Another way of looking at the statistics is by looking at year-on-year percentage value changes for the new, five year old and 10 year old aircraft, as seen in the chart below.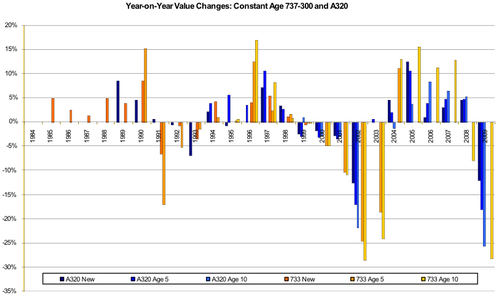 Once again, it shows that the past year has achieved the same degree of damage to values as the period following 9/11. A summary of value changes for each downturn, from peak to trough is shown below:
Value Changes Peak to Trough

New

A320
Age 5

Age 10

737-300
New

737-300
Age 5

737-300

Age 10

1990-1993

-7%

-11%

-11%

1998-2003

-19%

-24%

-26%

-48%

-54%

2008-2009

-12%

-18%

-26%

-34%*
On the other hand, the widebody types we selected have shown surprisingly good behaviour during some recessions but not others, as seen in the chart below.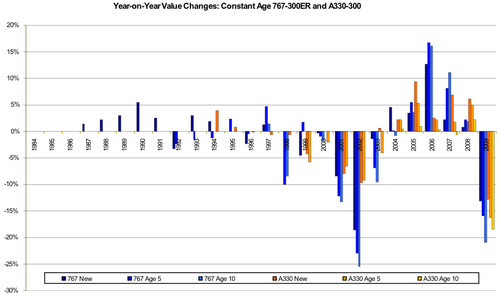 The 767-300ER was relatively new technology in the early 1990s; it was the darling of the finance community, always topping investor polls. It was smaller and much more fuel efficient than any of the other widebodies in the sky at the time. It can be seen from above that a new 767-300ER peaked in 1991, bottomed out in 1992, and was fully recovered by 1993! The dip from 1991 to 1992 was a mere 3% for the new-build aircraft. A five year old example peaked in 1991 and bottomed out in 1994, but declined only by 5% in the entire period. However, if a similar chart was plotted for DC-10s or 747-200s, the results would not be as pretty.
The A330 found itself in a similarly good position in the early 2000s. It never really experienced the early 1990s recession as it was just entering service, but was well established in Asia by the time the Asian crisis came along in 1997, and to make matters worse, was highly concentrated in the Asia-Pacific region. It only saw a 4% decline in the immediate aftermath of the Asian crisis, yet a more notable drop of 20% from peak to trough (the bottom being reached in 2002 for new A330s). Meanwhile, a five year old example declined by 25% between 1998 and 2003. Despite the downturn caused by 9/11 and SARS, there was a shortage of good-quality widebody aircraft due to under-ordering in the wake of the Asian crisis. The 777 got away with similarly good results.
Yet, in the same period, the 767-300ER saw values decline by 30% for a new build, 43% for a five year old and 48% for a 10 year old aircraft, from peak to trough. The 10 year old 767s were last to bottom-out, doing so only in 2004. In other words, now being older technology, and with plenty in service, it had a fate similar to that of the 737-300 in the narrowbody sector.
The current downturn has seen 767-300ER values fall by 13%, 16% and 21% over the past year for a new, five year old and 10 year old aircraft respectively. Perhaps these numbers would have been a lot worse had it not been for the 787 delays. The A330-300 has interestingly seen a similar fate, with drops 13%, 16% and 18% for the same age categories.
In the case of the 767, the causes are various – new-build examples are impacted as the 767 is approaching the end of its production life and hence values are falling more steeply, while older aircraft have seen an increase in availability and the parked fleet. For A330s, the drop is not so much caused by increased availability as it is by lack of finance and by banks offering much lower loan-to-value ratios. The value drops are summarised in the table below:
Value Changes Peak to Trough

767-300ER

New

767-300ER Age 5

767-300ER Age 10

A330-300 New

A330-300 Age 5

A330-300 Age 10

1990-1993*

-3%

-5%

1998-2003*

-30%

-43%

-48%

-20%

-25%

Current

-13%

-16%

-21%

-13%

-16%

-18%
The year-on year value changes for constant-age examples of the widebody types are illustrated in the chart below:
So what do all these numbers say? In simple terms, newer, in-production aircraft tend to see lower declines in value from peak to trough than older technology. They also show that the drop in the current recession has been steeper and has happened over a much shorter period of time.
However, if history is anything to go by, it also shows that the value declines that we have seen over the last year do not show the full story and that there is still potential for them to fall further towards the end of the year and into 2010. In other words, we could go from peak to trough quicker than any previous recession, but with a depth of magnitude at least as bad as that seen following 9/11. And when we do reach the bottom of the ocean floor, perhaps in 2010, don't expect to resurface too quickly. In fact, hold your breath because we may have to stay down there with all the exotic fish for a little longer than usual.
"The information contained in our databases and used in this article has been assembled from many sources, and whilst reasonable care has been taken to ensure accuracy, the information is supplied on the understanding that no legal liability whatsoever shall attach to Ascend Worldwide Limited, its offices, or employees in respect of any error or omission that may have occurred."
NB: The Centre for Asia Pacific Aviation, in partnership with Ascend, now offers daily updates on aircraft, fleets, financing, values, MRO and much more through its new AVIATION INVESTOR DAILY publication. Sign up today for a free trial subscription to AVIATION INVESTOR DAILY.