Hong Kong freight market stabilises, but weak transshipments a worry for HK
HACTL stated cargo throughput is "generally a good indicator of the economy" and while the first half of 2009 has been difficult, "it is delightful to observe the relatively stabilised tonnage performance over the past few months". AAT stated, "the global economic recession continues, however, the total tonnage has shown some improvements, hopefully it's a sign that we have already seen the worst."
HACTL handled a total of 187,955 tonnes of freight in Jun-2009, down 14.4% year-on-year. Import volume for June registered an 11.0% decline year-on-year basis to 51,137 tonnes, with HACTL stating the market outlook for imports from western countries "continues to be gloomy". Export volume fell 19.2% to 96,792 tonnes in Jun-2009.
HACTL traffic growth: Jul-2008 to Jun-2009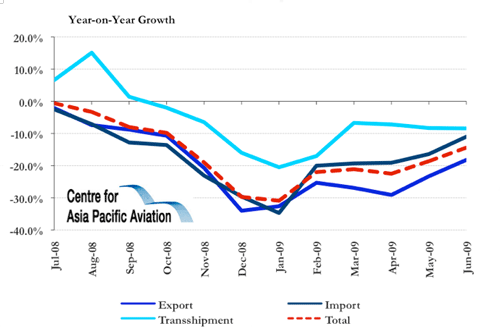 AAT, a much smaller operator than HACTL, handled a total of 38,359 tonnes in Jun-2009, down 27% year-on-year, while export cargo fell 31% to 24,985 tonnes. Import cargo volume for June was 12,875 tonnes, down 21%, while transshipment cargo volume rose 35% off a small base to 499 tonnes in Jun-2009.
FedEx's Guangzhou hub having an impact on HK transshipments?
HACTL's transshipment volume fell 8.4% to 40,026 tonnes in Jun-2009 and this segment has been deteriorating modestly since Mar-2009 as the overall volume trend has improved. FedEx hub opened its intra-Asia hub in Guangzhou in Feb-2009, while further cross-Strait cargo services have been added between the Mainland and Taiwan in recent months.
Declining transshipment volumes will be of concern for Hong Kong, especially if neighbouring Guangzhou is the cause. A HACTL spokesman said, "looking beyond the economic crisis, it is more important for us to maintain a closer touch with our customers and support our business partners in an even more flexible and efficient manner, working together to reinforce Hong Kong's role as the region's preferred air cargo hub."
Cathay Pacific seeing signs of airfreight market bottoming out, but a slow road to recovery exists
Meanwhile, Cathay Pacific General Manager Cargo Sales and Marketing, Titus Diu, stated that there are "signs that the airfreight market has bottomed out, though as yet we are not seeing any sustained upswing in demand".
Cathay Pacific cargo volume growth and AFTK growth: Jul-2008 to Jun-2009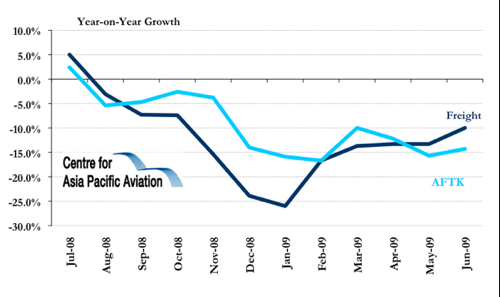 During Jun-2009, Cathay Pacific/Dragonair transported 123,860 tonnes of cargo and mail, a 10.0% year-on-year reduction, the smallest reduction experienced by the carrier since Oct-2008. The carrier reduced capacity (ATKs) by 14.3% in Jun-2009, resulting in a 3.8 ppts load factor improvement to 71.3%.
However, freight yields still remain depressed, with Mr Diu adding that "competition in the various cargo markets we serve remain fierce and as such yield remains under considerable pressure." This yield issues is also apparent in passenger yields, with Cathay Pacific General Manager Revenue Management, Tom Owen, stating that premium cabin demand showed "no signs of life but was at least stable" in the month. Mr Owen added that "aggressive competition for Economy Class passengers in all markets continued to provide very few opportunities for sustainable yield improvement."
All signs indicate that there is a long and difficult recovery ahead of the carrier, with Oct-2009 freight traffic to be the major indicator of any significant economic and freight recovery, ahead of the usually peak end of year period.