Hong Kong cargo handlers see some stabilisation, but decreases now compounding
A key barometer of Asia's economic engine room, air freight volume through Hong Kong Airport, appears to be stabilising, although a full recovery is some time off.
Hong Kong Air Cargo Terminals Limited (Hactl) handled 201,157 tonnes of freight last month, representing a "relatively mild" year-on-year decline of 8.4%. Cumulative tonnage from January to July was 1.2 million tonnes, down 19.6% compared with the same period last year.
Export volume in July declined 13.9% against last year to 103,314 tonnes. Aggregate export volume for the first seven months was 617,493 tonnes, down 24.1% compared with the same period last year.
Import volume for July and for the first seven months were 55,457 tonnes and 325,939 tonnes respectively, representing a 2.6% and 17.5% decline year-on-year for the respective periods.
HACTL's transshipment volume in July showed "clear improvement", with 42,386 tonnes registered, down only 0.6% year-on-year. Cumulative transshipment volume for the first seven months was 261,483 tonnes, down 9.5% year-on-year.
HACTL cargo volume growth: Aug-08 to Jul-08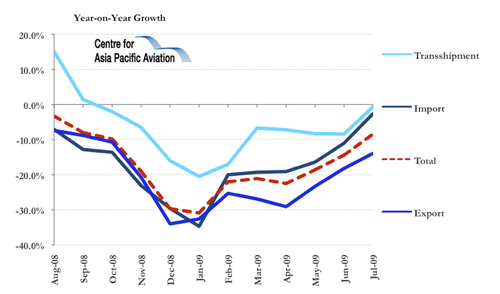 AAT announces slightly improved throughput for July
HACTL's smaller rival, Asia Airfreight Terminal Co Ltd (AAT), announced its throughput for Jul-2009 was 42,736 tonnes, down 20% year-on-year.
Export cargo decreased 24% to 27,946 tonnes, while import volume was 14,289 tonnes, down 13%. Transshipment cargo volume was up 31% off a small base to 501 tonnes,
AAT spokesman, Nelson Lee stated, "the market seems to have stabilised, hopefully we can see a sustainable improvement in the time to come."
Asia AirFreight Terminal (AAT) cargo volume growth: Aug-2008 to Jul-2009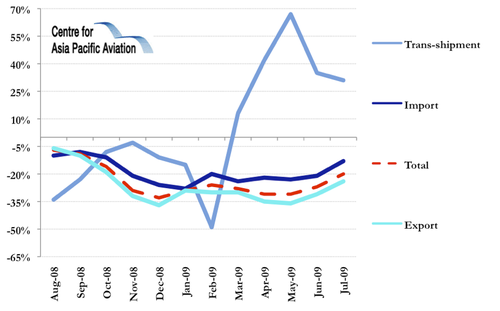 Outlook: Falls now compounding
HACTL declined to comment on its latest throughput, but it should be noted that air cargo volumes started to decline in July last year, so contractions are now compounding. HACTL's toal volumes were down 0.6% last July on Jul-2007.
This time last year, a HACTL spokeswoman stated, "the impact of the gradual moderation of the global economy is reflected in the import and export tonnages we handled in July, showing that the air cargo and aviation industry is facing more significant challenges". What challenges they turned out to be.
A key test of the so-called green-shoots economic theory is whether Hong Kong's cargo volumes move up significantly in the pre-Christmas rush beginning in October.