17-Jun-2010 2:08 PM
Hong Kong Airport sets new cargo traffic record, FedEx sees surging Asian exports
Cargo tonnage at Hong Kong International Airport (HKIA) reached a record-high monthly total of 367,000 tonnes in May-2010, up a massive 41.9% year-on-year, according to Airport Authority Hong Kong (AAHK). Passenger numbers rose 14.4% year-on-year to 4.11 million. AAHK stated the "speedy and significant recovery in cargo traffic at HKIA further lends support to HKIA's status as the world's busiest international air cargo centre", while Cathay Pacific stated this week that the "wheel has turned".
AAHK stated the double-digit growth in the passenger market was also partly due to the lower base for comparison with May-2009, when passenger traffic was badly affected by the swine flu outbreak. This May, visitor numbers to Hong Kong grew by 27% as the economy continued to rebound, with those from Southeast Asia and North Asia showing the highest increase. Hong Kong resident travel also registered a year-on-year increase of 19% and transfer/transit traffic remained at a similar level as the same period last year. Air traffic movements in May-2010 were also healthy, registering yearly growth of 8.4% to 25,380.
Cargo throughput to/from all major HKIA markets showed double-digit growth over the same month last year. The substantial growth was in part due to the relatively low base recorded in May-2009, as well as the continued recovery of key export markets, particularly Europe and North America. Exports recorded strong growth of 61%, while imports and trans-shipments surged 32% and 14% respectively, according to AAHK.
Hong Kong Airport pax growth and cargo volume growth: May-2009 to May-2010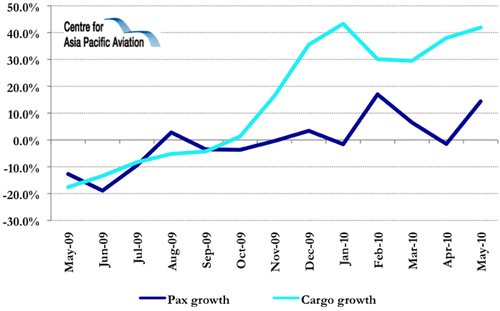 The Authority's CEO, Stanley Hui Hon-chung, stated, "we are delighted with the growth in all three air traffic categories, especially the huge increase in cargo throughput. Although the figures from last May were low by comparison, we have nevertheless seen a continuation in the rebound of cargo demand thanks to the sustained recovery of the economy. More than 10,000 tonnes of cargo were handled each day on average for three consecutive months and traffic has returned to the pre-crisis level".
"Furthermore, summer is traditionally a peak travel season, and the propensity to travel this year is boosted by the Shanghai Expo as well as the return to normal life in Bangkok in early June. Hence, we are confident that the growth momentum will continue in the coming months," Mr Hui added.
FedEx sees surge in exports from Asia
The HKIA traffic report coincides with the release of FedEx's fourth quarter financial results for the three months to 31-May-2010, in which it experienced a 23% lift in international priority (IP) package volume, led by exports from Asia. IP revenue per package grew 6% due to higher weight per package, higher fuel surcharges and a favourable exchange rate.
See related CAPA Hot Issue on Air Freight.
FedEx Corp Chairman, President and CEO, Frederick Smith, stated: "FedEx delivered strong results in our fourth quarter, thanks to sequential growth in package volume and our ability to leverage our unique global networks to take advantage of a recovering economy", adding, "we ended our fiscal year a stronger company, and I am confident FedEx is very well positioned for future revenue and earnings growth."
FedEx stated it expects "continued improvement in both revenue and earnings in fiscal 2011", adding "resumed growth in industrial production and global trade is increasing demand for our transportation services, and yield management remains a top priority across all of our operating companies".
FedEx Express added a ninth scheduled daily trans-Pacific frequency in April, utilising the capabilities of B777F aircraft. This additional frequency provides needed capacity from Asia to the US, according to FedEx, and allows best-in-market cut-off times. Also in April, a third scheduled daily flight was added from Asia to Europe, "providing the first-in-market next-day service from Hong Kong to all of Europe", according to the integrator.
Beijing Airport sees surging May-2010 traffic
Further north, Beijing Capital International Airport reported a 17.4% increase in passenger numbers in May-2010 to 6.2 million, including a 31.6% surge in international passengers to 1.4 million. Cargo volumes rose 9.6% to 129,587 tonnes.
Beijing Airport's shares did not trade yesterday, due to a public holiday in China, Hong Kong and Taiwan on 16-Jun-2010. Elsewhere, Malaysia Airports rose 0.8% and Airports of Thailand gained 3.7%.
Selected airports daily share price movements (% change): 16-Jun-2010