Hebei Airlines order for five Embraer E190s to further the young carrier's regional China growth
The first day of the 2012 Farnborough International Airshow saw an order from Hebei Airlines for five Embraer E190s. While the order may not be a blockbuster for the show, it is a critical part of one of air transport's quickly rising themes: regional China. Beijing and Shanghai may hold the country's spotlight, but second and third tier cities are growing much faster, a result of Beijing and Shanghai being severely constrained as well as government policies supporting growth outside of coastal areas.
Hebei Airlines was relaunched in 2010, having previously been called Northeast Airlines with a base in Shenyang. Sichuan Airlines took a majority stake in Hebei, based at Shijiazhuang in Hebei province, southwest of Beijing. The partial ownership gave Sichuan, based in more central China, exposure to northeast China. The country's main carriers are increasingly looking for new partners and bases to capture growth as air travel further develops in what will be the world's second largest domestic market.
The latest new airline partnership is Air China's intention, announced in May-2012, to launch a new carrier in inner-Mongolia. Air China is working with the local government on that project, a similar course of action China Eastern and China Southern have taken to work with provincial governments to establish local airlines. But Hebei Airlines differs as Sichuan Airlines owns 97% with the remaining 3% held by Shenyang Zhongrui Investment Co, although the partnership was only achieved with approval from Hebei province, which also provided initial investment.
Hebei plans fleet of 20 aircraft and 3 million annual passengers by 2015
Hebei's 2012 Farnborough airshow order for five E190s is part of a commitment for 10 E190s and five options that was first announced in Apr-2011. The up to 15 E190s for Hebei were initially announced along with an additional 20 E190s for China Southern during a visit of Brazil president Dilma Rousseff to Beijing in Apr-2011.
See related article: More success for the E-190 in China but still no local production
The first two aircraft from the Hebei order were subsequently approved by the Chinese Government and delivered in Dec-2011. The aircraft were placed into service in Jan-2012 and are now being used on about 70 weekly flights to eight domestic destinations. While this batch of five additional E190s was approved in 2Q2012 until now it has appeared in Embraer's backlog as an unidentified order.
All five aircraft will be delivered by the end of 2013, helping Hebei to reach its goal of having 20 aircraft by the end of China's 12th Five-Year Plan that runs through 2015. Hebei currently operates 12 aircraft, the majority Embraer regional jets.
In addition to the two E190s Hebei operates several 50-seat ERJ-145s. It is one of four ERJ-145 operators currently in China along with China Eastern, China Southern and Tianjin Airlines (Sichuan Airlines also was an ERJ-145 operator but the last three aircraft in its fleet were taken over by Hebei in 2011). In Dec-2011 Hebei became the third Chinese operator of E190s, joining China Southern and Tianjin Airlines (Henan Airlines also has four E-190s but these have been parked since one of its five E190s crashed in Aug-2010).
In 2015 Hebei intends to carry three million passnegers annually, a goal that to be achieved will need to see a rapid turnaround in Hebei's current operating environment. The carrier said it missed its goal of one million passengers in 2011 by a staggering 25%, carrying only 710,000. Traffic in the first four months of 2012, the latest disclosed by the carrier, shows passenger numbers are down 30-50%. The carrier has been keeping a low profile this year, although in Jun-2012 it launched a Shijiazhuang-Nanjing-Fuzhou service.
Hebei Airlines monthly passengers numbers: 2010 to 2012*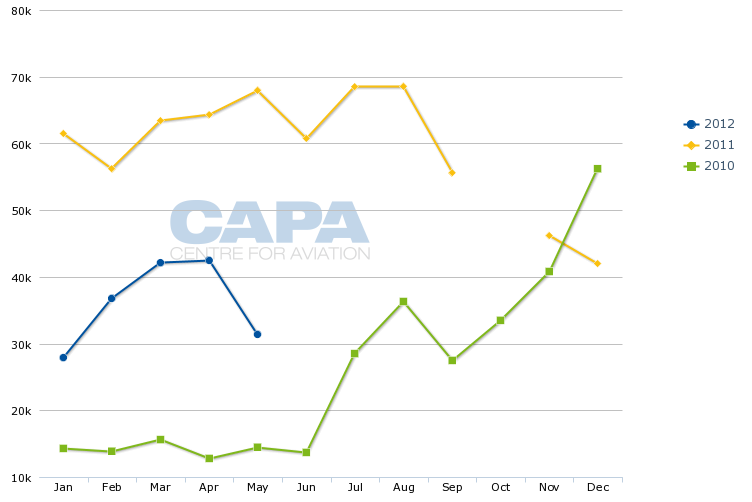 Traffic at Hebei's home airport at Shijiazhuang, where Hebei accounts for only about 8% of available seats in the current week, showed growth in the first three months of the year but slowed in Apr-2012.
Shijiazhuang Daguocun Airport monthly passenger numbers: 2010 to 2012*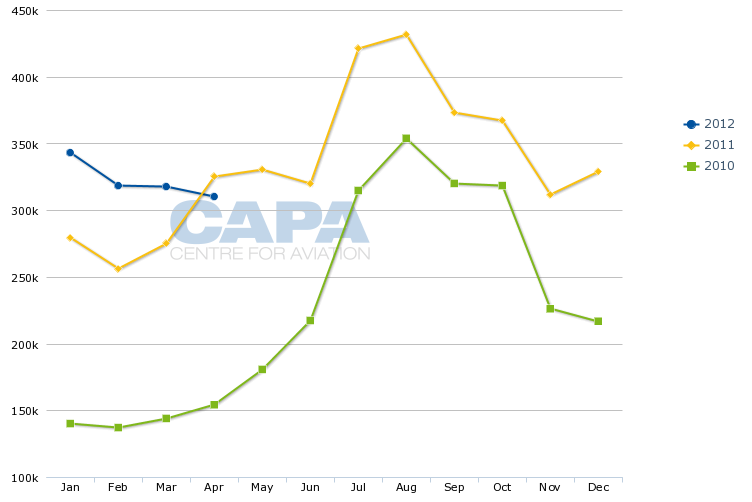 High-speed rail – and new Beijing airport – poses some limits on network development
Shijiazhuang will sit in the centre of planned expansion of China's high-speed rail network to link Shijiazhuang with Beijing, Qindgao, Taiyuan, and Wuhan. There are however still many opportunities for air services to smaller cities nearby as well as larger cities further away (such as Guangzhou) where air travel will still be more practical than high-speed rail. Indeed, the majority of Hebei's routes are well outside the reach of the current and planned (to 2020) high-speed rail network, with Hebei primarily serving central and southern destinations of Chengdu, Chongqing, Guangzhou and Nanning.
A larger competitive disadvantage is the new Beijing airport due to open in 2017. Whereas Beijing Capital Airport sits northeast of Beijing city, the new Beijing Daxing airport will be southwest of the city in Daxing, heading in the direction of Shijiazhuang. Although the airport will be approximately four hours by road from Shijiazhuang, if promised speeds are delivered on the high-speed rail, travel time could be considerably shortened and offset by greater competition at Beijing Daxing (preliminary plans call for eight passenger runways). Unclear is if the planned link between Beijing and Shijiazhuang will pass through the new Beijing Daxing airport or if a transfer through Beijing city will be necessary and thus reduce convenience.
There is still considerable opportunity to pull passengers from around Hebei province, which effectively encircles Beijing, although only the southern part of the province (population 72 million over 190,000 square kilometres) could be targeted, and even then potentially compete with Beijing Daxing as well as the three new airports (plus one relocation) planned for the province by the end of 2020. Hebei could pull traffic from neighbouring Shanxi province, although traffic at the main airport of Taiyuan is increasing, and will be linked to Shijiazhuang via high-speed rail.
But the long-term aspect of the Beijing Daxing and high-speed rail – as well as seemingly inevitable delays – gives plenty of time for Hebei to develop a route network and even consider opportunities outside of its home base. Although most of the carrier's flights are to and from Hebei, it does operate a Chongqing-Nanning route as well as the recently launched Nanjing-Fuzhou service as a continuation of service from Shijiazhuang.
While Boeing projects that 8% of 2009's revenue passenger kilometres will be lost to the 2012 high-speed rail network, that figure is expected to grow as the high-speed rail network further develops. Additionally, the rail network's affects are not felt equally, with some routes seeing capacity decreases in excess of 50% following the introduction of the high-speed rail.
Boeing's projected 2012 impact of the HSR on 2009 Chinese RPKs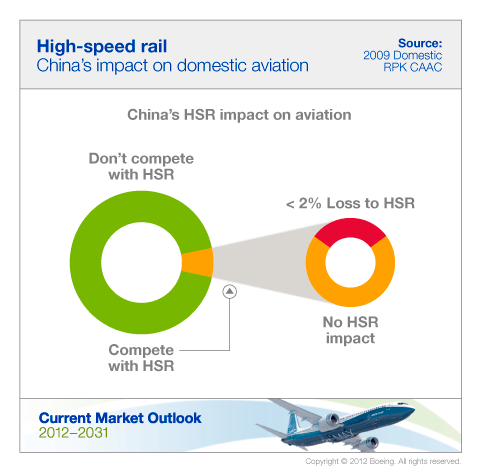 Hebei's benefit of being aligned with Sichuan Airlines, as part of the group's strategy to increase its footprint outside of its home base, is that capacity and assets could be re-deployed. But Hebei's growth is relatively modest given the Chinese market's potential, even if its medium-term goals seem over-ambitious and, for now, out of reach unless a large turnaround occurs in the market.