Hastings Funds Management confirms plans to sell assets; MAp to distribute AUD10 cents per security
Analysis
Hastings's listed Australian Infrastructure Fund (AIX) stated on the Australian Stock Exchange that it "will consider all opportunities to realise greater value for security holders, including the potential divestment of assets that are considered non-core to the AIX portfolio". HTAC owns stakes in Dusseldorf, Hamburg, Sydney and Athens airports. Meanwhile, Hochtief's shares gained 3.4% on Tuesday (07-Dec-2010).
MAp (+1.6%) announced (08-Dec-2010) a AUD10 cents per stapled security will be distributed with an estimated payment date of 17-Feb-2011. The total distribution for the year ending 31-Dec-2010 is AUD21 cents per stapled security.
Selected airport operators/investors daily share price movements (% change): 07-Dec-2010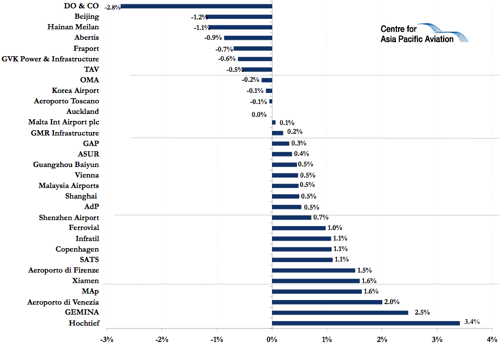 Hellenic Duty Free Shops rose 3.1% to EUR4.65, gaining for a fifth day. Shareholders approved a three-way merger agreement between the airport and port retailer, Folli-Follie and Elmec Sport SA, according to an Athens bourse filing.
Selected airport suppliers daily share price movements (% change): 07-Dec-2010