Hainan Airlines to Las Vegas: more international flights to follow as Southwest starts partnerships
Analysis
Hainan Airlines' Beijing-Las Vegas 787 service commencing in Dec-2016 will end Korean Air's tenure as the only Asian airline in Las Vegas. Las Vegas is arguably the largest feasible unserved North American market for Hainan. Delivery of over 30 787-9s in coming years means that Hainan will need to establish new markets. The route tests the booking data that airlines and airports rely on: Las Vegas believes airlines have shied away from serving the city and that this is misguided – because Las Vegas' international visitors are not represented, since they often take multi-city itineraries and thus do not appear as a Las Vegas international passenger. Las Vegas wants to prise its international passengers away from transit hubs.
Hainan's presence will initially be about half of Korean Air's, which was upped days prior to Hainan's announcement. Yet this may be the best outcome for Korean. A Chinese service was inevitable, but Las Vegas had to wait for political sensitivities to cool since Las Vegas flights would not have been timely as China's anti-corruption and austerity campaigns unfolded. Hainan brings enough presence to deter more competition in the short term, yet its narrow focus on the outbound Beijing market leaves Korean Air with many opportunities around Asia. Further international growth for Las Vegas is likely after McCarran airport's largest operator, Southwest Airlines, is ready to partner with other airlines in 2018.
Hainan Airlines is planning 787 flights between its main hub at Beijing and Las Vegas on 02-Dec-2016. This is the first nonstop service between Las Vegas and China. Hainan's application to the US DOT stated two weekly flights at unspecified dates/times, but the Las Vegas Convention and Visitors Authority said that the service would be three times weekly, on Mondays, Wednesdays and Fridays.
Neither specified which variant of the 787 Hainan would use. Hainan is starting to take delivery of its 2015 order for larger 787-9s. Hainan operates 10 787-8s and three 787-9s with a further 29 787-9s on order, according to the CAPA Fleet Database.
Hainan Airlines Fleet Summary: as at 7-Aug-2016
Hainan will be the second active Asian passenger airline at Las Vegas after Korean Air. Korean Air started up Las Vegas in 2006 with three weekly flights. Days prior to Hainan's application for Las Vegas service, Korean Air planned a fifth weekly flight over the northern winter. Under a model of Hainan operating three times a week with its 787-8 and Korean Air using its more dense 777-300ER, Korean Air will have twice as many seats (1,455 a week versus 639, one way).
Through frequency growth upgauges from mostly A330s/777-200s to 777-300ERs Korean Air has grown in Las Vegas by approximately 48% between 2014 and 2016. From 2009 to 2011, generally corresponding to weaker post-GFC business travel, Korean Air routed the return sector via Los Angeles to improve premium cabin loading.
Korean Air average weekly frequency (right axis) and seat capacity (left axis) Seoul Incheon-Las Vegas: 2006-2016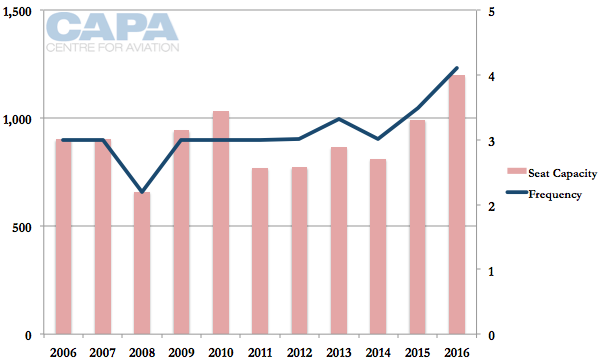 As the largest Asian airline between North America and Asia, Korean Air has leveraged its Seoul Incheon hub to connect North America with not just Korea but also beyond points in Asia, and even Australia. Las Vegas has a notable and significant population of Korean/Korean descent. The number of Chinese is larger, and Filipinos are even more numerous. There are also notable numbers of Vietnamese in Las Vegas, so Southeast Asia is an important source market.
A defining opportunity has been for Korean Air to link Las Vegas with China, where Korean Air has a wide network, an efficient hub and the geography to make connections convenient. A news article from the Las Vegas Sun at the time of Korean Air's 2006 launch to Las Vegas even started not by mentioning the Korean or Southeast Asia market, but that from China: "Korean Air is about to embark on a new mission - delivering Chinese tourists nonstop from this capital city to Las Vegas".
A flurry of new China-US operations is challenging Korean Air, but Hainan is the lesser of the threats
Growth in nonstop China-US flights has changed the prospects for Korean Air, which is also limited in growing further in China. Although it may seem that Hainan's entry would be a significant competitive concern, Hainan may be the best possible outcome. A Chinese airline at some point entering Las Vegas was inevitable. Hainan enters with a smaller aircraft than the 777-300ERs that are the backbone of Air China's and China Eastern's fleets. Hainan has a smaller hub at Beijing, limiting its ability to connect cities beyond Beijing.
Hainan's smaller size also means that it does not have space available for significant transfer passengers on its domestic flights. This leaves much of the Chinese market to Korean Air, and some of the Beijing market may still prefer an Incheon transfer for the duty-free shopping.
Hainan has a minimal regional Asia network, meaning that Korean Air can still link Las Vegas with non-Chinese markets in Asia. Manila, Singapore and soon Bangkok, Cebu and Jakarta may be the only Southeast Asian markets served nonstop from the US, meaning that Korean Air still has an advantage in one-stop Las Vegas-Southeast Asia service. Even where Southeast Asian service does or will exist, connections and frequency may be stronger on Korean Air.
Hainan could carry enough of the China-Las Vegas market to deter significant competition from its Chinese peers (a benefit to Korean Air) yet Hainan's own presence is not as strong a threat to Korean Air as if Air China, for example, commenced the route. Sales and distribution is a key differentiator: Korean Air has strength in ex-US FIT bookings, in addition to its Asian sales network, whereas Hainan is largely ex-China and group sales – although this is changing.
Korean Air began its services after the exit of Japan Airlines and the short-lived service from Singapore Airlines (via Hong Kong). JAL had a high cost base and lacked the beyond Asia network that Korean Air has. SIA had a two-stop proposition, and any ambitions to link the gambling hubs of Las Vegas and Macau (a short ferry from Hong Kong) did not come to fruition.
Philippine Airlines served Las Vegas until 2013. Under FAA restrictions (because the Philippines lost Category One status) PAL could not replace its ageing and inefficient A340 service to Las Vegas with the 777. As PAL served Las Vegas via Vancouver, the Vancouver service suffered from the older aircraft as well. The FAA restored the Philippines to Category On in 2014, allowing PAL to expand and change aircraft. PAL is expanding in North America and considering new destinations, as well as resuming service to Las Vegas. As CAPA previously has written previously:
PAL has also been evaluating other potential US markets in both the east and west coasts. New destinations in the western US can be launched using the existing widebody fleet, potentially as early as late 2016 as the two additional 777-300ERs are delivered. PAL previously served Las Vegas and at one point was considering San Diego, which has a large Filipino community.
See related report: Philippine Airlines' international expansion continues with 5 new destinations, A350-900 HGW order
Hainan Airlines was realistically the only major Chinese airline that could serve Las Vegas
The significant growth in the China-North America market coincided with China's anti-corruption/austerity campaigns that started in late 2012. With these movements in progress it would have been politically unacceptable for China's state-owned airlines to serve Las Vegas. Air China, China Eastern and China Southern are China's "Big Three" and all are state-owned. Airlines like Xiamen Airlines and Sichuan Airlines that are expanding in North America have significant ownership from the Big Three.
The Big Three are still largely focusing on first-tier opportunities as they seek to catch up from missed opportunities. Cities such as New York, Los Angeles, San Francisco and Chicago are commonly the cities for all-new services or capacity/frequency increases. Smaller cities have not been so heavily on their radar (they've also lacked aircraft).
Las Vegas was of interest, but the political climate would not have favoured a destination where gambling is the primary image. Beijing's 2012 corruption crackdown also targetted money laundering, which in China has been associated with the gambling industry in Macau. The anti-corruption drive resulted in a slowing in Macau's visitors from mainland China, even from people who had nothing (major) to hide but did not want to attract attention. Turnover at casinos decreased. There was a similar decrease in Singapore for the same reason, but there are signs of regrowth: Saipan, for example, is an emerging location for Chinese travellers.
Las Vegas is far more diversified away from gambling than Macau's; Las Vegas serves as a reference for the way that Macau should develop. Macau's gaming industry is larger than that of Las Vegas, but Las Vegas is seen as more of a holistic destination. Gambling in Las Vegas today ranks third in its attractions, after entertainment and fine dining, a much broader base for tourism.
Macau annual visitor arrivals from mainland China: 2008-2015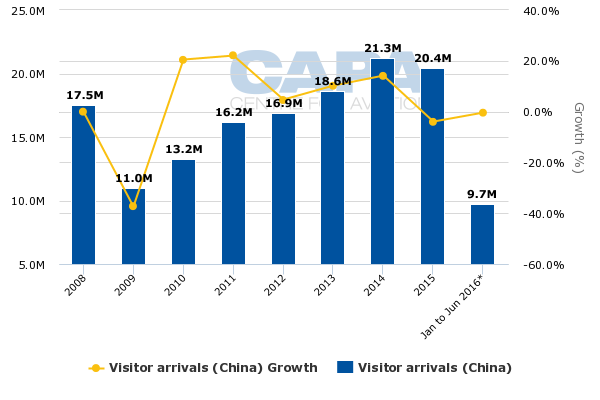 Las Vegas is arguably the largest available opportunity for Hainan
China's 'one airline, one route' policy means that Chinese airlines are generally prohibited from overlapping on the same city pairs. For Hainan this is challenging because Air China is also operating out of its Beijing hub and Air China is the largest international Chinese airline – thus serving most of the first-tier destinations from Beijing. Air China overlooked Chicago and Toronto, allowing Hainan to serve them.
Hainan's largest opportunities from Beijing without regulatory constraints would be cities such as New York and Los Angeles. (Hainan serves Los Angeles from Changsha.) There is no definitive way to evaluate opportunities from a unique market like China, where growth is high and new markets can be created with the right marketing.
To look simply at possible opportunities North America's 20 largest airports are considered, based on available capacity. Most already have service from Beijing operated by Air China or Hainan Airlines. Some major cities without service have reasonable explanations: Atlanta is dominated by Delta and would need its cooperation to make the route work (and even Delta itself has been unsuccessful in Atlanta-China operations).
There are similar characteristics for Dallas but Hainan was reported to be considering Dallas, where it could work with its (limited) partner American Airlines. Denver, although large, has significant United Airlines transfer traffic. Air China can likely access key connecting markets from Denver out of other hubs. Charlotte does not have as strong long haul traffic momentum.
That leaves Las Vegas as a significant opportunity. Hainan already serves cities smaller than Las Vegas, such as Boston (#16) and Calgary (#33). Thus, mere total size of the market cannot solely explain dynamics.
A large airport may mostly be of domestic interest. Boston may be smaller than Las Vegas, for example, but has long haul premium traffic, a significant education community with Chinese students, and other profiles creating demand to Asia. JAL and Cathay Pacific also serve Boston.
Top 20 airports in North America: ranking on available system seat capacity, 8-Aug-2016 to 14-Aug-2016
Rank
Airport
Total seats
Chinese Airline Service
from Beijing
1
ATL
Atlanta Hartsfield-Jackson International Airport
2,361,364
N/A
2
LAX
Los Angeles International Airport
2,062,041
Air China
3
ORD
Chicago O'Hare International Airport
1,906,271
Hainan
4
DFW
Dallas/Fort Worth International Airport
1,562,894
N/A
5
JFK
New York John F Kennedy International Airport
1,558,023
Air China
6
DEN
Denver International Airport
1,382,783
N/A
7
SFO
San Francisco International Airport
1,374,400
Air China
8
SEA
Seattle-Tacoma International Airport
1,193,846
Hainan
9
YYZ
Toronto Pearson International Airport
1,166,350
Hainan
10
CLT
Charlotte Douglas International Airport
1,092,478
N/A
11
LAS
Las Vegas McCarran International Airport
1,043,170
Hainan to launch
12
PHX
Phoenix Sky Harbor International Airport
984,991
N/A
13
EWR
New York Newark Liberty International Airport
984,126
Air China
14
MIA
Miami International Airport
973,970
N/A
15
IAH
Houston George Bush Intercontinental Airport
973,247
Air China
16
BOS
Boston Logan International Airport
935,510
Hainan
17
MSP
Minneapolis St Paul International Airport
933,808
N/A
18
MCO
Orlando International Airport
880,714
N/A
19
DTW
Detroit Metropolitan Airport
830,125
N/A
20
PHL
Philadelphia International Airport
808,131
N/A
Hainan's Las Vegas service goes against booking data indications, but......
Foreign airlines have often been unable to close the business case for a Las Vegas service, due to low O&D volumes in the various booking data services that airlines and airports significantly (sometimes almost exclusively) rely on to assess market demand for new services.
Las Vegas has countered that the data was not representative as it did not show the large number of passengers visiting Las Vegas on multi-city itineraries, or purchasing separate domestic tickets, or accessing Las Vegas via ground transport. Difficulties in accessing reliable booking information out of China add to the challenges.
By definition too, this historical data indicates the past, and not the future. This is particularly salient for a market like China. Besides the volume growth, effective marketing can create new Chinese destinations of interest in a very short time.
These can be highly nuanced, and not necessarily popular (or as popular) with other visitors. Lack of passengers in booking data does not preclude the possibiliy that a thriving market can exist within the near term.
Hainan's Las Vegas service is likely to stimulate interest from more airlines in considering the value of a potential market, despite being unable to demonstrate it from the booking data that it exists.
Outlook: Southwest Airlines could greatly enhance international Las Vegas flights from 2018
There is another influential development about to occur in Las Vegas in 2018, one which could greatly affect Las Vegas' role as a gateway. This will eventuate after Southwest Airlines cuts over to its new Amadeus Altea IT platform. Operating to date with its own, low-connectivity system, the Altea platform can support partnerships, including codeshares. This is among other potential business changes Southwest is - or should be - considering, like another seating class and checked baggage charges.
Southwest is the single largest operator at Las Vegas McCarran, accounting for 42% of total seat capacity and 45% of domestic seat capacity. Second largest is American Airlines at a much smaller 11%. Las Vegas is Southwest's largest hub after Chicago Midway.
Las Vegas McCarran International Airport domestic seat capacity: 8-Aug-2016 to 14-Aug-2016
As an unaligned airline, Southwest could become a viable partner for foreign airlines to feed/de-feed international flights in the way that JetBlue and Alaska have. Although Las Vegas does not have the strength of JetBlue's home New York market, Southwest is larger and airlines may find IT links easy given the prevalence of Amadeus. (JetBlue uses Sabre.) Las Vegas can be a hub for places like Denver and Phoenix. Combining Las Vegas O&D traffic with beyond connections could open new routes or expand existing ones.
Alternatively, foreign airlines may prefer to stay with their established and higher-yielding hubs, often on the west coast (Los Angeles) for Asian airlines and east coast (New York) for European airlines. These hubs still dominate for international transfers to/from Las Vegas. Norwegian has opened Las Vegas flights; it will likely look to bulk its presence and could benefit with connections, but the powerful Southwest pilots union has opposed Norwegian.
Las Vegas tourism grew in 2014 and 2015 but the share of foreign visitors has declined from a peak of 20% in 2013 to 16% in 2015, according to estimates from Las Vegas. In some respects this only improves the opportunity for upside, especially as China's recent tough attitude towards gambling centres softens.