Hainan Airlines shrinks but profitable in first half - is China slump over?
Analysis
Hainan Airlines Co Ltd reported stronger operating and net profits in the six months ended 30-Jun-08, aided (like all Chinese airlines) by a USD66.2 million foreign currency gain (+126% year-on-year). Hainan Airlines produced the best operating margin of the listed Chinese airlines in the first half of 2008.
Mainland Chinese carriers' operating vs net profit margins (%): 1H08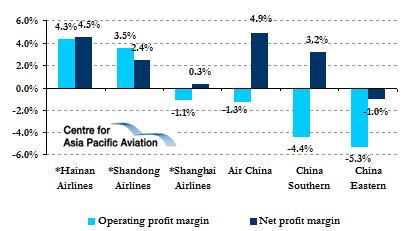 Hainan's good financial performance was produced despite it recording the weakest passenger and revenue growth in the half in its peer group.
Mainland Chinese carriers' passenger numbers growth vs revenue growth (% change year-on-year): 1H08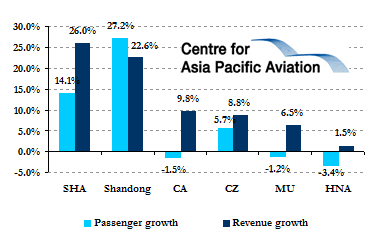 A more disciplined approach to costs was the key to Hainan Airlines' first half outcome - a message its larger rivals should hear.
Large-scale mergers are not a panacea to the issues facing China's airlines, but have actually to date been part of the problem. Previous mergers have raised, not lowered costs at China's large carriers and led to complex and cumbersome chains of command. Smaller, nimbler carriers, like Hainan Airlines and Shandong Airlines, have attacked their lumbering rivals, and are in a better position to cope in the current very challenging environment.
For Beijing, this is an important message. Merely seeking further consolidation without structural improvements will only achieve two things: (1) higher fares, so that demand is suppressed at a time when the economy is slowing; and (2) even more cumbersome, often inefficient leviathans, whose future financial viability is doubtful.
The reality is that some tough decisions are needed. But, politically, the timing may be difficult for any controversial approaches.
Traffic may be improving
Initial indications are that the domestic air travel slump may have bottomed in Jun-08, although international markets continued to contract sharply into Jul-08.
Chinese mainland carriers' international vs domestic passenger numbers growth (% change year-on-year): Aug-07 to Jul-08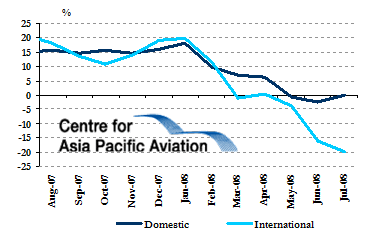 Internationally, the recovery may have commenced with the Aug-08 Olympics and traffic data for the month will be watched carefully. The next few weeks will be vital indicators for China's aviation outlook.