GMR Malé Airport closes plan to modernise Male Airport; Gemina shares gain 6.4%
GMR Malé International Airport Private Ltd (GMIAL), a subsidiary of GMR Infrastructure Ltd (GIL) (-5.2%), stated it has achieved financial closure for the USD511 million project to modernise, expand and operate Malé International Airport.
On 24-Jun-2010, a consortium led by GIL, in partnership with Malaysia Airports Holdings Berhad (MAHB), was awarded the concession for the Malé Airport for a period of 25 years. GMIAL is the special purpose vehicle formed in the Maldives for the project, with GIL holding 77% and MAHB the remaining 23%.
The Male project is being funded through a combination of debt and equity in the ratio of 70:30. The debt component of USD358 million has been tied up with Axis Bank Ltd, Singapore branch, which is acting as the sole underwriter and mandated lead arranger for the entire debt facility. The debt has a door-to-door tenure of 12 years with ballooning repayment over seven years commencing from June-2015. SBI's Maldives branch is acting as account bank for the debt facility. The company is aiming at completing the project in four years.
Vienna profits surge
Austria's Flughafen Wien, operator of Vienna International Airport, (+1.3%) posted a revenue increase of 6%. Financial highlights for the nine months ended 30-Sep-2010 include:
Revenue: EUR397.8 million, +6.3% year-on-year;
Airport: EUR199.3 million, +18.7%;
Handling: EUR117.3 million, -8.5%;
Retail & properties: EUR70.0 million, +6.1%;
EBITDA: EUR144.5 million, +9.0%;
Net profit: EUR72.2 million, +18.8%;
Operating cash flow: EUR151.0 million, +39.6%;
Passenger numbers: 14.9 million, +8.3%;
Cargo volume: 217,259 tonnes, +23.3%;
Aircraft movements: 185,523, +0.9%;
Meanwhile, Gemina (+6.4%) shares gained the most on Thursday (25-Nov-2010), while Abertis and Airports of Thailand remained unchanged.
Selected airport operators/investors daily share price movements (% change): 25-Nov-2010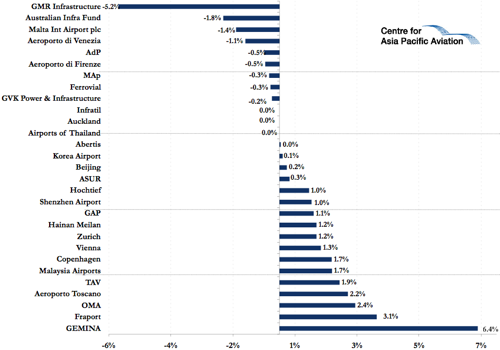 Dufry Group, the Swiss operator of duty-free shops, jumped 5.6% after Goldman Sachs boosted its price estimate for the stock. Shares in Hellenic DFS (-3%) and Jordanian Duty Free Shops (-1.8%) dropped.
Selected airport suppliers daily share price movements (% change): 25-Nov-2010