Global trade slump worsens - pain for airports, airlines, handlers and shippers
Analysis
China's trade figures deteriorated further in Jan-09, with a worse than expected 17.5% fall in exports - the biggest drop in 11 years. Imports contracted by 43.1%, although the declines may have been exaggerated by the early Lunar New Year holiday this year.
The downturn is reflected in the extremely weak air freight data emanating from some of the major industry participants.
Hong Kong Airport's biggest ground handler, HACTL, reported further slides in cargo throughput in the month. Volumes are now down by a staggering one third on last year's levels.
HACTL cargo volume growth (% change year-on-year): Feb-08 to Jan-09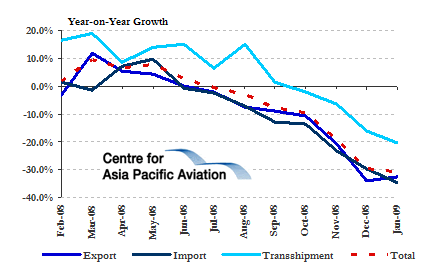 China Southern Airlines' cargo traffic also fell by one third in Jan-09, though its passenger numbers continued to recover from last year's lows in Aug-08.
China Southern Airlines passenger number growth and cargo volume growth: Feb-08 to Jan-09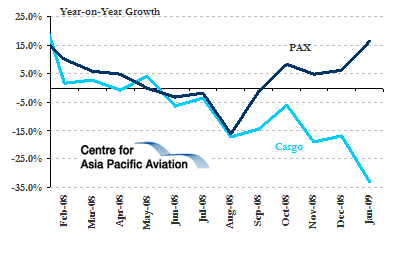 Tough year - AAPA
The Association of Asia Pacific Airlines (AAPA) stated 2009 would be another tough year for the airline industry, with continuing uncertainties about the depth and duration of the recession despite major economic stimulus packages being implemented by governments around the world. This follows a challenging year of volatility in the industry in 2008, with mid-year concerns over the
According to AAPA Director General, Andrew Herdman, "Asian airlines are responding to recessionary pressures with progressive adjustments to both capacity and route networks, but with revenues falling faster than costs, many carriers are suffering losses, exacerbated by losses on fuel hedging."