Global aviation focal point: Bangkok, Singapore and the role of the Star Alliance
Analysis
Southeast Asia is steadily becoming the focal point of global aviation. When headed for Southeast Asia, most travellers fly to/from or via one of two cities: Bangkok or Singapore. And they are most likely to do so on a Star Alliance member carrier. Recently CAPA reviewed the world's top routes and found that the rankings confirmed the rise of Asia as the largest, and fastest growing, aviation market. Using CAPA's Route Analyser Tool, we will now consider the most travelled routes between different regions and how traffic flows are concentrated – or not – on these sectors. First the seats available between Europe and Southeast Asia is reviewed.
See related article: The world's top ten routes are in Asia Pacific
Concentrated at both ends
Top 25 routes between Europe and Southeast Asia (by seats): 19-Sep-2011 to 25-Sep-2011
Even a cursory glance reveals the repeated appearance of a handful of airports. Of the leading Southeast Asia-Europe markets, over 75% of the seats originate in either Bangkok or Singapore, confirming their status as the region's primary hubs.
In the series in which we analysed the world's top airports (Number 17, Bangkok) for 2011, Bangkok, with 79 airlines, trailed only Heathrow with 86, for the world's airport with the largest selection of carriers. While Singapore has fewer airlines, its home carrier operates a growing fleet of A380s, which provides high seat counts. The Zurich-Singapore route has but one daily non-stop, and is operated with an SQ A380, placing it in 15th position.
At the European end, the breakdown of services by operating carrier or group also reveals a rather concentrated picture, with 15 of the 25 city pairs operating from either AF/KL or Lufthansa group hubs.
However, this does not mean the flights are all operated by these airline groups. As mentioned above, the ZRH-SIN service is operated by Star partner SQ with a Swiss codeshare.
Southeast Asia-Europe route presence by carrier or carrier group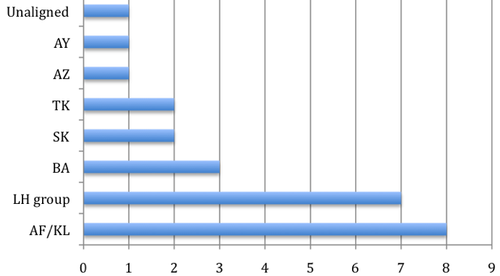 Additionally, almost all of the top seat offers are generated at airports clustered in central Europe and the UK. With the exception of Milan at position 25, there is no representation of southern Europe or the Iberian Peninsula until much further down the list. Spain, represented by Barcelona, does not appear until position 44.
By frequency
Converting another parametre available via the Route Analyser Tool, the next chart shows frequencies rather than seats with the same city pairs displayed but in a different order in some cases, attributable to aircraft size.
Weekly frequencies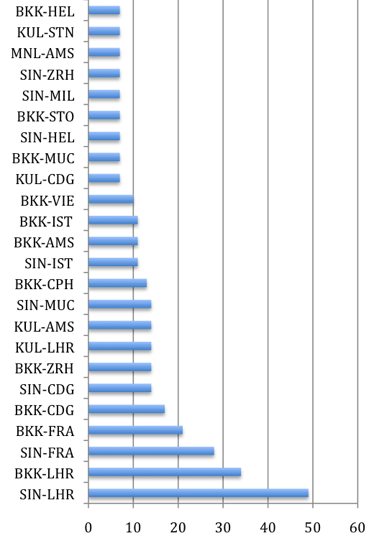 In alliance terms, it is Star
Looking at alliance strength, a similar kind of concentration is present with Star, thanks to Bangkok (Thai Airways) and Singapore (SIA), riding high. In Europe, 11 of the end point airports are home to Star members and in Asia, a whopping 19. This high degree of interconnectivity also means Star holds an advantage in the regional dispersal of the traffic as well.
SkyTeam, due to AF/KL, does well in Europe but has only one partner distribution hub in Southeast Asia in the top 25, Hanoi.
Alliance presence on top 25 routes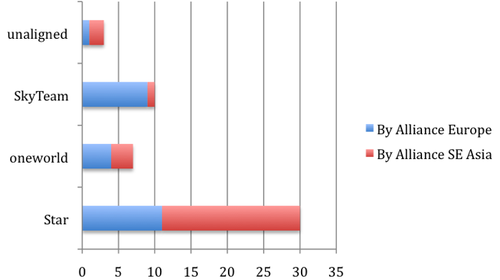 oneworld lags considerably in the display, with only Heathrow and Helsinki in Europe and Kuala Lumpur in Asia. And since one of the routes, KL-Stansted (soon moving to Gatwick) is operated by Air Asia X, KL moves to the unaligned group on that sector.
There are also possible new players. Now that Garuda has been recertified for service by EU regulators, Jakarta may slowly move into the top group – especially to Amsterdam. Elimination of the Kuala Lumpur stop by KLM on its Jakarta service would immediately put that route into the top 25 and a companion non-stop by Garuda would move it even further up the list.
Vietnam routes will also probably become more numerous as more carriers connect to either Hanoi or Ho Chi Minh City with non-stops as opposed to the present one-stop flights.
Finally, as more carriers take delivery of A380s, the overall number of seats is very likely to climb as airlines including Malaysia Airlines and Thai Airways deploy larger aircraft on key European routes.