German airports hit by threat of extended recession
European shares declined sharply on Wednesday on fears of an extended recession in many of the world's leading economies. The Dow Jones Euro Stoxx index of 50 leading shares 4.0%, Britain's FTSE 100 fell 4.8%, while France's CAC-40 fell 4.0%.
Germany's DAX Index was hit heavily, falling 4.9%, with Hochtief's shares falling 7.8% and Fraport's 6.9%.
Selected airports daily share price movements (% change): 19-Nov-08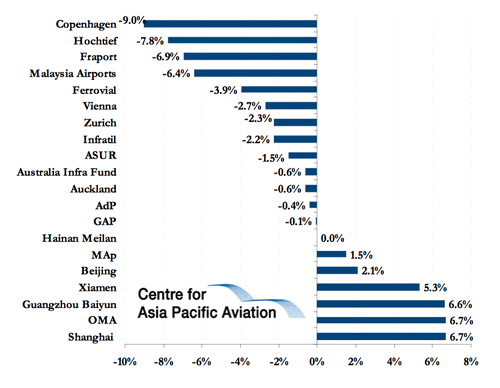 The Conference Board reported yesterday that the Leading Index for Germany declined 1.1% in Sep-08 - the eleventh consecutive monthly decline - led by large negative contributions from new orders in investment goods industries.

Over the past six months, Germany's Leading Index has declined by 4.8%(about a -9.3% annual rate), well below its 2.7% decline between September 2007 and March 2008. The Conference Board stated, "the recent behaviour of the composite indexes suggests that economic weakness is likely to continue into the first half of 2009 and risks for further weakness remains elevated in the near term".

Germany's recession looks set to persist for some time yet, which will continue to depress the country's major aviation companies.