GAP reports slight reduction in profit and revenue levels in 3Q2009
Grupo Aeroportuario del Sureste's (GAP) shares were down 1.2% yesterday, as the carrier reported a slight reduction in EBITDA levels in the third quarter, to EUR32 million, on a 2.7% revenue reduction (aeronautical revenues down 3.1% and non-aeronautical revenues down by 1.9%).
The profitability and revenue contractions were smaller than the 14% reduction in passenger numbers during the period.
Selected airports daily share price movements (% change): 22-Oct-09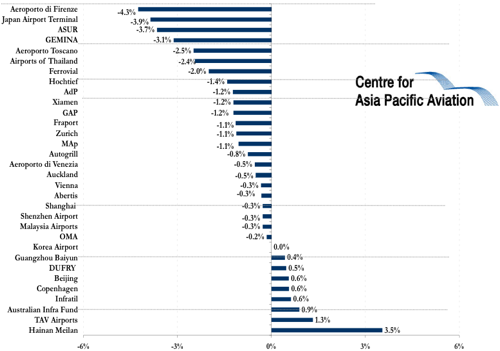 Ferrovial shares were down 2.0% yesterday, on the same day Cintra shareholders approved the company's merger with Ferrovial. The transaction is scheduled to be completed at the beginning of Dec-2009. According to Cintra, the new Ferrovial will focus on Greenfield transport infrastructure projects, with the merger to facilitate coordination between infrastructure construction, development, and management.
Elsewhere in Europe, AdP's shares were down by 1.1%, with Fraport and Hochtief also lower, slipping 1.1% and 1.4%, respectively.
In the Asia Pacific region, MAp's shares were also down by 1.1% yesterday.