Gains across the board in American airline shares, suppliers mixed
Continental Airlines enjoyed the biggest gain on the Wall Street casino yesterday, surging 14.5%, on the same day it launched daily non-stop services on the New York-Shanghai route - a rare new route to Asia for US carriers. Continental commenced non-stop New York-Hong Kong and New York-Beijing services in 2001 and 2005, respectively.

United Airlines gained 13.5% and Delta put on 10.6%b yesterday.
North & South America selected airlines daily share price movements (% change): 25-Mar-09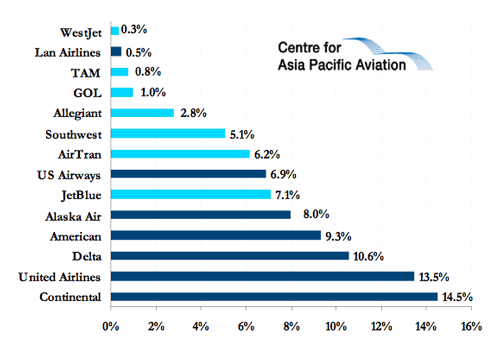 Shares in several aviation suppliers were also up strongly yesterday. AerCap shares gained another 9.4% after the previous day's 11% gain, while BE Aerospace and Embraer advanced 10.9% and 8.8%, respectively.
Selected Aviation suppliers daily share price movements (% change): 25-Mar-09