Full service airlines in peril as worldwide premium travel slumps further in December
Analysis
The International Air Transport Association (IATA) reports Business travel continued its steep decline in December, with passenger numbers travelling on premium tickets plummeting 13.3% year-on-year, following November's 11.5% decline.
Asia continues to show the greatest degree of weakness in premium travel, according to the industry body, with premium traffic within the 'Far East' region slashed by a quarter (-25.1%) in Dec-08, one fifth across the Pacific (-19.7%) and a similar amount to Europe (-17.3%).
IATA premium traffic by region (% change year-on-year): Dec-08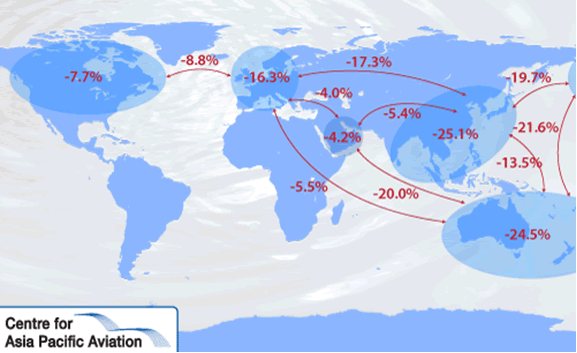 Worse to come for Europe, while Middle East premium demand also now dropping
Across the North Atlantic, premium traffic fell 8.8%, following a 9% decline in November. Within Europe, premium travel was down 16.3%. But IATA warns January's data for Europe "may well show a renewed deterioration", as economic data points to even weaker industrial production across the continent.
British Airways admitted yesterday that the airline is currently burning through GBP2.7 million (USD3.9 million) cash per day, as it is "spending far more than we are earning and this is depleting our cash reserves", as premium demand has slumped.
Travel to/from and within the Middle East had shown some signs of stabilisation in November, even some growth, but this "reversed significantly in December", according to IATA. Premium travel within the Middle East shrank 4.2% in Dec-08 and routes to Europe and the Far East fell 4% and 5.4%, respectively. IATA stated the collapse in oil revenues and recession in other regions "looks as though it is further damaging air travel in this region".
For the 12 months ended 31-Dec-08, the Middle East was the only region to show growth in premium demand (+9.4% year-on-year), while premium demand to Europe and Asia also increased by more than 6% as the region's airlines exploit their geographic advantages. Both Emirates and Etihad are aggressively expanding their capacity again in 2009. [Click here to download the Centre's Middle East Aviation Outlook 2009 report free]
IATA premium traffic by region (% change year-on-year): 12 months ended Dec-08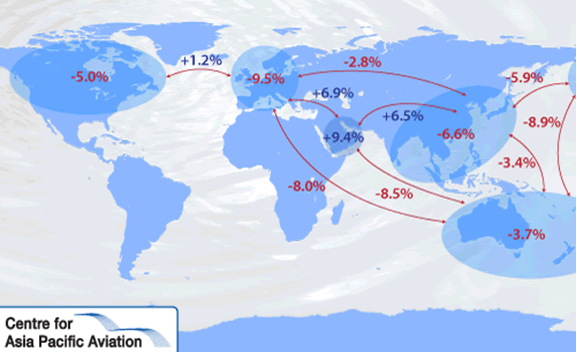 "Ripping the guts out of the legacy airline model"
The Centre for Asia Pacific Aviation last week stated that 20%+ falls in premium traffic are "more than just another statistic". The Centre's Executive Chairman, Peter Harbison, warned, "it is ripping the guts out of the legacy model. If this persists another six months, airlines will be grounded".
Yields are now falling sharply. IATA reports that by Nov-08, average yields (excluding fuel surcharges) were around 6% down on levels the previous year. The industry body estimates that premium revenues in Dec-08 had fallen to some 20% below year earlier levels, adding that in "normal years", premium passengers make up around 8% of passenger numbers but 15-20% of revenues. "So a 20% loss in premium revenues will in itself cut 3% or USD15 billion from the airline industry's annual revenues", says IATA.
IATA warned, "with jobs being lost at an increasing rate during January and consumer confidence falling further it seems that the bottom has not yet been reached for air travel and even weaker numbers may become evident in the first few months of this year".