Fuel crisis abates - airlines quickly back on the expansion trail
Analysis
What a difference a month makes. The spectacular fall in the price of oil - now 24% off its Jul-08 peak - could re-write some of the capacity cuts airlines were preparing to make later this year. Falling oil prices will also lead to the removal soon of some fuel surcharges (Lufthansa Cargo has already moved to wind back its cargo surcharge), which could lessen the pain for travelers and support demand.
As new aircraft deliveries continue to flow into the fleets of Asia's airlines they have two choices; grow, or ground older aircraft. Growth - rather than replacement - is quickly becoming the order of the day. Relief in the form of falling fuel prices will intensify this trend. Traffic growth rates in the latter part of the year could exceed expectations if fuel prices continue to fall.
But earnings should continue to disappoint. USD113 per barrel oil is still a massive burden for many airlines. Some airlines at least will be tempted to take a "strategic" path and maintain market shares - made easier as the oil price falls.
Lower fuel prices will trigger the next phase of network expansion for some airlines. Emirates President, Tim Clark, stated this week that if oil prices fell to around USD105 per barrel, Emirates would launch services to Durban, Algiers, Amsterdam, Kiev, Barcelona and Buenos Aires. Mr Clark added, "we have hundreds of places we can go". Yesterday's oil price in New York of USD113 per barrel, means the Dubai-based carrier is very close to unleashing an even more aggressive expansion.
The same could be said of smaller carriers in the region. Virgin Blue CEO, Brett Godfrey said last week, "even in this current climate where many airlines are reviewing their networks, our team is always on the look out for potential routes that could do with added competition and where we can make a difference by bringing down over-priced airfares".
Reflecting the drop in oil prices, the past week's reports in Asia Pacific Airline Daily have seen service expansions and new base announcements outweigh cutbacks, from carriers including Vietnam Airlines, Etihad Airways, Tiger Airways, Jet Airways, several Philippine carriers, China Southern, Korean Air and others.
Other carriers, like Cathay Pacific and Singapore Airlines, are redeploying capacity away from weaker markets to areas where demand is strong, and maintaining their overall capacity levels. Cathay CEO, Tony Tyler, stated, "we will continue to maintain the integrity of our network, reshaping it where necessary to ensure we fly aircraft to where we can cover our costs and also make some money".
The Hong Kong-based carrier continues to grow its capacity strongly this year to feed its hub in the face of growing regional competition. Cathay has even outpaced the much smaller Virgin Blue this year in terms of capacity expansion. Only Jetstar and Tiger Airways have expanded capacity faster this year in the region, according to a survey of airlines by the Centre for Asia Pacific Aviation.
Asia Pacific passenger capacity and passenger capacity growth for the five months ended 01-May-08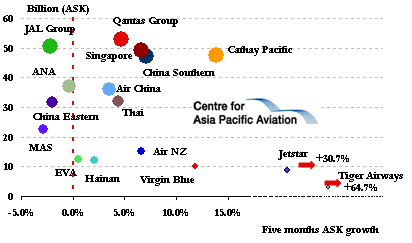 Despite much of the concerns exported from the US and Europe, travellers, airports and the tourism industry could be looking forward to a better end to the year than expected, as the market becomes well supplied with capacity and fares/surcharges fall as fuel prices ease.