Frontier unit revenues continue to decline; GOL shares slip on share sale concerns
Frontier, upon the release of its Sep-2009 traffic results yesterday, estimated that mainline passenger unit revenue decreased by 12-14% year-on-year in September, at a greater rate than the estimated 11-13% contraction.
Also in the month, Frontier handled 785,148 passengers, a 1.8% fall, while load factors slipped 0.1 ppts to 82.7%.
AirTran's shares gained 3.4% yesterday, following Wednesday's 17.3% slump, on news that it would issue convertible senior notes and sell more shares.
GOL's shares, meanwhile, slipped 2.3% yesterday on concerns that its secondary share sale will lack demand. GOL's sale of 51.8 million new and existing shares was expected to be priced after the close of trading yesterday.
GOL's shares have gained 72% in 2009, compared with a 70% advance in the benchmark Bovespa index.
Selected LCCs daily share price movements (% change): 08-Oct-09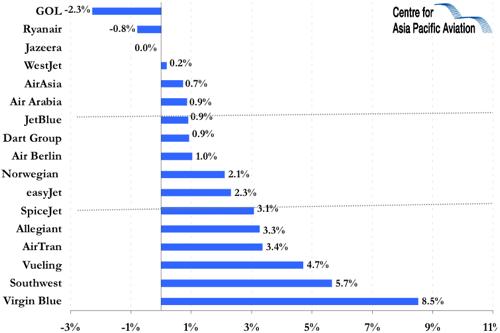 Air Berlin boosts cash balance, with sale of shares to TUI Travel subsidiary
In Europe, Air Berlin's shares gained 1.0%, as TUI Travel announced it would acquire a 9.9% stake in the German LCC through its Leibniz-Service GmbH.
The share acquisition will give Air Berlin EUR33.5 million in fresh capital when the transaction is completed later this month. The proceeds from the capital increase will be used for general corporate purposes.
Also in the region, easyJet's shares gained 2.3%, with Ryanair's shares slipping 0.8%.
In other LCC news, OAG stated that the number of worldwide LCC services are up 5.3% this month, with capacity up 5.6%.