Freight markets stabilise, but slow recovery ahead - IATA
Analysis
Worldwide international freight volumes fell 22.1% in Feb-2009 year-on-year - the third consecutive month of greater than 20% declines (-23.2 in Jan-2009 and -22.6% in Dec-2008), according to the International Air Transport Association (IATA).
A cautious IATA Director General and CEO, Giovanni Bisignani, stated, "we may have found a bottom to the freight decline, but the magnitude of the drop means that it will take time to recover".
IATA cited the recently released Eurozone Purchase Managers Indices, (which are useful forward looking indicators for cargo traffic), showing a slight and unexpected improvement in March - although it remained in negative territory.
Asia Pacific carriers - the largest players in cargo - saw demand fall by 24.7% in Feb-2009, "as the region's high-value export-dependant industries were hard hit by falling consumer demand in the major markets of Europe, the US and Japan", according to IATA. Association of Asia Pacific Aviation (AAPA) data for Feb-2009 also indicates the level of air freight traffic appears to have found a floor over the past three months.
European and North American carriers saw cargo demand decline 23.1% and 21.8%, respectively, while Middle Eastern carriers experienced the smallest fall in demand (-4.8%). They were also the only region to increase capacity (+5.4%).
IATA international freight traffic (FTK) growth by region: Mar-08 to Feb-09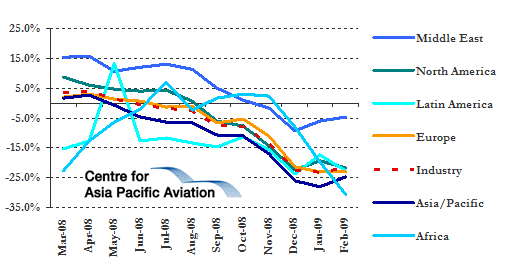 Passenger volumes continue to deteriorate
Passenger volumes fell sharply in Feb-2009, by 10.1% year-on-year, following the 5.6% reduction in Jan-2009. IATA stated the 5.9% reduction in capacity by airlines - the most aggressive since the crisis began - could not keep pace with the fall in demand, pushing the February load factor down 3.2 ppts to 69.9%.
"Gloom continues", according to IATA, with the sharp drop in Feb-2009 passenger traffic showing the broadening scope of the crisis across all regions.
IATA international passenger traffic (RPK) growth by region: Mar-08 to Feb-09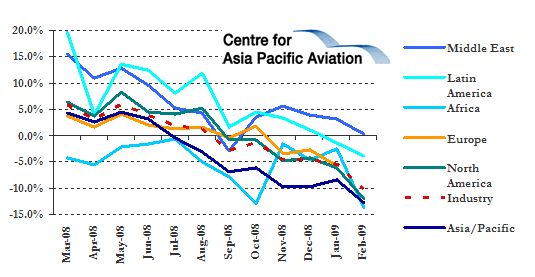 Asia Pacific carriers saw passenger traffic decline by 12.8%, far outstripping the -7.8% capacity adjustment. IATA stated, "the region's export dependant economies continue to suffer, impacting both business and leisure travel - particularly to long-haul destinations. While this may be somewhat exaggerated by Chinese New Year (which took place in January 2009 and February 2008), the sharp downward drop from the -8.4% recorded in January shows the deepening impact of the crisis on this region".
Europe's carriers saw traffic fall in line with the global average at -10.1%. Long-haul markets to the US and Asia have been particularly hard hit reflecting negative economic sentiment such as that seen in Germany where business confidence hit new lows in both February and again this month.
North American carriers recorded a 12.0% drop in demand, also outpacing an aggressive -7.1% capacity adjustment. Consumer confidence remains low in what is traditionally a weak month for travel.
Middle East carriers bucked the trend of falling demand with an increase of 0.4% in international passenger traffic. But an aggressive capacity increase of 7.3% drove load factors down 4.7 percentage points to 68.1%.
Mr Bisignani concluded, "the priority for airlines around the world is survival - conserving cash and adjusting capacity to match demand. This means re-sizing and re-shaping the industry to deal with the USD62 billion (12%) fall in revenues expected this year. Airlines will be making some tough decisions to stay afloat as we head for industry losses of USD4.7 billion in 2009.