Fraport, Aeroports de Paris and BAA parent jump while Macquarie Airports drops back
Macquarie Airports' shares fell back (-4.1%) while Australian Infrastructure Fund eased at 0.3%, despite AirAsia X's plans to increase KL-Melbourne frequency (see below).
Elsewhere in the region, Korea Airport Services' shares slipped 3.5%. (See related article: Traffic at Incheon International Airport shows signs that it is getting back on track).
Japan Airport Terminal's shares also slipped 1.7% following the release of its June quarter financial highlights, which show net profit slumping to just over USD1 million.
In Mexico, shares in airport operator, Grupo Aeroportuario del Pacífico (GAP), gained 0.2% after reporting improving traffic highlights in Jul-2009. ASUR and OMA also gained 0.1% and 0.8%, respectively.
Selected airports daily share price movements (% change): 05-Aug-2009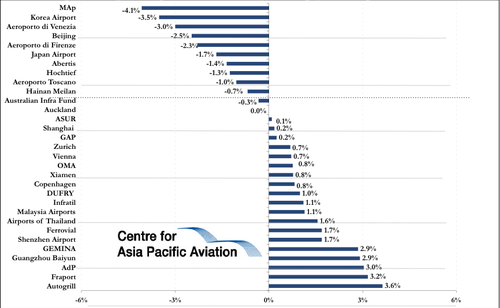 AirAsia increases four frequencies to Melbourne – edited press release
AirAsia stated it is responding to the strong and growing demand from its guests with an additional four weekly frequencies between Kuala Lumpur and Melbourne, bringing its frequency on the sector from seven to eleven times weekly, effective 01-Dec-2009.
AirAsia currently enjoys a 33% market share on the Kuala Lumpur-Melbourne sector and plans to increase its share by further tapping into first-time travellers from the leisure market in ASEAN countries. The airline has grown the overall Kuala Lumpur-Melbourne market share by 30% since commencing the route in Nov-2008.
AirAsia also plans to tap existing markets of leisure travellers, visiting friends and relatives and students by encouraging more frequent travel through its low-fare offerings.
To celebrate the launch of the additional frequencies, AirAsia is offering seats from MYR149 to Melbourne from Kuala Lumpur. Booking period will begin from 06-Aug-2009 to 09-Aug-2009 for the travel period from 01-Dec-2009 to 30-Apr-2010.
AirAsia X Chief Executive Officer, Azran Osman-Rani, stated "despite the difficult economic climate, the Melbourne route continued to show strong growth for AirAsia. Irrespective of a shrinking global aviation market, AirAsia X continues to buck the trend by delivering growth on all of our routes. The Kuala Lumpur-Melbourne route has been particularly popular for us, with AirAsia carrying almost 100,000 passengers since we first touched down in Melbourne on 12-Nov-2008. In fact, the route shows no sign of weakening with strong forward bookings."
Mr Azran added "these new additional frequencies would also offer passengers better two-way connectivity by reducing transit times when connecting to further destinations to ASEAN and beyond including London and other routes serviced by AirAsia's growing route network. The increased services will provide better choice to passengers and further enhance our product offering towards the business segment, which values frequency and timing choices."
Melbourne Airport CEO, Chris Woodruff stated "AirAsia's entry to Melbourne has stimulated new demand and brought significant growth to the Melbourne – Kuala Lumpur market. This goes to prove the low-fares have helped to attract more inbound travelers and maintain Melbourne as an attractive holiday destination for many."