flynas benefits from relaxed Saudi fare cap; could become the second Gulf partner for Cebu Pacific
Analysis
Following the withdrawal of its short-lived long-haul flying, Saudi Arabian LCC flynas is concentrating on its core domestic market, which accounts for just under two-thirds of seat capacity in Apr-2015, according to OAG data. The domestic Saudi market had been challenging with the existence of a domestic fare cap and national carrier Saudia receiving subsidised fuel.
flynas is benefitting from a late 2014 change that allows it to exceed the fare cap for bookings within 10 days of departure - an essential part pf many LCCs' revenue management strategies. A few days before departure Saudia typically has only limited inventory remaining and is unable to increase economy fares, leaving flynas as the only option.
flynas aims to carry six million passengers in 2015 with a fleet of 24 A320s, making it the Middle East's third largest LCC after flydubai (46 aircraft) and Air Arabia (36). Like other airlines, flynas is looking to grow partnerships. It may join Air Arabia in partnering with Filipino LCC Cebu Pacific, which operates long-haul A330 flights to the Middle East. There could also be a partnership with Turkey's Pegasus.
flynas aims for six million passengers in 2015
flynas CEO Paul Byrne, speaking at CAPA's recent Airlines in Transition conference in Dublin, presented the Saudi LCC's plans for 2015. This includes flying 24 aircraft (all A320s) with an average utilisation of 11.1 hours, including 12-13 hours in peak periods for a total of six million passengers in 2015. These goals are largely unchanged from when CAPA looked at flynas plans in late 2014.
See related report: flynas returns to short-haul flying as Saudi Arabia welcomes Al Maha Airways and SaudiGulf Airlines
flynas CEO Paul Byrne speaks to CAPA TV: Mar-2015
Easing of Saudi Arabia's domestic fare cap boosts flynas yields
As CAPA has previously reported, Saudi Arabia in late 2014 no longer subjected flynas to the domestic fare cap for economy tickets purchased within 10 days of departure. (Premium tickets, which only Saudia offers, have not been subject to the cap.) A few months into this new market dynamic, Mr Byrne reports positive results: "Market forces are driving our yields up quite well. We do have the luxury of being available after Saudia are full because they sell so cheaply on the fare cap."
A spot check on fares booked 48 hours in advance for the key Jeddah-Riyadh route shows that Saudia has sold out on 17 of its 22 daily flights. As the fare cap always applies to Saudia's economy seats, it has sold its inventory at low yields. flynas operates half the frequency of Saudia and an even lower seat share since flynas only uses A320s but Saudia often uses widebody aircraft.
Saudia's economy fares on Jeddah-Riyadh do not exceed SAR310 (USD83). On nine of flynas' 11 flights, its lowest fare 48 hours before departure exceeds SAR310. Only on two flights in the middle of the day does it offer a lower fare than SAR310. The period between 10:00 and 14:00 is when flynas' two sub-SAR310 fares are available, and is the only period when Saudia has fares available.
Looking at the environment one day before departure, a spot check shows Saudia sold out except in premium cabins. flynas' fares have increased, generally around SAR369 (USD98) with some fares as high as SAR549 (USD146).
Sample Jeddah-Riyadh fares on flynas and Saudia: 14-Apr-2015 booked on 12-Apr-2015
| | | |
| --- | --- | --- |
| Departure Time | flynas | Saudia |
| 0100 | 319 | Sold Out |
| 0400 | N/A | Sold Out |
| 0700 | 369 | Sold Out |
| 0800 | N/A | Sold Out |
| 0845 | N/A | Sold Out |
| 0900 | 319 | Sold Out |
| 1000 | 279 | 310 |
| 1100 | N/A | 310 |
| 1200 | 279 | 310 |
| 1300 | N/A | 310 |
| 1400 | N/A | 310 |
| 1500 | 319 | Sold Out |
| 1600 | N/A | Sold Out |
| 1700 | 319 | Sold Out |
| 1805 | 369 | Sold Out |
| 1820 | N/A | Sold Out |
| 1900 | 369 | Sold Out |
| 2000 | N/A | Sold Out |
| 2100 | N/A | Sold Out |
| 2115 | N/A | Sold Out |
| 2200 | 369 | Sold Out |
| 2300 | 319 | Sold Out |
Saudi Arabia's domestic market mainly centres on Jeddah, Riyadh and Dammam, and it is between these cities where flynas is largest.
Top 10 domestic Saudi Arabia routes ranked on seat capacity: 13-Apr-2015 to 19-Apr-2015
flynas top 10 domestic routes ranked on seat capacity: 13-Apr-2015 to 19-Apr-2015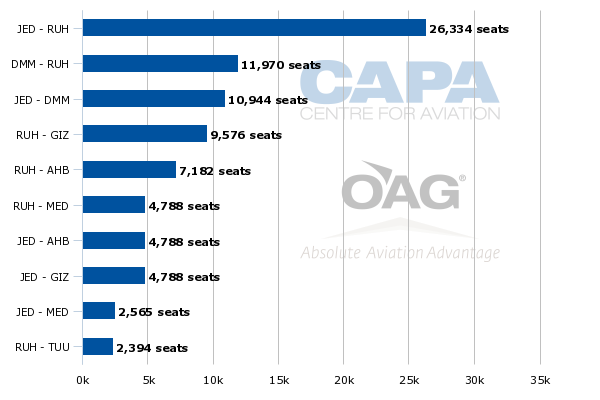 Filipino LCC Cebu Pacific has embarked on A330 long-haul flights primarily to the Middle East in order to cater almost exclusively to Filipino labourers working in the region. During the 2014 runway works at Dubai International, Cebu moved its Manila-Dubai flight to Sharjah. Sharjah is the home of LCC Air Arabia, and while they were co-located they saw a number of passengers connect beyond Sharjah (there was co-marketing).
Cebu's footprint in the Middle East is light in terms of destinations and frequency. A local partner like Air Arabia allows a large virtual presence.
Advertisement for Air Arabia-Cebu Pacific connections in Saudi Arabia-Philippines market
Cebu moved back to Dubai International after the runway works but has mooted launching Manila-Sharjah service in order to tap into Air Arabia's network. As Air Arabia only operates A320s and does not reach the Philippines, the partnership is complementary. As CAPA previously wrote of Cebu's experience flying to Sharjah:
it will cater to Filipino workers with the added benefit of being an LCC hub, enabling connections to destinations throughout the Middle East (as well as parts of Eastern Europe, Central Asia and Africa) which have Filipino populations but may not be large enough to support non-stop service.

Air Arabia's Sharjah hub currently consists of almost 1,000 weekly flights to about 60 destinations. Air Arabia currently accounts for an overwhelming 83% of total capacity at Sharjah, according to CAPA and OAG data. In terms of seat capacity Air Arabia's Sharjah hub is about four times the size of Jazeera's Kuwait hub and about double the size of flynas' hubs in Riyadh and Jeddah.

The Dubai hub of the Middle East's other main LCC, flydubai, is about 50% larger than Air Arabia's Sharjah hub. But a Cebu Pacific-flydubai relationship is unlikely given flydubai's ties to Emirates, which competes against Cebu Pacific in the Manila-Dubai market. Emirates is also a large one-stop carrier in other Manila-Middle East markets (such as Kuwait and Saudi Arabia) that Cebu Pacific is now preparing to enter.

Mr Reyes said Cebu Pacific is now looking to add Sharjah on a permanent basis to leverage the connection opportunities with Air Arabia as it was pleasantly surprised by the transit traffic generated during its time in Sharjah. Air Arabia in particular promoted connections to Manila from the Saudi Arabian cities of Dammam, Riyadh, Gassim and Hail with one-way through fares starting at SAR1250 (USD333) including checked bags and a meal.
See related report: Cebu Pacific long-haul low-cost part 2: new period of growth begins as five destinations are added
Mr Byrne says flynas may partner with Cebu Pacific. Cebu operates three weekly flights to Riyadh while twice weekly Manila-Dammam service was suspended 28-Mar-2015. As Cebu Pacific reported Saudi destinations were some of the most popular connecting markets on Air Arabia, partnering with a Saudi carrier like flynas offers more opportunities. Air Arabia for example serves Hail three times weekly while flynas offers a daily flight.
Air Arabia offers up to two daily flights to Jeddah from Sharjah while flynas has 11 from Riyadh. There will be some logistical issues to work through as Cebu's Riyadh flight arrives late in the evening, missing many same-day connections.
A partnership with Turkey's Pegasus could also be signed in a few months, according to Mr Byrne. Pegasus does not serve Saudi Arabia but flynas operates four weekly flights to Pegasus' hub at Istanbul Sabiha Gokcen. That would give flynas access to other Turkish points as well as Pegasus' European network. 61% of Pegasus' seat capacity is within Turkey while the remaining 39% is mostly within Western/European/Central Europe.
Pegasus international seat capacity by country: 13-Apr-2015 to 19-Apr-2015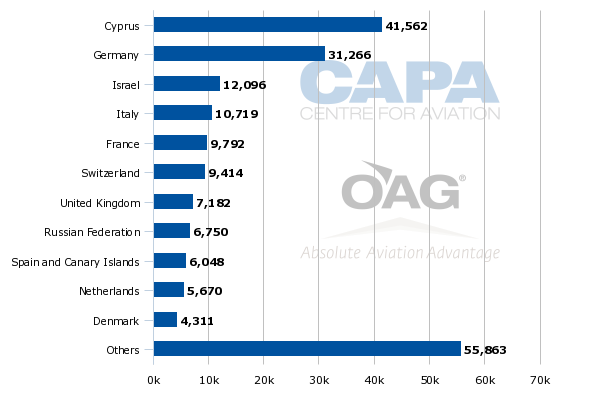 See related report: Pegasus Airlines & Turkish Airlines: Turkey's aviation booms, Istanbul Sabiha Gokcen Airport gains
flynas' only existing partnership is with Etihad Airways, and Mr Byrne hopes to grow flynas' partnerships as he moves the carrier to having a higher share of direct distribution.
Flynas sharpens its domestic strengths as new start-ups wait to enter Saudi
There is some urgency to flynas concentrating and building strength on short-haul flying. Saudi is due to see the entry of two new local carriers, SaudiGulf (affiliated with Bahrain's Gulf Air) and Al Maha Airways (owned by Qatar Airways). The process has been repeatedly delayed, and in Feb-2015 reports indicated SaudiGulf would not launch until 4Q2015. In Jan-2015 Qatar Airways CEO Akbar Al Baker said licensing for Al Maha could take another six to 18 months, potentially putting a launch date in mid/late 2016.
There is also uncertainty how exactly these new carriers will serve the Saudi market.
SaudiGulf may target the premium sector while Al Maha focuses on international services and feeding passengers into the Doha hub of Qatar Airways. flynas' core domestic LCC market may see limited impact from the new carriers. This should not be used as a reason for complacency, and so far this does not appear to be the case.
Nonetheless, flynas' unsuccessful long-haul strategy has consumed time in launching the programme and then recovering from it. This has now prompted flynas to focus on its basics rather than pursue new growth that future competitors may eye.