flydubai in talks to determine impact of Boeing strike
Analysis
flyduabi announced in early Nov-08 that it has entered negotiations with Boeing to determine the impact of the strike at the aircraft manufacture will have the carrier's aircraft delivery schedule. The Boeing strike commenced on 06-Sep-08 and was resolved at the end of Oct-08. Boeing machinists are expected to return to work on 11-Nov-08.
flydubai expected delivery schedule (leased and ordered):2009-2015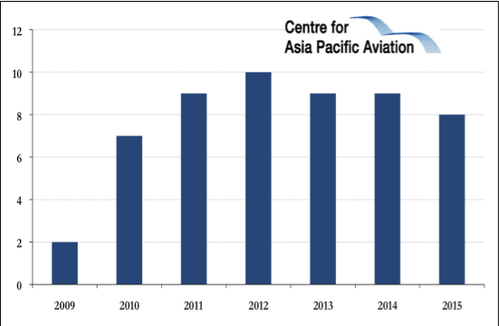 The carrier's CEO, Ghaith Al-Ghaith, has confirmed that despite the strike at Boeing, which has affected B737 and B777 production and the and B787 programme it is "planning to start the airline as we had intended". Operations are scheduled to commence some time in 2Q08.
Last month, the CEO commented that the carrier could be operational by Jun-08, if not earlier, but had not yet fully determined the details of its fleet delivery schedule. It also announced that it would initially launch operations from Dubai International Airport, instead of the low cost carrier terminal at the new Al Maktoum International Airport in Jebel Ali, which will eventually be the carrier's home base. Operations are expected to be shifted to Jebel Ali in Autumn 2009.
Mr Al-Ghaith has now stated that aircraft deliveries are scheduled to commence in Apr-09, and the plan was to launch operations "about two weeks after", implying a launch in April or May.
The carrier has 54 B737NGs on order, comprised of 50 firm orders and four aircraft to be leased from Babcock & Brown Aircraft Management. flydubai hopes to add at least seven aircraft to its fleet by the end of 2010, with as many as five aircraft to be operational within 12 months of its launch.
Big plans for the future
When the formation carrier was formally announced in Mar-08, Mr Al-Ghaith stated that it planned to enter the market as a "major player", and would "kick off with as many destinations as possible and as many aircraft as we manage to get." Even if its launch schedule remains uninterrupted, the Boeing delays may put a dampener on the carrier's initial expansion plans.
The carrier is set to change the aviation landscape in Dubai, and represents a new avenue of growth for the Middle East's major hub. LCCs currently account for just 3.7% of capacity at Dubai International Airport. Owned by the UAE government, and supported (but not controlled), by Emirates, flydubai is another element in the comprehensive aviation development strategy that the emirate is developing.
Tellingly, the carrier has options to convert its aircraft order into the larger, and longer ranged, B737-900ERs. Aircraft configurations for the carrier have not yet been revealed, but the B737-900ER typically carries approximately 25 more passengers than a -800 in single class configuration, and 20 more in lower density configurations. Most Middle East LCCs operate with a two-seat configuration. flydubai will be the first Middle East LCC to operate B737NGs, and with larger capacity aircraft, it could handle more passengers than fellow LCC competitors with less aircraft capacity.
Initially, flyduabi plans to concentrate it operations on a just dozen destinations in the six member Gulf Cooperation Council. Its expansion plans call for it to expand to 70 destinations within 4.5 flying hours of Dubai.
Ongoing regional liberalisation has created a level of "pent-up demand" according to the carrier, and it plans to capitalize on this, by expanding its operations to Eastern Europe, India, Asia and Africa. According to Al-Ghaith, the Middle East has not yet "really seen the light as far as open skies is concerned, but we believe the tide is changing, there will be more openings as far as the air politics is concerned."
Background Information: