Finnair's thin air: 2013 operational profits vanish, employee cost savings talks take centre stage
Analysis
Finnair's 2013 results saw an unwelcome return to losses at the operational level, although the net result remained positive (just) due to non-operating items. In spite of achieving its Phase 1 cost savings target six months early and establishing a creditable track record of lowering its ex fuel CASK in recent years, unit revenue weakness remains a less predictable wildcard.
Most of the group's organisational restructuring, including the outsourcing of maintenance and catering, the reorganisation of its travel services business and the switch to an all Airbus fleet, is now complete. Further cost savings will depend on the outcome of employee negotiations, a process that led to a strike warning in 4Q2013. Although it did not materialise, the strike threat then contributed to a particularly weak quarterly result, with both RASK falling and CASK rising in the quarter.
In 2014, it will be crucial to demonstrate that management can return both of these indicators to a healthy path and restore the group to profit.
2013 operational result falls back into loss, with 4Q very weak
In Nov-2013, Finnair had warned that revenues would be lower than the previous year and that the operational result might not be positive and this is how it turned out. In 2013, Finnair saw its operational result (which excludes fair value changes and non-recurring items) fall to a loss of EUR5 million, from a profit of EUR43 million in 2012. Revenues were down 2.0% to EUR2,400 million, in spite of ASK growth of 2.6%. Revenue per available seat km (RASK) fell 3.9%, while cost per available seat km (CASK) was just below flat versus 2012.
The net result held up at a profit of EUR11 million, boosted by a better result from the change in fair value of derivatives and in the value of foreign currency denominated maintenance reserves (EUR22 million versus negative EUR4 million in 2012) and a EUR34 million capital gain from the sale in Apr-2013 of Finnair's stake in Norwegian Air Shuttle. Without these non-operational items, the net result would have been a significant loss.
The 4Q result was the weakest quarterly result, in terms of year on year progression, with revenues falling by 8.5% and the operational result plummeting from breakeven in 4Q2012 to a loss of EUR32 million in 4Q2013. RASK fell 5.1% in 4Q2013, while CASK grew by 4.5%. In a company statement, CEO Pekka Vauramo admitted that 4Q was disappointing: "We cannot be satisfied with the development of our turnover, our financial result or the progress of our cost reduction program in the fourth quarter".
Finnair financial highlights: 2013
| EUR million except where stated | 2012 | 2013 | Change |
| --- | --- | --- | --- |
| Revenue | 2,449 | 2,400 | -2.0% |
| Operating result before exceptional items | 43 | (5) | -111.1% |
| EBIT margin % | 1.8 | (0.2) | (2.0) |
| Net profit | 11 | 11 | 4.8% |
| Cash & cash equivalents | 431 | 459 | 6.6% |
| Gross debt | 64 | 70 | 8.7% |
| Net debt | 569 | 618 | 8.7% |
| Equity | 139 | 160 | 15.2% |
| ASK (millions) | 30,366 | 31,162 | 2.6% |
| RPK (millions) | 23,563 | 24,776 | 5.1% |
| Load factor % | 77.6 | 79.5 | 1.9ppts |
| | | | |
| RASK (EUR) | 6.49 | 6.24 | -3.9% |
| CASK (EUR) | 6.58 | 6.57 | -0.2% |
| CASK ex-fuel (EUR) | 4.50 | 4.46 | -0.9% |
Although Finnair managed to hold on to a small net profit in 2013, the operational loss marks an unwelcome return to red ink, after 2012 had seen its first positive results since 2007. Revenues had been on a recovery since 2009, but this was reversed in 2013.
Finnair revenues, net profit and operating profit (EUR million): 2003 to 2013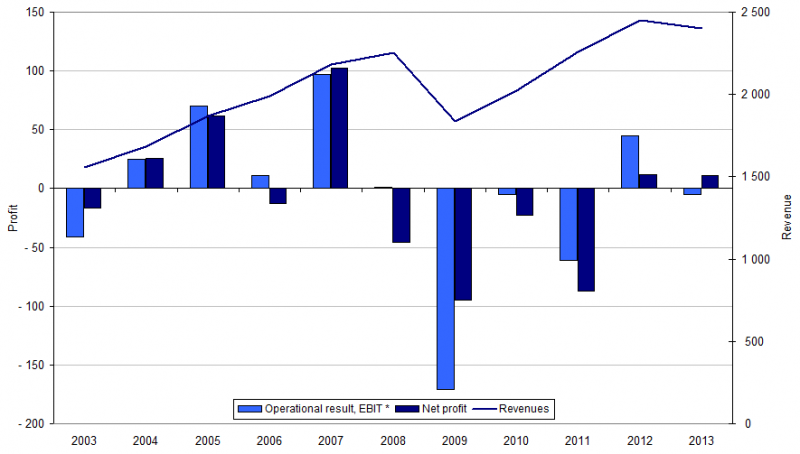 The 2013 results also mark a reversal in what had been improving balance sheet trends, although it remains in a broadly healthy state. Gross debt grew once more, after falling from 2009 to 2012, and net debt increased in 2013 to EUR160 million from EUR139 million a year earlier. The group's 2013 year end gearing (net debt to equity ratio) increased from 18% to 23%.
This is still quite low by European legacy carrier standards and, even factoring in off balance sheet operating leases (capitalised at 8x annual lease payments), adjusted gearing of 90% is relatively healthy.
Finnair's reserves of cash and cash equivalents were EUR459 million at the end of 2013, equivalent to 70 days of revenues, a reasonable cushion. Use of sale and leaseback arrangements to finance new aircraft has helped it to conserve cash.
Finnair development of net debt and cash: 2009-2013
Result dragged down by Aviation Services
The Airline Business segment remains the group's most important in terms of profits. After recovering from a 2009 operating loss of EUR182 million to a profit of EUR32 million in 2013, its 2013 operating result dipped to EUR25 million.
Nevertheless, the group might still have recorded an overall operating profit were it not for heavy losses in its Aviation Services segment, which saw an operating loss of EUR35 million, largely due to restructuring costs. The segment consists of maintenance, catering and travel retail activities in addition to Finnair's property and office services. The operations of Finnair Catering Oy were transferred to LSG Skychefs on 1-Aug-2012 and engine and equipment maintenance were outsourced in Jul-2012.
Finnair operating profit by business segment (EUR million): 2009-2013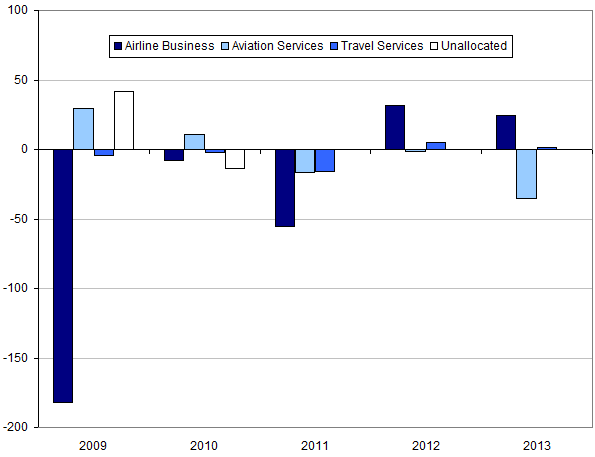 Load factor reaches another new high
In 2013, Finnair increased passenger capacity (ASKs) by 2.6%, with RPKs up 3.8% and passenger load factor gaining 1.9ppts to reach 79.5%, further extending the sharp improvement in load factor achieved since 2011. Capacity growth in 2013 was focused on Europe, where Finnair increased ASKs by 9.0%, followed by North America, where ASK growth was 3.1%.
Although Asia has been a prime focus for growth, and for Finnair's network strategy, in recent years, it grew ASKs to the region by only 1.4% in 2013. Asia remains Finnair's biggest region by ASKs and revenues. Leisure capacity was cut by 6.5%, a result of weak demand and travel restrictions to Egypt. Asia had the biggest load factor gain, an improvement of 2.8 ppts to 80.3%.
Finnair development of capacity (ASK, million) and load factor (%): 2005-2013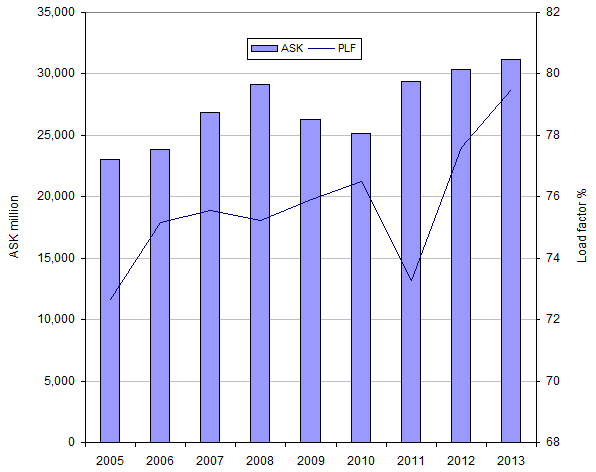 Finnair 2013 ASK and passenger load factor by region
ASK million

ASK change
vs 2012 %

PLF %

PLF change
vs 2012 ppts

Asia

15,413

1.4%

80.3

2.8

9,561

9.0%

75.9

1.9

Leisure

3,365

-6.5%

88.3

-0.3

North Atlantic

1,567

3.1%

86.6

2.0

1,256

-2.0%

64.8

1.3

Total

31,162

2.6%

79.5

1.9
4Q revenues hit by yen, threat of strikes and weak leisure demand
The more rapid decline in revenues seen in 4Q (-8.5%) compared with the year as whole (-2.0%) was attributed by Finnair to the weakness of the Japanese yen against the euro, a 20% cut in ASKs in the leisure segment and lost revenue resulting from strike threats. This last point shows itself in lower ASK figure and lower unit revenues in 4Q, when passenger traffic revenues underperformed compared with ASK growth in every region (see chart below).
In Jul-2013, Finnair joined the trans-Atlantic joint venture established by oneworld partners American Airlines, British Airways and Iberia. Although it is early days, Finnair's 4Q passenger traffic revenue decline of 3.2%, in spite of ASK growth of 2.6%, looks surprisingly weak and, no doubt, management will watch this carefully in the coming quarters.
Finnair expects to start operating within the joint business established by Japan Airlines and British Airways in 1H2014, after competition authorities approved its entry in Oct-2013. Both of these joint ventures should contribute to shoring up Finnair's fickle RASK.
Finnair passenger traffic results by region: 4Q2013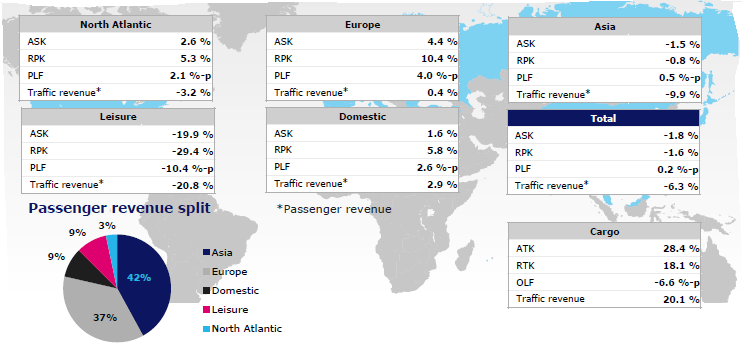 2013 revenues fall 2%, but Airline revenues stable
Finnair's group revenue decline of 2.0% came in spite of revenues in the Airline Business segment remaining level with 2012. This segment accounted for almost 86% of the group's external sales in 2013, up from 84% in 2012. The other two segments, Aviation Services and Travel Services, saw revenues fall by 17% and 11% respectively.
Lower revenues in Aviation Services mainly reflect outsourcing of part of its activities, while the Travel Services segment suffered from lower demand for package tours and travel restrictions to Egypt. Finnair subsidiaries Finland Travel Bureau and Area merged in Dec-2013 to form FTB, the largest Finnish business travel agency.
Finnair external revenues (EUR million): 2012 and 2013
Segment

2012

2013

Change

% of 2013
revenues

Airline Business

2,050.5

2,052.5

0.1%

85.5%

Aviation Services

116.0

96.8

-16.6%

4.0%

Travel Services

282.9

251

-11.3%

10.5%

Total

2,449.4

2,400.3

-2.0%

100.0%
Costs flat on 2012
Finnair's total operating costs in 2013 were virtually level with 2012, in spite of the capacity increase, but it was unable to bring them down in line with revenues. Fuel costs, the biggest cost item at 28% of the total, increased by 2.9% (only slightly faster than ASK growth). Costs ex fuel fell by 1.2%, a reasonable performance compared with ASK growth, but still insufficient compared with the fall in revenues.
Staff costs, the second biggest category, fell by 10.6% due to structural changes (outsourcing), but ground handling and catering costs, the third biggest, increased by 4.1%. Maintenance costs grew by 21.1%. The growth in catering and maintenance costs partly reflects outsourcing of these activities and the reduction in personnel costs and also costs related to the return of leased Boeing 757 aircraft in 4Q.
CASK ex fuel turned up in 4Q2013, although it had been down 3% at the 9M stage. The impact of the strike threats, leading to lower ASKs and one-off costs such as the leased 757 maintenance expenses, distorted 4Q CASK, according to CFO Erno Hilden on a conference call with analysts to discuss the 2013 results. He said "an increasing CASK ex fuel is not representing our current run rate".
Finnair operating costs, EUR million: 2012 and 2013
2012

2013

Change

% of 2013
costs

Staff costs

429.2

383.9

-10.6%

15.8%

Fuel

670.3

689.9

2.9%

28.4%

Aircraft leases

66.2

57.5

-13.1%

2.4%

Other rental

123.2

152

23.4%

6.3%

Fleet materials and overhaul

133.1

161.2

21.1%

6.6%

Traffic charges

226

222.3

-1.6%

9.2%

Ground handling & catering

247.2

257.3

4.1%

10.6%

Tour operations

96.8

89.4

-7.6%

3.7%

Sales & Marketing

75.7

72.9

-3.7%

3.0%

Depreciation

130.8

122.1

-6.7%

5.0%

Other

230.2

218.1

-5.3%

9.0%

Total

2428.7

2426.6

-0.1%

100.0%

Costs ex fuel

1780.4

1758.4

1736.7

-1.2%
Phase 1 cost savings achieved; Phase 2 requires employee agreement
Through outsourcing and other cost reduction measures, Finnair has been able to shift a number of fixed costs to variable costs. Finnair said that it had achieved its original Phase 1 cost reduction target of EUR140 million midway through the year (six months ahead of plan) and it has now achieved EUR15 million of its additional EUR60 million Phase 2 savings target. The remaining cost reduction targets are personnel-related and Finnair has agreed with its work force representatives to extend the "savings negotiation timetable" until the first half of 2014.
Mr Vauramo acknowledged that these negotiations were not straightforward: "Many of our structures associated with wages and working hours originate from the era of closed, regulated markets. Renegotiating these structures to match current labour market practices is challenging, but we are determined to move forward with Finnair's structural changes and cost reductions in cooperation with personnel and their representatives."
He added that the company would assess "other options" if negotiated agreements on cost reduction could not be achieved. The fact that unions issued strike warnings during the negotiations in 4Q2013 highlights the remaining challenge in achieving agreement. At the same time, the avoidance of strikes, albeit with cost reduction agreements yet to be reached, demonstrates that progress is possible.
Finnair cost savings targets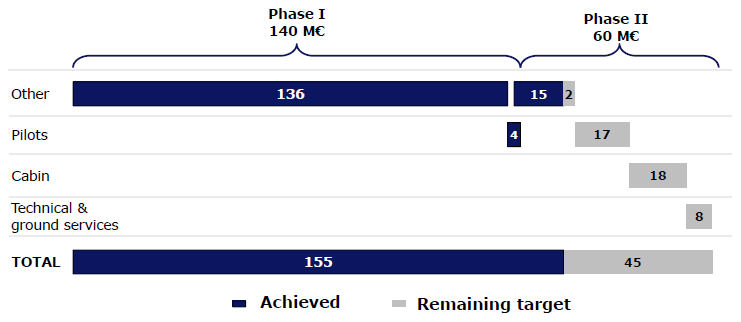 Labour productivity improvements driven by headcount reduction
Finnair's group restructuring, with the outsourcing of activities such as maintenance and catering leading to a more variable cost structure, saw it reduce average headcount by 13.6% in 2013, after a 9.1% reduction in 2012. Most of the decrease has come from the Aviation Services segment, but all three divisions had lower average headcount in 2013 versus 2012. The rate of decline is likely to stabilise in 2014 as the most of the restructuring of group activities is complete.
Finnair average number of employees by business segment: 2011 to 2013
| | 2011 | 2012 | 2012 | Change |
| --- | --- | --- | --- | --- |
| Airline Business | 3565 | 3660 | 3619 | -1.1% |
| Aviation Services | 2619 | 1984 | 1215 | -38.8% |
| Travel Services | 980 | 855 | 751 | -12.2% |
| Other | 303 | 285 | 274 | -3.9% |
| Total | 7467 | 6784 | 5859 | -13.6% |
Our analysis of European airline labour productivity in 2012 showed that Finnair already had a relatively productive workforce by comparison with other legacy carriers, although it was lower on all productivity measures than the LCCs. In 2013, Finnair's headcount reduction led to further improvements in labour productivity.
See relate report: European airline labour productivity: CAPA rankings
Total labour costs fell at a lower rate than the fall in employee numbers, so employee costs per employee increased by 3.6% in 2013. This mainly reflects the fact that the outsourced jobs are ground based and typically lower paid than flight crew positions. In spite of the increase in cost per employee, employee cost per ATK fell by 11.7% in 2013, reflecting the lower numbers of employees.
To some extent, this analysis is distorted since Finnair's headcount reductions have been disproportionately focused on non-traffic generating employees. Nevertheless, it did manage to generate higher levels of traffic with fewer Airline Business segment staff and is becoming much more competitive in terms of labour productivity. Further improvements will depend on the outcome of employee negotiations.
Finnair labour productivity measures: 2011 to 2013
2011

2012

2013

Change
2013 vs 2012

Total full time equivalent headcount

7,467

6,784

5,859

-13.6%

Total labour cost EUR million

455

429

384

-10.6%

Employee cost per employee (EUR)

60,988

63,267

65,523

3.6%

ATK per employee

612

685

804

17.3%

Employee costs per ATK (EUR cent)

9.96

9.24

8.15

-11.7%

Revenue per employee

302,397

361,041

409,677

13.5%
At the end of 2013, Finnair operated a fleet of 45 aircraft, the same total number as in 2012, with an average age of 10.1 years. The company also owns 25 other aircraft leased to other carriers, mainly Flybe Finland.
It added three A321 sharklet aircraft and removed two 757s and an Embraer 170 from its operating fleet during the year. Its last two 757s will exit in 2014 (this has already happened, according to Mr Vauramo and confirmed by the CAPA Fleet Database), when it will also take delivery of its final two A321s, bringing it to an all Airbus fleet. The first four of 11 A350 aircraft on order are expected to be delivered in 2H2015 and the balance by the end of 2017.
The A350s will be used, in part, to replace Finnair's A340 aircraft, which are its oldest widebodies. Mr Hilden told analysts on the conference call that he was "looking for the right solution" to the eventual need to sell the five owned A340s, an aircraft type for which he said "the market is getting thinner".
Finnair fleet at 31-Dec-2013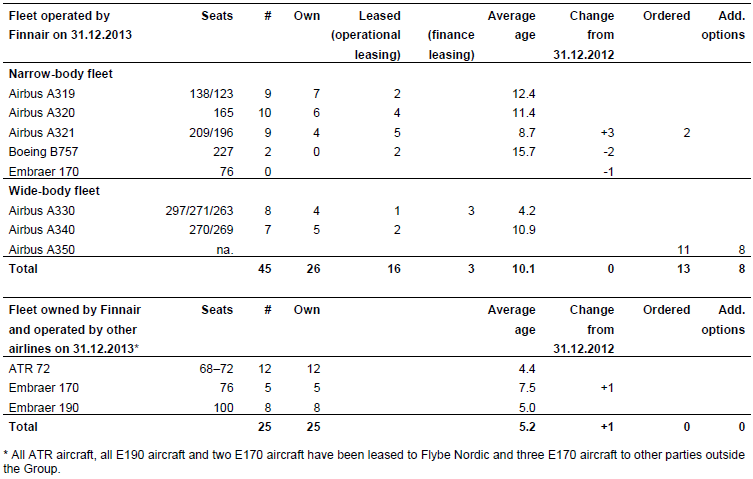 Development of RASK vs CASK turns the wrong way again
Finnair's track record in unit cost control in recent years is a creditable one. CASK ex fuel has fallen by 8% since 2010 (based on our calculations of the Airline Business segment's costs; the decline is 11% according to reported figures from Finnair). Unfortunately, total CASK (including fuel) has risen by 2% during this period, although it came down again in 2013. While RASK outperformed CASK from 2010 to 2013, growing by 4% and driving an improved operating result in 2013 versus 2010, the fall in RASK in 2013 has undone a lot of the good work.
Finnair* – index of operating cost per ASK and revenues per ASK (each indexed to 100 in 2009)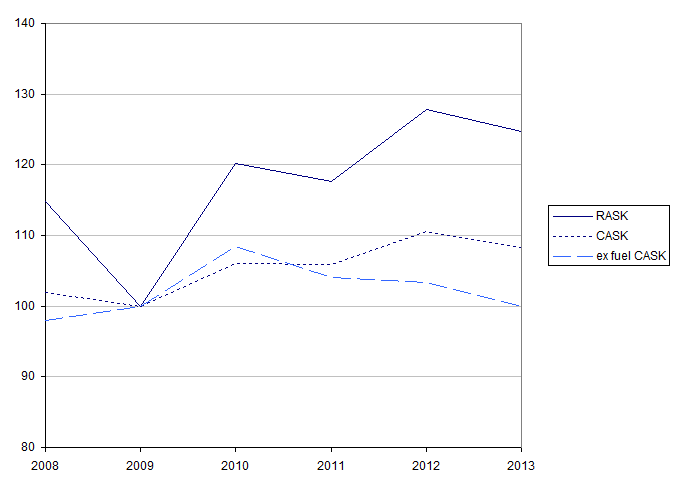 The unpredictable nature of Finnair's RASK and its very slim margins (negative at the operational level in 2013) increase the need for it to redouble its efforts to reduce CASK if it is to have any chance of achieving its long term operating margin target of 6%.
Fortunately, Mr Vauramo, who joined the company in Jun-2013, understands this. "We intend to make Finnair a sustainably profitable and growing company. However, we will not be able to grow unless we improve our cost structure and competitiveness," he said in the statement. Although estimating that 2014 revenues will be close to 2013 levels, Finnair declined to give profit guidance for 2014 until its cost savings talks with employees have been concluded.
See related reports: