11-Nov-2008 1:35 PM
Finnair expands in Oct-08 – and fills seats from Asia. But "business travel decreased"
Despite aggressive international capacity expansion, Finnair has again been able to keep ahead of the game, actually increasing load factors on Asian routes in October.
The capacity expansions have been greatest on the North Atlantic (+20.0%) and on Asian (+16.2%) routes. But Asia is where the carrier's heartland is. It offers nearly ten times as many seats on Asia as it does on the North Atlantic.
Finnair passenger capacity growth: Jan-07 to Oct-08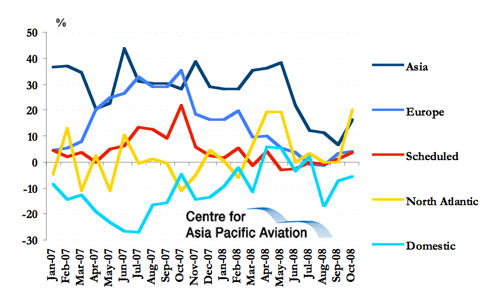 Passenger growth on Asian routes, where several other European airlines have been cutting back, actually exceeded the additional ASKs.

However, notably, "due to the world's financial crisis, the amount of business travel decreased". No further details were offered on yield declines, but the likelihood is of a significant amount.
Finnair passenger numbers growth: Jan-07 to Oct-08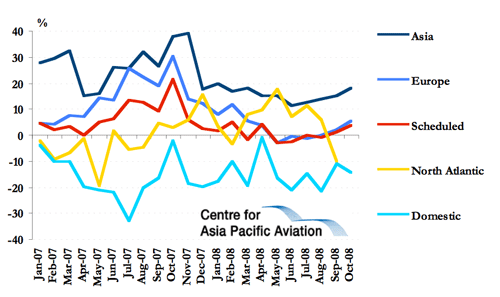 Earlier this year, reporting on May-08 traffic, Finnair had noted that "The weakening global economy has decreased demand in the industry. Finnair's
passenger load factor suffers especially from the levelling off of demand growth
in China and India. Demand from Europe to China is decreasing due to the
ambiguity caused by the earthquakes in China.

"From China travel has decreased because of restrictions on traveling. Indian traffic is emphasized on demand from Europe to India. The more moderate growth in demand in China and India has not managed to offset the strong increase in long-haul capacity. Weakened demand in Asian traffic also reflects on load factors in European traffic."

The following graph clearly shows the impact of the slow market on Finnair's load factor profile for that month. That this has since been so radically rectified implies considerable price targeting of that market.
Pulling traffic over its hub to feed its European routes is crucial to Finnair's commercial strategy. Without the Asian routes, the remainder become highly exposed, especially when US routes are under-performing.
Finnair passenger load factor: Jan-07 to Oct-08
But, with India and China's economies in retreat, this challenge intensifies. Finnair reduced capacity in the Indian market last month, which cost it a suitable through connection to the US.

However, the Finnish flag carrier operates a low cost model and, with the convenience of the Helsinki hub for northern Asian markets en route to continental Europe, the strategy might just hold together.

This will rely on its diverting traffic away from other airlines - either as they reduce capacity or frequency, or by pricing aggressively. The latter appears to be the lead strategy for now.
A buyer for SAS?
None of this uncertainty has fazed the jaunty Nordic operator, which last month suggested it would be a buyer for some of SAS' more attractive parts, if they were to come on the market. The suggestion was not met with great enthusiasm in Copenhagen, needless to say.
Asian eggs off the boil? A lot depends on it to feed the system
But Finnair is still building the foundations of its sixth freedom operation and last month for example added a codeshare with oneworld partner, British Airways to its existing Qantas codeshare to secure access to Australia over Bangkok.

By putting almost all of its eggs in the Asian basket, Finnair showed commendable discipline and some foresight.

Whether the Asian gods will look on Finnair's eastern foray favourably is to be tested seriously over the next few weeks, as economies slow. If they are not smiling, Finnair will be testing every pricing mechanism possible.

Taken in combination with their southern Gulf-based sixth freedom competitors, Finnair poses a threat to the end-to end operators on Europe-Asia routes.