Financing the successful airline business models of the future: CAPA, Singapore, 2/3 March
Analysis
CAPA's Airline Fleet and Finance Summit, 2/3 March 2015:
As LCCs across the intensely competitive short-haul Asian market rethink their business models in light of the Ultra-LCC model success in Europe and North America, questions are being asked as to how they can successfully differentiate their offerings to improve profitability. Unbundling the product offering is one strategy, while pursuit of a greater share of the corporate market or tapping regional markets are other responses. Meanwhile the low cost-long haul model will continue to evolve in 2015 and more connections within the region and particularly to the Middle East Europe are likely.
The common factor however is the large number of aircraft deliveries needing to be financed by these airlines, as well as traditional airlines in the region. But financiers are concerned about backing the airlines that will be the winners in an evolving marketplace.
CAPA's upcoming Airline Fleet and Finance Summit in Singapore on 2/3 March 2015, with the theme, 'Financing the successful airline business models of the future', will seek to answer many of these questions.
Seen by many participants as the 'most airline-centric air finance event on the calendar', the CAPA Airline Fleet and Finance Summit will bring together Finance, Treasury and Fleet executives from some 60 airlines from across Asia and beyond, as well as participants from the region's burgeoning finance sector.
The Summit will take place once again at the stunning Capella Sentosa Resort, Singapore.
Confirmed speakers include:
Air India, Director Finance, S. Venkat
airbaltic, Chief Financial Officer, Vitolds Jakovlevs
ATR, speaker TBA
BOC Aviation, MD and CEO, Robert Martin
BOC Aviation, Head of Treasury, Peter Davis
Citi, MD, Anup Mysoor
Development Bank of Japan, speaker TBA
Embraer, speaker TBA
Finnair, Vice President Group Treasurer, Mika Stirkkinen
flydubai, CFO, Mukesh Sodani
Garuda Indonesia, Treasurer, Mega Satria
GoAir, CFO, Siddhartha Datta
Hong Kong Express, Deputy CEO, Andrew Cowen
Jeju Air, Head of Planning, Hyuk Park
Lufthansa, Head of Corporate Finance, Markus Ott
Oriel, Director, Les Weal
Scoot, speaker TBA
South African Airways, CFO, Wolf Meyer (TBC)
SriLankan Airlines, Head of Finance, Yasantha Dissanayake
Stephenson Harwood, Partner, Saugata Mukherjee
Thai Lion Air, Speaker TBC
Transportation Partners, COO, John Duffy
UK Export Finance, speaker TBA
VietJet, Managing Director, Khanh Luu (TBC)
Session topics include:
Day 1:
Airline keynote addresses x 10

Banks panel: The outlook for financing and lending strategies
Panel discussion: The future of the LCC model in Asia: Which airline business models will emerge winners, as liberalisation occurs and how can Asia's LCCs differentiate themselves with an ever changing industry?
Airline panel discussion: Where will the capital come for airlines in 2015?
ECA panel discussion: The changing role of Export Finance
Day 2:
Keynote address: CAPA's 2015 airline industry profitability outlook

"To hedge, or not to hedge?": That is the question
Panel discussion: Where will the capital come for airlines and lessors in 2015?
Airline and leasing company masterclass: How to get a credit rating
Where are aircraft values and lease rates heading for the most popular types?
Panel discussion: The latest on capital markets for lessors
With thanks to our event Partners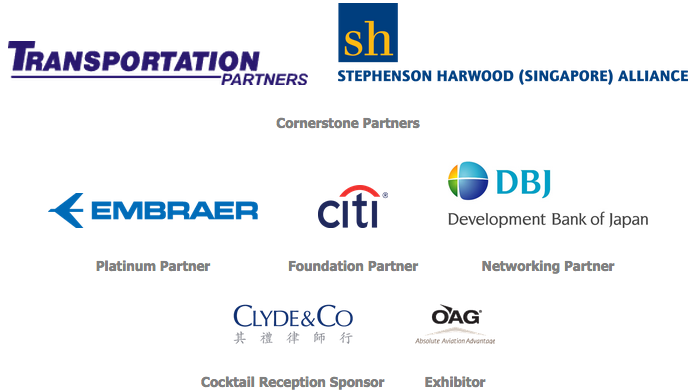 For sponsorship information, please contact events@centreforaviation.com