Ferrovial higher on improved BAA traffic, Fraport, AdP up while Chinese airports report mixed result
Passenger numbers at BAA airports fell an overall 2.4%, an improvement from the 5.9% reduction in Jun-2009, with London Heathrow reporting its second monthly increase (0.9%) in the past 12 months. Investors also welcomed the unveiling of a proposed second terminal building at Heathrow, which is expected to increase the airport's capacity by 20 million passengers p/a (see below).
Elsewhere in the region, shares in Fraport and Aeroports de Paris gained 2.2% and 1.9%, respectively, while Copenhagen and Zurich airports went against the trend, closing down 2.6% and 1.9%, respectively.
Meanwhile, shares in Chinese airports were mixed yesterday, with Shenzhen Airport's shares easing 0.7%, despite reporting steady traffic results in Jul-2009:
Passenger numbers: 2012.0 million, +10.7% year-on-year;
Cargo volume: 51,900 tonnes, +1.0%;
Aircraft movements: 17,100, +7.5%.
Selected airports daily share price movements (% change): 10-Aug-2009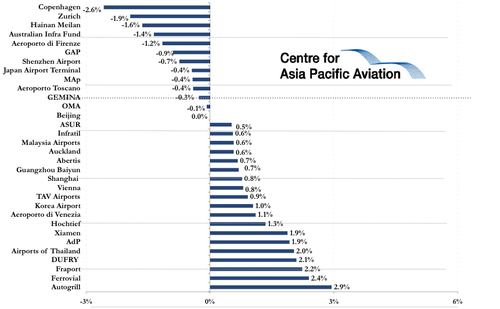 BAA introduces Heathrow's new Terminal 2 - edited press release
BAA has unveiled plans for a new GBP1 billion terminal at London Heathrow to house Star Alliance airlines. The facility will use 40% less carbon than the existing Terminal 2 and will provide an estimated 20 million passengers every year.
Heathrow Airport's Chief Operating Officer, Mike Brown, stated "these exciting plans will be a reality for millions of Heathrow's passengers, making every passenger journey a better one and underlining Heathrow's pre-eminent position at the heart of international travel and the global economy. The new Terminal 2 is part of a major programme of work already underway. Passengers travelling through Heathrow will be using new and extensively refurbished facilities which provide us with an excellent platform from which we can provide a better service to our customers than ever before."
The development of Heathrow's Terminal 2 is part of a GBP4.8 billion investment across the airport, which will provide travellers using the UK's hub airport with new facilities. The investment is provided at no cost to the taxpayer.
The terminal includes 11,300 sqm of floor space, accommodating self-service check-in machines, fast-bag drops, traditional check-in desks and 15 security search lanes, a two-level departure lounge and nine new aircraft parking stands, a third of which are configured to accommodate a new generation of aircraft such as the A380.
Terminal 2 will produce 40% less carbon than the buildings it is replacing. Large north-facing windows in the roof will flood the building with natural light, reducing the need for artificial lighting without generating uncomfortable levels of heat in the building. Solar-gathering panels on the roof will further reduce the dependency on energy supplies. Additionally a new energy centre, partially fuelled by renewable resources, will provide heating and cooling for the building.
To minimise disruption to passengers, construction is taking place in two phases. The first stage will see the creation of a terminal building with 185,000 sqm of floor space on the site of the existing Terminal 2 and Queen's Building, both buildings are being demolished later this year. Construction on the first phase is due for completion in 2013.
Phase two is scheduled to run consecutively and will extend the new Terminal 2 into the existing Terminal 1 site. This phase, which also includes the construction of a second satellite building, is set to increase the capacity of Terminal 2 to 30 million passengers a year. Terminal 1 will close when phase two is complete in 2019, however it will remain open throughout construction.
Terminal 2 is one element of a GBP2.2 billion investment on the eastern part of the airport. A satellite pier for the new terminal has been under construction since 2008. It is set to provide Heathrow with 16 additional stands and will be connected via an underground link to the main terminal building.
Initial designs were for the new terminal were devised by Foster + Partners and then developed by HETCo; a joint venture between Ferrovial Agroman and Laing O'Rourke.