Ferrovial, Fraport and Aeroports de Paris up, Beijing Airport and Macquarie Airports lower
Macquarie Airports' shares fell 2.1% amid reports that Macquarie Group will receive USD207 million in one-off revenue from the sale of management rights at MAp. Meanwhile, shares in Australian Infrastructure Fund gained 0.3%. Qantas has today announced plans to lease four additional A330s to support Jetstar's long-haul expansion (see below), which could provide some support to Australian airport stocks today.
Shares in European airports were generally higher yesterday, with the parent of Rome Airport, Gemina, leading the increase, up 4.8%. Aeroports de Paris, Fraport and BAA parent, Ferrovial, made up for the previous trading day's losses, gaining 2.4%, 1.2% and 1.1%, respectively.
Selected airports daily share price movements (% change): 18-Aug-2009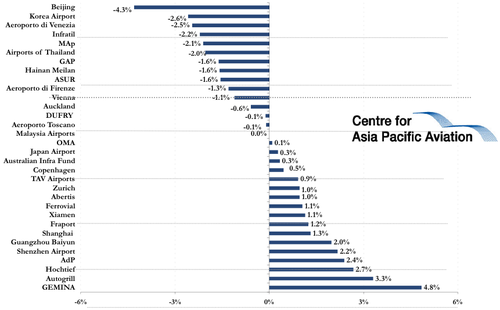 Qantas Group to lease four more A330s for Jetstar's long-haul expansion – edited press release
The Qantas Group announced it would take four additional widebody A330 aircraft, on six-year leases, to allow for Jetstar's long haul international growth.
Qantas Chief Executive Officer, Alan Joyce, stated the first A330-200 aircraft would be delivered in Nov-2010, adding "a key component of the Group's growth strategy is its significant fleet renewal programme. We currently have more than 160 aircraft on order over the next 10 years, including 50 Boeing 787s for operation by both Jetstar and Qantas. B787 programme delays mean we have had to consider medium term options to support new long haul market opportunities for Jetstar."
Jetstar currently operates a fleet of six A330-200s. This will increase to seven in Dec-2009 and grow to 11 with the delivery of these new two-class, 303-seat aircraft.
Mr Joyce stated the Group is also considering a fifth leased A330-200, also for operation by Jetstar, "Jetstar's growth is an important part of our two brand strategy and these new aircraft will support the airline's growth across its international network which covers Australia, South East Asia and the Asia Pacific ahead of the delivery of the Qantas Group's first B787-9."