FedEx: Summer manufacturing activity to be "substantially negative", with growing concern over fuel
As valuable forward indicators of business activity, the small package and printing operations of FedEx are usually reliable, so the fact that results were worse than analysts expected did nothing to excite a cautious market this week. FedEx stock had been sinking in recent days, apparently in anticipation of a weak result. It has fallen nearly a fifth in value since reaching its recent peak in early May-2009 - and most of that loss occurred in the past week.
Competitor UPS stock has tracked very similarly over this period too.
UPS and Fedex share price index: Jan-2009 to Jun-2009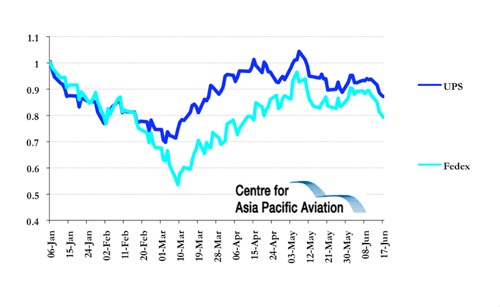 Reporting traffic results for the company's fourth quarter, to 31-May-09, EVP and CFO, Alan Graf Jr, noted that "the operating environment for our first two quarters in fiscal 2010 (that is, to end Nov-2009) is expected to be extremely difficult. Manufacturing activity is expected to be substantially negative year over year through the summer and last year's first quarter results benefited from stronger economic activity, making earnings comparisons difficult."

FedEx reported 4Q09 revenues of USD7.85 billion, down 20% from USD9.87 billion in 2009. Operating loss of USD849 million, against USD163 million last year. During the quarter, FedEx also booked a USD1.2 billion charge associated with the acquisitions of Kinko's, Inc. (now known as FedEx Office) and Watkins Motor Lines (now known as FedEx National LTL).

For the full year to 31-May-09, revenue was down 6% year on year to USD35.5 billion, from USD38.0 billion; operating income suffered a 64% drop, to USD747 million, from USD2.08 billion for the 2008 financial year. Net income fell 91%, to USD98 million, from the previous year's USD1.13 billion.

Meanwhile President and CEO, Fred Smith, tried hard to interpret the forward scenario positively, seeing some "signs of stability" and believing that "the worst of the recession is likely behind us".
However, even if the economy has ceased falling, Mr Smith observed no clarity on "how long this bottoming out process will take" and, moreover, "how strong the recovery will be remains of course uncertain."
He hoped that a turnaround "later in calendar 2009" (in view of his CFO's comments, unlikely to be before Dec-2009) was possible. But, he stressed, this will depend entirely on how businesses see the outlook: "corporate caution in managing inventory and spending could be a limiting factor and push it out a little bit later."
This is hardly an enthusiastic endorsement of the green shoots theory, but is certainly consistent with the general desire to put as positive a spin as possible on where we stand at present and where we are likely to be next year.
Given this uncertainty - and the growing concern over higher fuel prices - the CFO was unable to "provide a meaningful annual earnings forecast", but he did say he expected "year over year GDP growth to turn positive in the first calendar quarter of calendar 2010".

In the discussions about the outlook, there was no mention of the legislation currently before Congress concerning likely unionisation of the company's employees, currently non-unionised under a historical legislative loophole.