FedEx hopeful of retaining status. GOL, UPS, Allegiant rise, but most airline stocks fall
Analysis
FedEx (+7.7%) stocks rose following the introduction in the Senate of a bill which would counteract the House of Representatives proposal designed to withdraw the carrier's unique status which allows it to avoid unionisation.
GOL (+4.9%) continued its strong rise (see graph below), while UPS (+4.8%) and Allegiant (+3.9%) showed good increases, as oil prices eased marginally downwards and online SmarTrend issued a "bullish" outlook on the airline's stock.
But, despite another positive day on Wall Street, most airline stocks fell. Hawaiian (-4.3%) led the way down, as weak tourism outlook softens the island state's economy.
North & South America selected airlines daily share price movements (% change): 16-Jul-09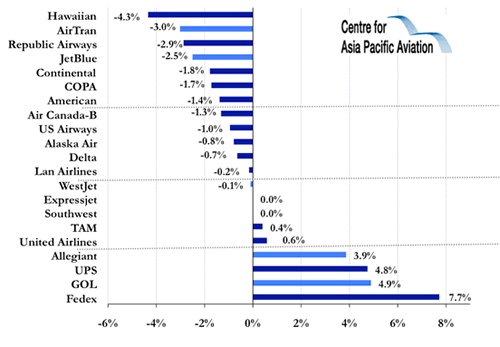 GOL continues strong rise
Rising on a bullish outlook for the regional economy, GOL stocks have performed well over recent weeks and its performance has been stellar since hitting lows in mid Apr-2009.
GOL share price growth: Jan-2009 to Jul-2009