13-Mar-2009 11:21 AM
EVA, China Airlines up with cross-straits flights. Morgan Stanley downgrades Malaysia Airlines
EVA Air (+7.0%) and China Airlines (+6.9%) both attracted investor interest as the Director-General of Taipei's Civil Aeronautics Administration (CAA), Lee Lung-wen, announced that the carriers had requested additional cross straits-flights for the upcoming summer period.
Asia Pacific airlines daily share price movements (% change): 12-Mar-09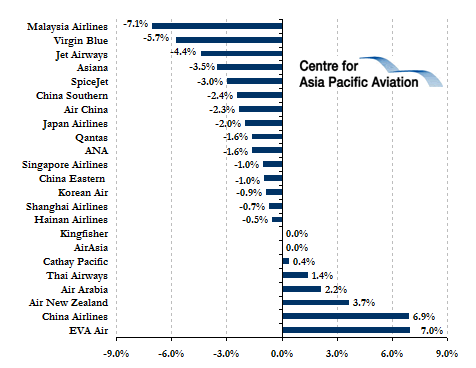 Non-stop cross-straits "charter" flights began in Dec-08, after Taipei and the Mainland government reached agreement that, for a limited number of services, there would be no need to fly through intermediate territory airspace en route between the two. There is a continuing expectation that the ceilings will be constantly increased, as the Taipei government seeks higher levels.
The services appear to be performing financially as the CAA last week reported load factors of 88.6% on Taiwan-based carriers and 76.0% for Mainland-based airlines.
Shares of both carriers have held up well this year, despite the overall downturn and EVA's large exposure to the airfreight decline.
EVA Airways share price: 02-Jan-09 to 12-Mar-09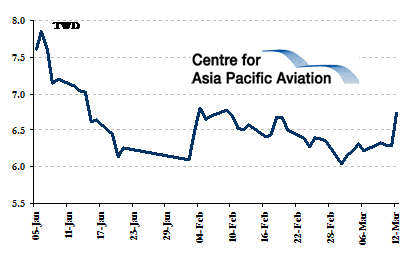 China Airlines share price: 02-Jan-09 to 12-Mar-09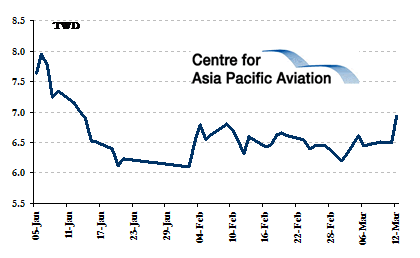 Malaysia Airlines meanwhile fared worse, losing 7.1% of value after Morgan Stanley downgraded the carrier's outlook, adjusting its target share price to MR2.82. from its previous MR4.50.
Malaysia Airlines share price: 02-Jan-09 to 12-Mar-09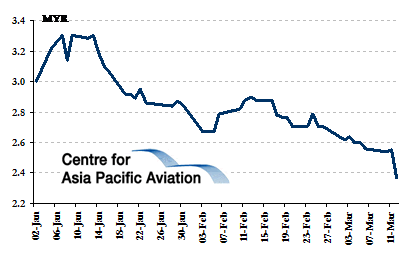 And Virgin Blue meanwhile plumbed even deeper depths yesterday, falling 5.7% to close at a new low of AUD 16.5cents.