EVA Air's passengers yields remain weak, but cargo yields improving
Analysis
The carrier reported a 9.6% reduction in passenger yields in Dec-2009, for the first month of single-digit reductions after eight consecutive months of double-digit contractions (and 11 months of overall contractions). The reduction also comes off a period of yield growth in Dec-2008, of 6.4%.
EVA Air's cargo yields boosted by pre-Christmas cargo rush
Meanwhile, EVA, one of Asia's largest airfreight operators, has been boosted by the usual pre-Christmas cargo rush, with freight yields rising 9.7% in Dec-2009, for the second consecutive month of growth, after 11 consecutive months of massive freight yield reductions.
However, these yield improvements come off a negative base in Dec-2008, when EVA Air's cargo yield was down 15.4% year-on-year.
EVA Air passenger and cargo yield growth: Feb-2007 to Dec-2009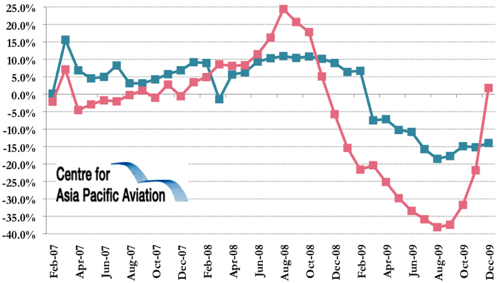 The airline's passenger revenues rose 6.8% last month to USD136.3 million (but were down by 12.2% to USD1.4 billion in the full year) and freight revenues soared 71.7% to USD95.3 million in Dec-2009 (but slumped 31.4% to USD762.1 million in FY2009).
Passenger numbers for EVA Air rose by double digits in Dec-2009, by 21.8% to almost 557,000 passengers (but only 4.0% in the full year to 6.0 million), while load factors were up 4.2 ppts to 80.5% in Dec-2009 (load factors slipped 2.1% to 77.4% in FY2009). Freight volume soared 50.1% to 64,120 tonnes.