26-Mar-2009 11:40 AM
EVA Air defers capital raising, shares rise - Asia Pacific airline share wrap
Taiwan's EVA Air announced plans to defer its plan to sell TWD5 billion (USD1.5 billion) in new shares, due to weak equity markets. The carrier may revive the plan later in the year. Investors reacted positively, sending the carrier's shares up 3% yesterday.
EVA's shares are up around 9% since the start of 2008, but the airline has underperformed Taipei's main index, which has risen over 14% over the same period.
For daily updates on American aviation stock prices and a complete wrap of the day's breaking news, sign up now for a complimentary subscription to America Airline Daily.
EVA Airways share price: 05-Jan-09 to 25-Mar-09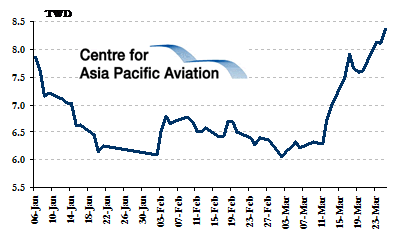 Rival China Airlines' shares closed 3.6% higher yesterday.
Asia Pacific selected airlines daily share price movements (% change): 25-Mar-09