EVA Air defers capital raising, shares rise - Asia Pacific airline share wrap
EVA's shares are up around 9% since the start of 2008, but the airline has underperformed Taipei's main index, which has risen over 14% over the same period.
For daily updates on American aviation stock prices and a complete wrap of the day's breaking news, sign up now for a complimentary subscription to America Airline Daily.
EVA Airways share price: 05-Jan-09 to 25-Mar-09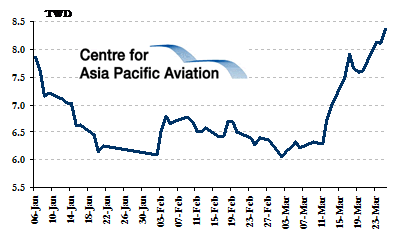 Rival China Airlines' shares closed 3.6% higher yesterday.
Asia Pacific selected airlines daily share price movements (% change): 25-Mar-09