Europe's fringe carriers look for partners to overcome financial crisis; Cyprus Airways latest
Airlines on Europe's southern and eastern periphery are becoming more precariously positioned, but are looking for for partners to help overcome the growing financial crisis. Cyprus Airways is the latest such carrier, and reported a widening in first half losses in the six months to 30-Jun-2011, as lower top-line revenue fell and higher fuel costs squeezed the airline in the period. Cyprus Airways is also turning to implementing a raft of measures aimed at stemming operating losses.
The following is a list of airlines assembled by CAPA in Eastern and Southern Europe, in various degrees of financial distress, that are known to be looking, or are likely to be looking, for increased co-operation agreements with regional rivals.
European airlines looking for partners
| Airline | Status |
| --- | --- |
| | The Montenegro government is making a second attempt at privatising the national carrier, which has been struggling under excessive debt obligations and increasing exposure to low-cost carriers. The tender commenced in Sep-2011. The government attempted to sell a 30% share of the national carrier in 2010. El Al Israel Airlines, Etihad Airways and Arkia Israel Airlines all purchased tender documentation, but none of them made an offer. |
| | The Serbian government's tender for the sale of national carrier Jat Airways commenced in Aug-2011, with little interest generated. The terms of the tender are reportedly "extremely flexible", the government said. The conditions are that the new owner must be an airline or aviation consortium and will be required to acquire Jat and put into operation a new national airline by the beginning of 2012. The new owner will be a majority shareholder and will decide whether to close Jat or maintain its operations as a charter airline. Jat Airways failed to sell a majority stake in the airline after lengthy negotiations with Turkish Airlines in 2010. A previous tender in 2008 for the sale of a 51% stake in the carrier, set at EUR51 million, also failed. The current tender expires on 30-Sep-2011. |
| | The oneworld member and Hungarian national carrier has been bailed out by the government, with the state repeatedly topping up the airline's share capital in recent years. It too is facing excessive LCC competition. |
| Adria Airways | The Slovenian national carrier and Star Alliance member is likely to be bailed out by the government, its sole shareholder, in Sep-2011. The airline in Sep-2011 announced reductions to its winter 2011/2012 destination network to improve its financial position. The fleet and staff headcount will be also be scaled back in attempt to stem losses. |
| | The airline's minority shareholder, BAS, has been locked in a dispute with the Latvian government, the majority shareholder, over a possible recapitalisation of the company following a heavy loss in FY2010. The shareholder battle has been played out in public and there has not yet been any firm move to address the airline's low core capital ratio. |
| | The Polish government has been seeking to sell its stake in the national carrier for several years. LOT's new management team believes a sale to a strategic investor is possible in 1H2012 although points out that the government is the one calling the shots. CEO Marcin Pirog said the Polish government is now aiming to find a strategic investor as part of a recapitalisation. The 3Q2011 target for privatisation set by the Polish government late last year is no longer feasible but Mr Pirog has said that "we believe we can do it within 12 months". |
| | The Romanian government has approved a strategy for the privatisation of TAROM. The strategy involves the sale of a 20% stake in the company's share capital, as agreed upon with international financial institutions. Under the privatisation strategy, Romania's Ministry of Transport and Infrastructure is empowered to take all the necessary measures for the implementation of the strategy and sell the stake by a secondary public offering on the Bucharest Stock Exchange. |
| Aegean Airlines and Olympic Air | Aegean is the largest carrier in Greece and could be interested in a merger, particularly in southern Europe, following the European Commission's rejection of its merger proposal with fellow Greek carrier Olympic Air. The reasons for the EC's rejection, that the merger would "significantly impede effective competition in the internal market or a substantial part of it" and thereby hurt Greek consumers, would unlikely apply to a merger with Cyprus Airways. Olympic has stated it has not ruled out a merger with Cyprus Airways. |
Cyprus Airways reported an operating loss of EUR29.3 million in 1H2011, a 15% increase over 1H2010's EUR25.5 million loss. The airline's operating margin fell from -26.4% to -33.1%. Lower revenue, increased competition, high fuel prices and macroeconomic concerns in key markets weighed on the result.
The second half is the airline's seasonally stronger period, explaining the significantly improved full-year results relative to 1H2010. Historically, significantly better results in the second half will often offset first half losses, although this was not the case in FY2009 and FY2010. It is also unlikely to be the case in FY2011.
Cyrus Airways operating profit/loss (EUR millions): FY2007-1H2011
Commenting on the first-half result, Cyprus Airways stated "the adverse impact of the financial crisis" continues to affect demand in key markets, including the local domestic market. The airline also acknowledged that increasing competition has hurt pricing power. "Instability in the energy sector, the constant currency fluctuations, movements in interest rates, rising unemployment and employment uncertainty in Europe, as well as the political unrest in the Middle East region," are also reflected in the weaker first-half result. Cyprus Airlines said these factors have the potential to "adversely affect the effort to secure the long-term viability" of the airline.
Cyprus Airways has embarked on an ambitious cost-cutting strategy aimed at restoring profitability. To its credit, the airline has taken swift and decisive action to lower its cost base, sell assets, pay down debt, forge strategic partnerships and streamline the network to achieve this. In many cases, this decisive action, in addition to other factors, has resulted in reducing passengers and cargo volumes, leaving Cyprus Airways to shrink into profitability. Some of these changes, particularly the network reorganisation, have been implemented much to the dismay of the local tourism industry, which relies heavily on in-bound arrivals and considers the airline's operation a public service. Despite protests from local industry, Cyprus Airways implemented its turnaround initiatives in 1H2011.
Revenue falls on lower pax, cargo volume
Revenue fell 8.0% to EUR90.6 million, reflecting lower passenger and cargo volumes in the period. "Other" income, representing approximately 10% of total revenue, gained exponentially in the first half. This was a result of the disposal of aircraft assets in the period (which were sold above book value), but most significantly non-recurring gains from an exchange of slots at London Heathrow with codeshare partner Virgin Atlantic.
Cyrus Airways revenue (EUR millions): FY2007-1H2011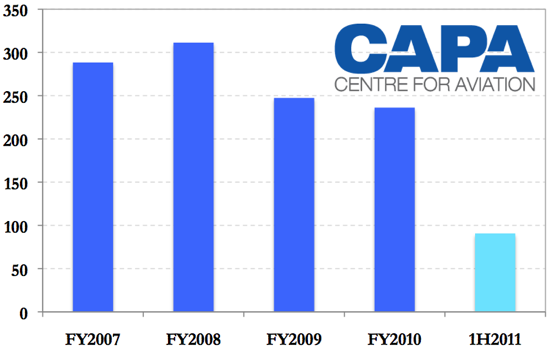 Passengers carried, which accounts for over 80% of revenue, fell 14.1% year-on-year in 1H2011, to 600,000. Revenue from cargo operations was also down, but the airline did not disclose exact figures for this segment.
Cyrus Airways passenger numbers (millions): FY2007-1H2011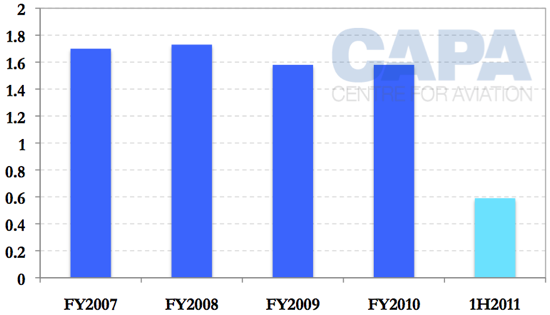 Cyprus Airways has taken a knife to capacity (ASKs) this year, as it tries to reinforce profitability through prudent capacity discipline. ASKs are down, on average, 15.1% in the first six months of the year. RPKs are down a less drastic 12.9% in the same period, pushing up average load factors.
Cyprus Airways load factors (%): Jan-2009 to Jun-2011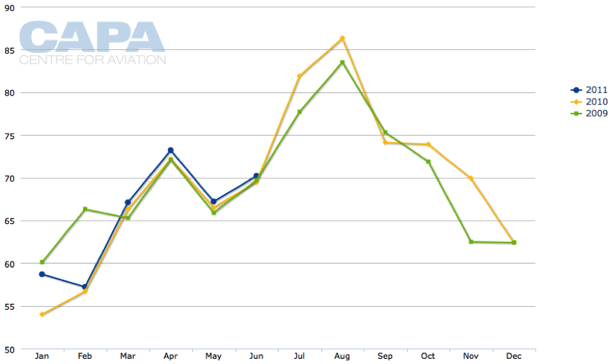 Despite the load factor gains this year, the airline's average occupancy remains far below rivals airlines operating to the island country, particularly LCCs, which is placing Cyprus Airways at a competitive disadvantage. It reported an average load factor of 67.3% in 1H2011, up from 65.0% in 1H2010.
Costs fall, despite impact of fuel
Total operating costs fell 1.8% to EUR122.4 million in the period. This figure excludes non-recurring costs of EUR8.9 million associated with the airline's redundancy programme.
The fall in operating expenses is due to the decreases in staff headcount and falls in en-route charges, landing and handling fees. Fuel and aircraft leasing expenses increased in the period. Exact figures were not provided for these cost items.
Moving to 'safeguard' future - A330s disposed of in favour of A321s

Cyprus Airways stated it is implementing various initiatives aimed at "safeguarding its future". Most notably, longer-term cost reductions will occur as a result of the airline's reduction in staff headcount, aimed at matching the productivity of rivals such as easyJet. Cyprus Airways will shortly commence negotiations for the renewal of collective agreements, with the airline stating it will seek to "remove existing distortions in its mode of operation," further rationalising and saving in labour costs where possible.
Other cost saving (and revenue generating) initiatives include leasing aircraft that are freed up as a result of the airline's decreased schedule and streamlined network. An A320 was sold at a profit in the first half and the carrier's two A330s have been sub-leased until the end of the year when it will return them to lessor ILFC in Dec-2011 and Jan-2012, a year earlier than the original lease expiry date. These measures will help bring down the airline's leasing costs, which increased in the first half, freeing up capital to use elsewhere in the business. The airline has agreed to lease two cheaper, and more appropriate, A321-200s from ILFC for a six-year period from Apr-2012 and May-2012. The aircraft will join a fleet of 4 A319s and 7 A320s, according to CAPA's Ascend fleet database.
Increased cooperation with other airlines is a key element of the new strategy, resulting in Cyprus Airways launching a codeshare agreement with Virgin Atlantic and expanding cooperation with Olympic Air. The initial agreement sees Cyprus codesharing on Virgin-operated services from London Heathrow to Boston, Los Angeles, New York JFK and Newark. Virgin codeshares on Cyprus Airways' services to Larnaca. In addition to the codeshare agreement, Cyprus Airways has benefitted from the Virgin agreement through the exchange of slots at Heathrow. The airline expects further benefits from Oct-2011 as the two airlines more closely coordinate schedules, beginning in Nov-2011 when the Heathrow slot swap is fully implemented.
With Olympic Air, Cyprus Airways has signed a wide-ranging cooperation agreement, aimed at strengthening the presence of the two airlines in south-eastern Europe. Cooperation covers the provision of ground services at airports in Greece and Cyprus, the joint use of VIP lounges and the exploration of joint infrastructure utilisation. Codeshare operations to/from Athens, Rhodes, Heraklion and Thessaloniki, to/from Larnaca and Paphos commenced in Mar-2011. The agreement was expanded in Apr-2011 to cover most domestic and international destinations of Olympic Air, as well as selected flights of Cyprus Airways.
Olympic chairman Yannis Karakadas stated in Apr-2011 that Olympic would not rule out the possibility of a merger with Cyprus Airways. "Will it be a merger? Will it be an acquisition? Nothing can be ruled out," Mr Karakadas said. Olympic has been hungry for a merger partner in southern Europe since its application to merge with Aegean Airlines in Jan-2011. The two already extensively cooperate, have widespread connections between the two countries and have largely complimentary strategies, both focusing on short-haul international markets in southern Europe.
Seasonal second half to deliver improved result
As part of plans to address its financial position, Cyprus Airways has shrunk its balance sheet, with long-term debt and financial leases down in the first half. The difficult operating environment, however, has left the airline reeling with a working capital deficit of EUR27 million. The airline had a surplus of EUR7 million in 1H2010. This is likely to result in further pay down of debt through assets sales and possibly through cash, as the airline is once again generating cash from operations. The airline maintains it "has sufficient liquidity to meet current obligations as they fall due without being dependent on short-term banking facilities."
Looking forward, Cyprus Airways expects a stronger second half, seasonally its strongest earnings period, but it remains unclear whether it will be sufficient to offset the heavy first-half result. The airline has made sweeping changes to its business, but sustained profitability appears several years off. Like several of its smaller European counterparts struggling amid the continent's ongoing economic malaise, Cyprus Airways needs to find lasting solutions.