Europe's airlines press European Commission to ensure Single European Sky targets are met
There are few subjects that Europe's airlines can agree on, but the lamentable state of the European air traffic control system is one of them. This week, industry bodies representing all sectors of the European air transport market blasted the efforts of European member states and their air navigation service providers (ANSPs) on reducing costs and increasing efficiency for falling short of where they should be.
Air traffic inefficiency and the high costs associated with Europe's patchwork air traffic management (ATM) system are estimated to cost the European aviation industry between EUR4 billion and EUR5 billion p/a. The delays and inefficient routings punish both passengers and airlines, increasing flight times and distances and driving up fuel burn and greenhouse gas emissions, a particularly galling situation given the entry of aviation into the EU Emissions Trading Scheme next year.
The Single European Sky (SES) programme, first adopted in 2004 and then updated in 2009 with a second, more aggressive legislative package in 2009 (SES II), is meant to rectify the problems and drive down European air navigation and communication services costs. The goal of SES is to contribute to the sustainable development of the European air transport system and improve the overall performance of European ATM, halving unit costs by 2020 and tripling overall system capacity, all while improving environmental performance and safety.
This week four members of the European Airspace User Association (EAUA) – the Association of European Airlines (AEA), the European Business Aviation Association (EBAA), the European Low Fares Airline Association (ELFAA) and the European Regions Airline Association (ERA) – started lobbying for more progress on the goals of SES. They urged the European Commission to "stick to its guns" and put pressure on European Member States to establish "realistic and achievable plans" to ensure performance targets for the Single European Sky are delivered.
The International Air Carriers Association (IACA) also called on the European Commission to keep up the pressure on EU member states to meet the performance targets set as part of the SES II overall performance scheme. IACA also expressed its criticism of the absence of penalties in case performance targets are not met, a point that has been raised not only by airlines but by the Commission as well.
IACA director general, Sylviane Lust, said failing to meet performance targets was "not an option". However, without penalties for missing targets and with just a few states setting financial incentives for ANSPs to meet or surpass their objectives, there is little inducement for ANSPs to perform.
Also joining the chorus of criticism was the International Air Transport Association (IATA). The international airline body has been particularly voluble about the inefficiency of European airspace and air navigation service providers over recent years. IATA director general and CEO, Tony Tyler, cautioned that if European ANSPs cannot meet their "modest short-term goals", then there is no chance of them meeting the more ambitious targets of the second reference period, covering 2015 to 2019. EU states and ANSPs need to "close the gap and return to course", according to Mr Tyler.
European Economic and Social Committee also weighs in
The airline industry is not the only sector that has been subjecting EU member states to harsh criticism over the pace of SES II adoption and the performance of ANSPs. In late Sep-2011, the European Economic and Social Committee (EESC) – one of the EU's major consultative bodies – stated SES II implementation has been lagging, partially due to the low degree of commitment from member states and insufficient leadership from the European Commission.
Jacek Krawczyk, EESC vice president, accused member states of "clutching at national borders in airspace", a charge that also dogged European states during the first legislative package. Progress on implementation of Functional Airspace Blocks (FAB) – a key part of reorganising European airspace away from the traditional boundaries – has been characterised as "patchy and slow". While there have been some success stories – such as the UK-Ireland FAB – progress on other FABs, involving up to seven states, has not met expectations. The body called on the European Commission to monitor more closely the performance of the various FAB initiatives.
Also coming under fire is the state of cooperation between various industry players under SESAR, the programme underpinning the technological modernisation of European ATM. The degree of coordination between companies and between government and industry has not been efficient enough to ensure the changes in airborne and ground infrastructure are synchronised. Airlines have been re-equipping their aircraft with the necessary technologies, only to be let down by insufficient ground infrastructure. The EESC also called for active and significant funding support for SESAR from public authorities and the European Investment Bank, as well as other financial institutions, to help speed progress.
The risk is that if SES and the technological package supporting it is not implemented quickly, the European ATM system risks falling behind in the global market. According to the EESC, this is tantamount to "undermining the future of the European aviation industry in an increasingly competitive environment".
Cooperation between the industry players under SESAR "has not been efficient enough to ensure a synchronised refurbishment of airborne and ground infrastructure" as provided for under SES II, said the EESC. The EESC also called for active and significant funding support from public authorities and the European Investment Bank and other financial institutions.
Commission to recommend fine-tuning of performance targets
Later this month, the European Commission will decide on one or several recommendations to member states to review their performance targets. According to the EAUA, the Commission's report is expected to criticise every EU member for not going far enough in their airspace improvement plans, instructing all 27 member states to revise their plans, step up their cost-efficiency targets and increase productivity. The recommendations are due to be submitted for assessment by the European Single Sky Committee on 24-Oct-2010.
Nations failing to meet/asked to improve performance targets
States failing to meet

punctuality targets

States asked to improve

punctuality targets

States failing to meet

cost-efficiency targets

States asked to improve

cost-efficiency targets
European air traffic management is undergoing a significant transformation. With the passing of the second phase of Single European Sky legislation into law in 2009 and the adoption of legally binding performance and cost targets in Feb-2011, European ANSPs are now under more pressure than ever to adapt and perform.
At the end of Sep-2011, the EUROCONTROL Performance Review Body (PRB) released its initial report covering 28 national and Functional Airspace Block (FAB) performance plans submitted by European ANSPs covering the 2012-2014 first reference period (RP1). The report shows that while there has been progress in regard to cost efficiency and capacity/delay targets, the overall EU-wide performance will fall short of the mandated targets, although in some cases just barely.
The goals for RP1 are:
An improvement by 0.75% point of the average horizontal en route flight efficiency indicator in 2014, as compared to the situation in 2009;
An improvement of the average en route Air Traffic Flow Management (ATFM) delay so as to reach a maximum of 0.5 minutes per flight in 2014 and;
A reduction of the average EU-wide determined unit rate for en route air navigation services from EUR59.97 in 2011 to EUR53.92 in 2014, a cut of 10%, measured in 2009 dollar terms.
According to the PRB, "merely some fine tuning of plans is required" to meet the EU-wide targets for RP1, with the opportunity to deliver the targets and improve the performance plans further. What has incensed airlines is that ANSPs are likely to miss targets that have already been cut back from where airlines would have liked them. In 2010, European states committed to improve ANS cost efficiency by 3.5% p/a over the 2012-2104 period. However, this was reduced from the PRB's proposed target of 4.5% p/a, which was considered modest by airlines, but unachievable by several states.
IATA estimates that the watering down of targets from 4.5% to 3.5% will cost the competitiveness of Europe's airlines by around EUR1 billion p/a.
EU member states missing modest targets, but only just
In terms of cost efficiency, the PRB's assessment shows that the aggregation of EU member state national plans falls short of the EU-wide performance target by 1.4% over the 2012-2014 period and 2.4% in 2014. The average weighted en route unit rate resulting from the plans would amount to EUR55.22 per service unit, against the EU-wide target of EUR53.92.
The PRB stated that in order to reach the EU-wide target, European ANSPs need another EUR256 million in cost-efficiency measures. This saving is from a total European ATM cost base of around EUR18.9 billion. According to IATA, the PRB report shows that 21 of 29 European states failed to make adequate contributions to the cost-efficiency target. The 10 air navigation service providers (ANSPs) who are contributing least to the cost reduction targets are: Malta, Cyprus, Estonia, Hungary, Slovakia, Germany, Spain (continental), UK, Czech Republic and Finland.
In terms of capacity and delay targets, the PRB concluded that a large majority of EU member states will achieve the reference value assigned to them, with just six plans – Austria, Greece, Poland, Spain, UK, and FABEC, covering Germany, Belgium, France, Luxembourg, the Netherlands and Switzerland – needing improvement. However the aggregate of national plans still amount to a delay of 0.76 minutes in 2014, against the EU-wide target of 0.5 minutes.
Greece in particular has been singled out as requiring special attention. With the exception of Greece, all member states are expected to reduce their delay contributions by 2014. Greek ANS-related delay contribution is forecast to be close to 500% above the reference value, to become the highest in Europe by 2014. The PRB recommended that the European Commission supervises actions at all levels to address institutional issues in the country's ATM system to combat this.
Deviation capacity target vs reference value by traffic volume in 2014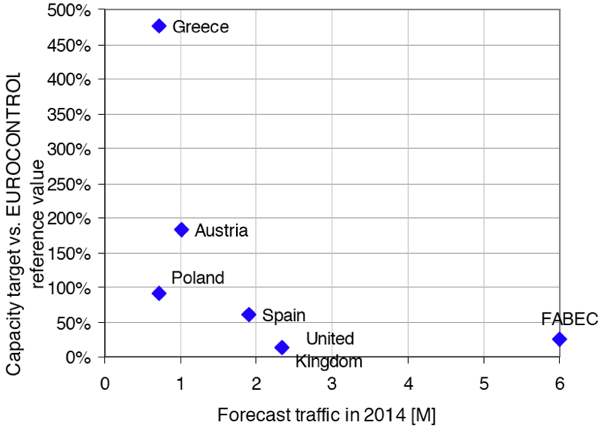 The PRB believes that the EU-wide capacity target could be reached through coordinated actions from states, ANSPs, FABs and the new European Network Manager. The PRB assessment is that closing this gap and reaching the EU-wide target would deliver estimated savings of EUR920 million.
The PRB also highlighted the fact that only Italy and the UK included financial incentives for achieving the national capacity target in their Performance Plans.
Ensuring that SES targets are met
2010's volcanic eruption in Iceland produced a brief burst of political commitment to get key elements of SES fast-tracked. This political will has slowly dissipated, with the cost to airlines, passengers and the Europe economy potentially to be measured in billions.
Europe's ANSPs have agreed to set measurable performance targets in terms of capacity and cost-effectiveness. Their performance targets are nearly there, but more work is needed if they are to satisfy airspace users that enough is being done to improve European air traffic management. It is now up to European states to see that ANSPs deliver on their goals.