European markets still looking gloomy as recession deepens
Analysis
The tourism industry is hurting. Intercontinental Hotels, the world's largest chain, reported a sharp fall in October numbers and was rewarded with a 7.6% drop in its share price.
Unsurprisingly in this environment, airlines performed poorly, led by SAS, now highly exposed. But the previously robust and favoured Air France-KLM and Lufthansa share prices also suffered significant losses.
European selected airlines share price movements (% change): 11-Nov-08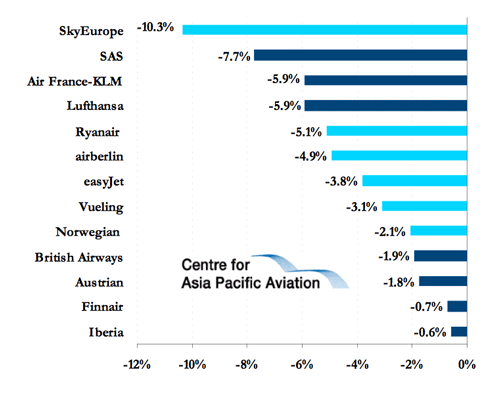 US airline shares also declined as retail figures slowed; oil price below USD60

In the US, as the Dow Jones index fell 1.99% yesterday, with a continuing pessimistic outlook for retail.

American led the way, as it announced withdrawal of fuel surcharges and showed up as a poor perfomer in on-time arrivals. Low cost Allegiant went the other way, largely on the basis of some new route plans for the Florida market.
And oil prices slipped below USD60, to USD59.33, on the New York Mercantile Exchange, a level not seen since early last year.
North America selected airlines share price movements (% change): 11-Nov-08