European flights to increase 20% over the next seven years as medium-haul markets continue to boom
Euroepan air navigation service providers will be handling almost 11.5 million aircraft movements per annum within seven years, according to the latest medium-term outlook from EUROCONTROL. IFR flight movements are expected to grow at an average rate of 2.8% over the 2011 to 2017, just slightly lower than the February forecast released by EUROCONTROL, thanks to Western Europe's economic weakness.
The traffic forecast has also been revised to take into account weakness in North African traffic, which is expected to cut about 1% off European air traffic in 2011. IFR movements are still forecast to increase by around 4.5%, largely as a result of the one-off events in 2010 which cut traffic levels. Underlying growth in 2011 is estimated to be around 2.5%, indicating a "gradual recovery" from the 2009 low point. Summer schedule underlying growth was a weak 1-2%.
A key short-term trend has been growth into Northern Europe, in particular the overflight traffic on flows to Russia in the Baltics coupled with strong local traffic.
Standing out is the exceptional growth in Turkey, which will be both the biggest contributor to traffic in the European network in 2011, as well as one of the fastest growing countries. National carrier Turkish Airlines maintains a growth objective of around 15% p/a in terms of passenger numbers and the country's economic growth is both driving local carriers and attracting strong traffic from international carriers.
Medium term forecast: strongest growth outside of Western Europe
For the medium-term forecast, the strongest levels of aircraft movement growth will be concentrated outside of the large Western European economies, notably in the Baltic states, the Balkans and Central Europe. However, traffic in the developed economies will still account for the most added flights, thanks to the high existing base of traffic. The UK, France, Germany, Spain and Italy are all expected to see at least an additional 250 flights per day in their airspace by 2017.
ESRA08 area growth forecast: 2017 vs 2010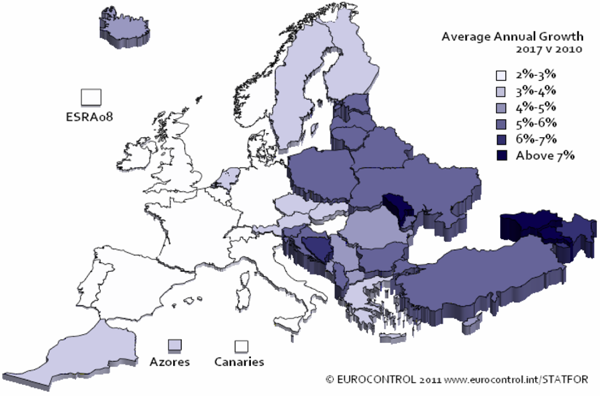 The EU is due to include aviation in its Emissions Trading Scheme, although there is an increasingly acrimonious series of legal challenges being mounted to the scheme. EUROCONTROL forecasts that the scheme will result in a limited reduction in demand of around 0.3% overall in Europe
Turkish airspace is expected to add close to 500 extra flights per day between 2010 and 2017, an average growth of 6% p/a – more than double the European average. However, growth in the Turkish domestic market is expected to slow somewhat from 2012, as a result of easing economic growth in the country.
Full service carriers resume growth in 2011
One of the major changes in European airspace this year has been that 'traditional' airlines - network and full service carriers - have been responsible for the lion's share of growth. This reverses the trend seen in recent years, when it was low cost carriers that were adding the majority of traffic, while full-service operators were reducing capacity and flights.
Change in daily flights compared to previous year by market segment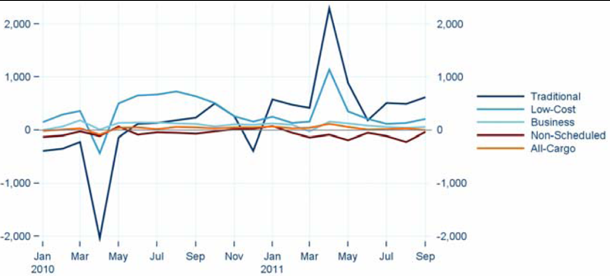 At the end of 2010, LCCs in Europe held a 38% share of all intra-regional passenger traffic and a slightly lower proportion of European intra-regional seat capacity. According to the European Low Fares Airline Association (ELFAA), between 2005 and 2010, low cost carriers increased their capacity by around 14% p/a, while other carriers in Europe trimmed their capacity at around 0.6% p/a.
European LCC market share, passengers & capacity: 2005-2010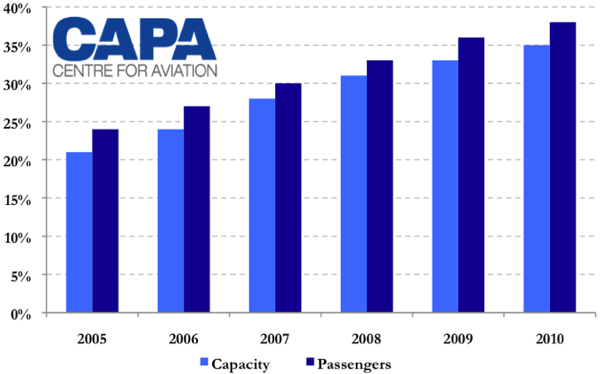 However, the growth in LCC market share has slowed considerably in the past few years, after the rapid structural change that the European market went through in the early and middle years of last decade.
The growth in LCCs has displaced non-scheduled charter and leisure carriers more than it has scheduled operators, although smaller full-service carriers have also been affected. The Association of European Airlines reports that its 32 member carriers increased capacity at an average of 1.9% p/a between 2005 and 2011, while passenger traffic has risen at an average of 3.2% p/a.
Association of European Airlines capacity & traffic (% change): 2005-2011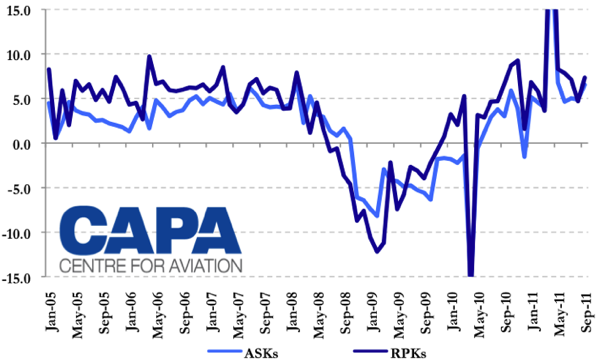 European economic weakness is having a comparatively greater effect on LCC traffic (although not necessarily profit), as they are more exposed to downturns in the intra-European passenger market. Full-service carriers have increased capacity on trans-Atlantic and Far East/Australasian markets slightly more than their intra-European markets. Low cost carriers are also typically more vulnerable to higher oil prices and oil volatility.
Large European low cost operators such as Ryanair, easyJet, Thompsonfly and Vueling have all reduced their capacity over the past 12 months. Ryanair announced in May-2011 that it would cut capacity over Winter 2011/2012, grounding or leasing out up to 80 aircraft in the leaner period in a bid to reduce its fuel costs. The carrier will cut capacity by 4% over 2HFY2012, in a bid to guard fragile margins.
Selected European LCC capacity changes: Nov-2010 to Nov-2011
| Carrier | Nov-10 | Nov-11 | % change |
| --- | --- | --- | --- |
| | 1,609,562,607 | 1,521,713,986 | -5.5% |
| | 951,896,315 | 927,823,071 | -2.5% |
| | 829,491,166 | 818,307,202 | -1.3% |
| | 375,625,951 | 429,498,263 | 14.3% |
| | 373,953,146 | 326,997,346 | -12.6% |
| | 339,806,426 | 401,843,235 | 18.3% |
| | 245,890,704 | 302,181,115 | 22.9% |
| | 226,986,931 | 213,257,457 | -6.0% |
Ryanair, easyJet and other LCCs have also heaped blame on European taxes and airport charges as prompting their capacity reductions. ELFAA has repeatedly called on EU governments to withdraw existing and planned taxes on aviation – such as the UK Air Passenger Duty – which "punishing consumers for no environmental pay-back".
Outlook uncertain
2012 traffic is expected to be comparatively weak 2.5%, and there are still a number of threats to growth. Uncertainty persists over the European economic stability, the impact of the EU ETS, the price of oil and trends in the airline and tourism markets. Slightly stronger growth is forecast for 2013, but it remains to be seen whether comparable growth can be sustained in later years.