European airlines in for difficult June, following May weakness
Analysis
The tone of the traffic results from Europe's full service carriers over the past two months has been very weak. Following a "relentlessly poor" May, June traffic is showing similar declines, with demand on routes to the Asia Pacific suffering most heavily.
AEA reports demand disappears to the Pacific
For the week ended 14-Jun-2009 (Week 24), Association of European Airlines (AEA) members reported total scheduled traffic (RPKs) fell 8.0% year-on-year.
Association of European Airlines' weekly passenger traffic (RPKs) growth (% change year-on-year) by region: First 24 weeks of 2009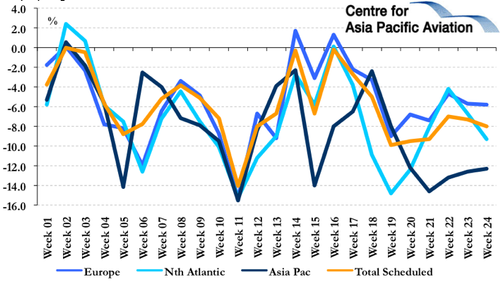 Asia Pacific traffic declined 12.3% during Week 24, continuing the double-digit declines seen through May. Traffic to Asia Pacific destinations is notably lower than across the North Atlantic, which saw declines of 9.3%, the sharpest fall since the beginning of May. US carriers are however reporting deeper yield reductions on the Atlantic than their Pacific routes.
Cross-border European traffic is holding up better, but AEA member traffic was still down 5.8% in Week 24.
Intense capacity reductions continuing
AEA members have little choice but to clamp down on capacity. Total scheduled capacity (ASKs) fell by 5.4% in Week 24, representing the sixth week of ASKs reductions of greater than 4% - the most consistent tightening of capacity seen this year.
Association of European Airlines' weekly passenger traffic (ASKs) growth (% change year-on-year) by region: First 23 weeks of 2009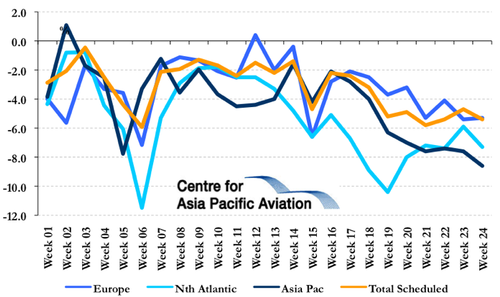 Asia Pacific capacity cuts are now reaching their deepest levels for the year, down 8.4%. Capacity on the North Atlantic was down 7.3% (compared to 5.9% in the previous week), matching the level of capacity reductions made at the end of May.
European capacity cuts reached 5.3% in Week 24, continuing to slope steadily downwards. AEA members have aligned capacity reductions in Europe to the demand falls much better than they have on the North Atlantic and Asia Pacific sectors, particularly over the past few weeks.
Association of European Airlines' weekly European ASK & RPK growth (% change year-on-year): First 24 weeks of 2009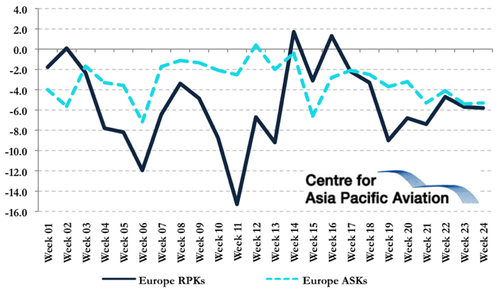 Load factors the bright spot
The overall load factor picture is improving, thanks to promotional activities and discounting. AEA member airlines reported average load factors of 74.4% for Week 24, somewhat better than the previous week.
Austrian Airlines reported May load factors fell 4.2%, but salvaged then from a larger fall by "by employing intensive marketing activities" and targeted capacity reduction. Western European load factors for the carrier were up 2.5% last month.
Association of European Airlines' weekly passenger load factor by region:
First 24 weeks of 2009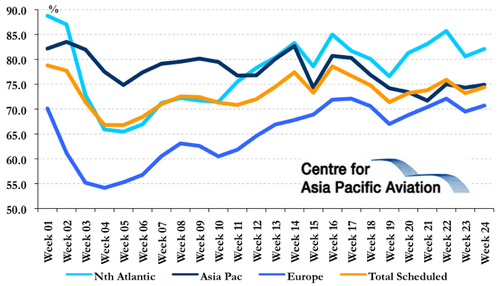 After something of a correction over last week, load factors to the Asia Pacific and North Atlantic rose again, to 74.9% and 82.1%, respectively. European load factors were also up, at 70.7%, although they remain the weakest market segment.
Europe's airlines to emerge leaner still
Major European carriers are now embarking on another round of cost reductions, much of which will be achieved through reductions to labour costs and staff cutbacks. British Airways announced last week that 3,000 employees have signed up for voluntary cost-saving initiatives, and its pilots are voting on a pay reduction, while Lufthansa commented that it needs additional cost savings if it is to avert an operating loss this year.
Air France-KLM has also stated it will need to eliminate about 2.5% of its 107,000 strong workforce through "natural departures" by the end of 2009. KLM is planning to implement a voluntary scheme whereby pilots will cover the seasonal needs for baggage recovery and other functions, to balance an oversupply of pilots. SAS is negotiating with its unions to cut labour costs.
Smaller carriers are cutting back even more savagely. Air Nostrum announced in early June that it plans to cut its workforce by almost a quarter through temporary lay-offs. Finnair, which has already cut 600 staff, plans to cut more during the year, and introduce an unpaid leave scheme for up to 6,000 staff in 2009, aimed at cutting costs by EUR100 million.
Outlook: Economies not improving
The near term outlook is not promising for Europe's airline sector. The Euro-zone economy is predicted to contract by 4.8% this year, according to the latest OECD forecast. The OECD stated, "signs of recovery are not yet clearly visible in the euro area".