Eurofly flies. SAS, Air France-KLM rise strongly on quiet day in Europe - Share Wrap
Eurofly (shares +16.2% yesterday), the Turin-based trans-Atlantic low cost operator, rose on a better-than-expected 2008 result.
SAS (+9.0%) recovered some lost ground after a negative outlook last week and Air France-KLM (+8.5%) each also showed good gains as European markets thought they saw some glimmers of hope in financial results in the banking sector. (UK markets were closed for the day).
For daily updates on American aviation stock prices and a complete wrap of the day's breaking news, sign up now for a complimentary subscription to America Airline Daily.
Europe selected airlines daily share price movements (% change): 04-May-09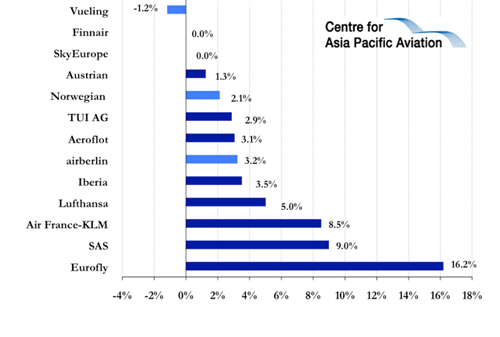 Eurofly
The large niche carrier - now operating 35 aircraft and recently acquired by the Meridiana Group, exploits the large US-Italian population.

Its shares showed a strong gain yesterday after reporting a 14.3% increase in revenues for 2008 to EUR368.3 million. A reduced loss, of EUR18.5 million, against EUR21.8 in 2007, encouraged investors. EBITDAR was EUR36.2 million, up 16.4% on 2007. Eurofly commenced New York-Naples, Palermo and Bologna service in 2005, adding Rome in 2006 and later Pescara and Lamezia Terme.