Etihad Airways sees best ever third quarter as first annual profit nears
Analysis
Etihad Airways' goal of its first full-year break even is edging ever closer, with the airline reporting its "best ever" third quarter result. The carrier's CEO, James Hogan, described the result as "a big step in the right direction for us", with the airline on track to deliver a positive EBITDAR result for FY2011. The airline did not reveal a profit/loss figure for the period, but Mr Hogan stated that Etihad had strong profitability at an EBITDAR level and has moved into monthly operating profitability. Earlier this year, the airline reported positive EBITDAR for 1H2011, again without revealing exact figures.
Overall revenue for the three months to 30-Sep-2011 rose 39% year-on-year to USD1.1 billion, the first time quarterly revenue has exceeded the USD1 billion milestone.
For the three months to 30-Sep-2011, passenger revenue at the airline was USD833 million, up 32% year-on-year. Cargo revenue was up 28% to USD168 million.
The airline reported that its mainline passenger business saw consistently strong performance across all markets. The carrier transported 2.25 million passengers, growth of 18%, while load factors improved 3.8 percentage points, to a record 80.7%. Revenue passenger kilometers rose 18%, while capacity (available seat kilometres) rose 12%.
Strong traffic was noted for the carrier's North American routes (Chicago and New York JFK), while in the Asia Pacific, popular destinations included Bangkok, Jakarta, Kuala Lumpur, Colombo, Manila, Sydney and Melbourne. In the Middle East, Cairo traffic was notable as traffic to Egypt continues to rebuild.
In Europe, Etihad's largest passenger market outside of the Middle East, the carrier added more capacity to Paris, Manchester, Milan, Geneva and Brussels this year. Strong passenger traffic was reported by the airline to London, Dublin, Athens and Istanbul. Etihad's Paris service has been averaging load factors of 77% this year.
Etihad Airways seats per week by region (week commencing 03-Oct-2011)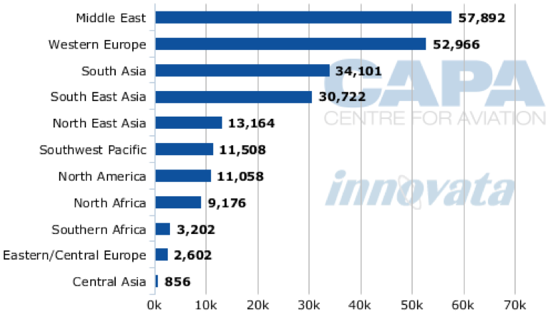 In August, Mr Hogan stated the airline has not seen any slowdown in terms of passenger numbers despite the negatives of Europe's debt crisis and US economic slowdown, and the resultant effect on global market. Etihad Airways plans to add new services to the Maldives (01-Nov-2011), the Seychelles (02-Nov-2011), Chengdu (15-Dec-2011), Dusseldorf (16-Dec-2011), Shanghai (01-Mar-2012) and Nairobi (01-Sep-2012). Capacity to Jakarta and Manila will also be increased.
Etihad has also added more codeshares, adding an Abu Dhabi-Prague codeshare with CSA Czech Airlines on 22-Sep-2011 and signing an agreement with Vietnam Airlines, which will allow Etihad passengers to connect through Bangkok to Ho Chi Minh or Hanoi on Vietnam Airlines' daily services. Vietnam Airlines passengers from either destination will be able to connect through Bangkok to Abu Dhabi. The existing codeshare relationship with S7 airlines was also expanded, to include the Russian cities of Kazan, Samara, Krasnodar and St Petersburg.
Abu Dhabi Airports Company, the state enterprise that runs the carrier's home hub at Abu Dhabi airport, expects services to increase 8% between Nov-2011 and Mar-2012. ADAC expects the airport will handle more than 900 flights per week during the summer period, with most of the growth coming from Etihad. Other airlines due to add capacity at Abu Dhabi include Air India Express, Yemenia, Saudi Arabian Airlines, Singapore Airlines and Lufthansa.
Over the past 12 months, Etihad Airways has taken delivery of six aircraft: three A330-300s and three B777s. The carrier's passenger aircraft fleet now consists of 41 widebodies – eight B777s, 11 A340s and 22 A330s – and 15 narrowbodies – 2 A319s and 13 A320s. The airline is due to take delivery of another seven passenger aircraft – four B777-300ERs and three A320s – in 2012. Etihad has another 96 aircraft on order – 20 A320s, 25 A350-1000s, 10 A380s, 10 B777-300ERs and 31 B787s.
Etihad Crystal Cargo added its first B777F in late Jun-2011, increasing its dedicated freighter fleet to seven aircraft. During the quarter, cargo tonnage handled increased 16% to 77,623 tonnes, as Etihad added a new freighter service to Almaty and increased capacity to Shanghai and Johannesburg. The airline also reported a 10% increase in average cargo yields.
Cost control is a priority for the airline, despite the continued rapid expansion. Overall operating costs in the quarter rose 12% year-on-year, matching the increase in capacity. Etihad reports that costs excluding fuel rose 7%. For 1H2011, the airline reported that it had reduced costs per ASK (including fuel) by 2%.
To reduce exposure to volatility in oil markets, the carrier has hedged 81% of its fuel requirements for the rest of 2011. The airline did not reveal its hedging position for 2012.
Oil prices have been trending downwards since Jun-2011 and fell to year-to-date lows this week. The short term outlook for oil prices remains highly uncertain, but there is the expectation of further falls, with cooling global economies slowing consumption growth, supply tightness easing marginally and the stronger US dollar making buying US dollar denominated oil relatively cheaper.
West Texas Intermediate Crude oil price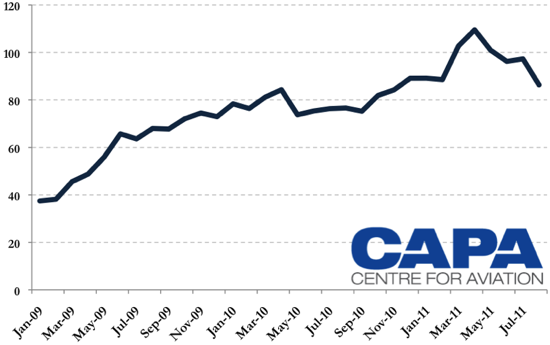 With record traffic and now positive EBTIDA on a month to month basis, Etihad has earned the right to be bullish, despite the uncertainty that clouds the economic horizon. The carrier will continue to take delivery of aircraft and opening up new destinations, all while maturing into a profitable business. Thickening routes with more frequencies, larger aircraft and better connecting blocks at ADIA will only see the airline's performance improve as it works towards sustained profitability from 2012 onwards.