Ethiopian Airlines set to announce Star Alliance plans
Ethiopian: Large and largely unknown
The airline, which traces its operational history to 1946, has been over the 60-plus intervening years steadily expanding its routes from East Africa to the rest of the continent and the world. The airline was founded with management and technical assistance from TWA that lasted until 1974 when the last TWA-affiliated employee departed.
Though owned by the government, in 1965, the airline changed its legal status from a corporation to a share company and altered its name from Ethiopian Air Lines to Ethiopian Airlines.
Established as a domestic operation with a fleet of post-war DC-3s which were ideally suited to the operations and terrain, the airline slowly but continually grew. Ethiopian entered the jet age in 1963 when B720s joined the fleet and the airline has been a reliable Boeing customer since.
In that tradition, it placed early orders for the B787 and originally intended to begin operations in 2010. But, like others affected by the ongoing delays, the first aircraft is now due to arrive in 2011. And, in a break with the past, the company has also ordered 12 A350s which will have a longer range and greater passenger capacity than the 787s. The first aircraft of that type is due in 2017.
Comprehensive network
The airline has a comprehensive network, operated with a fleet of 41 aircraft. Many of its medium-haul routes are operated by eight 757s, ET being one of the few African carriers to operate the type. However, given the long sectors and limited demand at many stations, the aircraft is ideally suited to Ethiopian's network.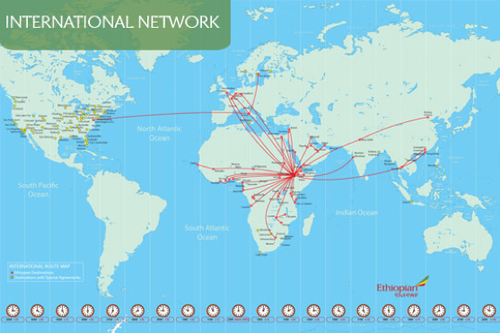 Profitable to boot
According to its 2009 annual report, the airline has been firmly in the black for the past three years with an increasingly healthy margin.
| Fiscal Year | Operating Profit | Margin % | Gross Profit | Margin % |
| --- | --- | --- | --- | --- |
| 2007 | 24 | 3 | 16 | 2 |
| 2008 | 45 | 5 | 81 | 6 |
| 2009 | 92 | 8 | 128 | 11 |
The following two pie charts, also taken from the report, show where the money came in and where it went out. Though some revenue is generated by ancillary services, well over 95% of the incoming cash stemmed from passenger and cargo operations.
And, as with carriers everywhere, fuel is by far the largest expense. However, the total expenditure associated with salaries, sales and overhead is small by comparison with many of its peers.
Revenue Sources
Costs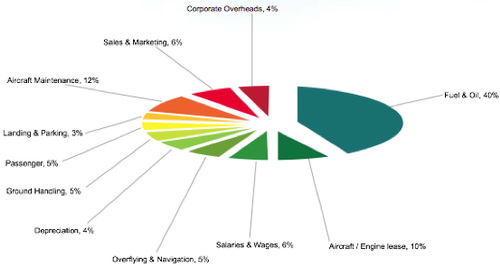 Sources of Revenue

The figure depicting revenue sources indicates a rather equal division between markets, with each of the major geographic divisions providing roughly a third. Though not labeled as such, Asia is likely included in the Gulf and Middle East totals.
With more than 60% of the airline's current revenue generated in intercontinental markets, it is not difficult to see the appeal of expansion in these regions.

Finally, the last chart depicts a healthy ratio between the growth of ASKs and RTKs and the utilisation of that additional capacity. As new, larger aircraft are added, one would hope for similar ratios in the future.
Adding to the Star presence
Though perhaps less well known abroad than its Star Partners, Egyptair and South African, the airline's network outside of Africa is larger than that of SAA, though smaller than that of MS, lacking notably in Europe and the Middle East.
African Star Member Coverage (excluding Africa)
Mid East

Asia/Oceana

Americas

ET

MS

SA

ET

MS

ET

MS

SA

ET

MS

SA

BRU

AMS

LON

BAH

ALP

BKK

BKK

BOM

WAS

NYC

BUE

FRA

ATH

FRA

AMM

BJS

BJS

HKG

(YTO)

NYC

LON

BCN

MUC

DXB

AUH

BOM

BOM

SAO

PAR

BER

BAH

CAN

CAN

WAS

ROM

BRU

DEL

KUL

STO

BUD

RUH

DAM

HKG

OSA

CTA

TLV

DMM

TYO

CPH

DOH

DUS

DXB

FRA

GVA

IST

LCA

RUH

SHJ

LON

MAD

MIL

MLA

MOW

MUC

PAR

ROM

VIE
The addition of ET to the alliance provides additional connectivity across the continent and an alternative routing from Africa to other global points.
The bulk of intra-African connections are provided either by Ethiopian at ADD or Kenya Airways (SkyTeam) at Nairobi. Unfortunately, both of these carriers are on the eastern side of the continent. As a result, connections from Dakar to Lusaka or from Accra to Dar Es Salaam are conveniently accomplished.
Absent from any alliance, and with no obvious candidate, is coverage in West Africa. A trip from Luanda to Lagos can require travelers to transit East or South Africa, adding thousands of miles to the journey. The 466 miles from Abidjan to Monrovia presents challenges and roundabout travel unknown in most of the world in order to cover such a short distance.
Africa may be tapped out

The availability of additional African alliance partners is getting thin. While some of the North African carriers are still unattached, their reach into Africa is, in most cases, rather slim. As in other geographies, the real growth is being provided by the Gulf carriers, and their focus is not on intra-African connections.
The wild card in the equation is Nigeria's Arik, which is expanding into the void left by numerous failed predecessors. The pullout of Virgin Nigeria and the acrimony that surrounded both its establishment and its demise indicate that Nigeria remains a nation in which airlines face considerable challenges.
Arik is only four years old and has a small fleet of 20 aircraft. Its attempt to establish a subsidiary in Niger has, so far, been a failure. However, should it succeed in the long term, it will occupy a key African location and doubtless be wooed by all three alliances as the perfect solution to a big "white spot".
At the recent Routes meeting in Vancouver, ET's president said that following Toronto service, the airline has its sights on additional US destinations, with New York, Atlanta and Houston specified. As seems to be the case with other carriers, the pending arrival of new-generation aircraft, with better economics for long, thin routings, Ethiopian is planning to grow considerably in the next decade with the arrival of 22 such aircraft.
The 777-200LRs will provide a bridge to that growth by allowing near-term expansion to some of those destinations prior to the 787/350 deliveries. One will arrive in October 2010, probably employed to Toronto, two in 2011 and two in 2012 so considerable long-haul growth can be expected in the next two years.
There are also 10 B737-800s in the order book along with three Q400 DHC-8s from Bombardier for domestic operations.
We can be certain that Ethiopian will continue to grow and gain recognition among the world's travellers and, for the foreseeable future, will be a major player in the African market.