easyJet. Just as things were looking good, along comes Stelios...
Analysis
With a relatively low cost base, easyJet's strategy of flying to main gateways, in parallel with full service airlines, was starting to look good for it, as premium business passengers moved down the price curve.

By maintaining decent yields, but below the network carriers', easyJet is well positioned to divert ample quantities of that more valuable traffic, while being able to offer a range of still-cheap discretionary prices.

But, in the stormy weather that typifies trading conditions at present, nothing is a given. And almost the last thing you want to impose on your operation is a shareholder squabble about strategy, which threatens to split the board and undermine management's direction.

But then again, Sir Stelios Haji-Ioannou has invested a lot in creating one of the world's leading LCC models. And he seriously wants to get some of his money back - even if he did sell down of most of the airline in 2000, remaining as Chairman until 2004. Today, after some recent purchases, he holds 26.9% of the airline, through the easyGroup, his own holding company. However, Sir Stelios' brother also separately holds 11% of the stock.

In mid-2004, following a poor profit result, there were rumours that the founder planned to take the carrier private again, but these were not pursued. Sir Stelios' recent move follows a public spat in Aug-08, when he alleged that easyJet's ancillary revenue efforts (eg with car rentals, hotels etc) were infringing on the easy brand's other activities, allegedly straying from the core activity permitted under the easy brand licence. When this dispute could not be resolved "amicably" the founder initiated legal action.

At that time, Sir Stelios held only 16% of easyJet's stock and has quickly increased this, including agglomerating his sister's holding into the Group. If easyGroup buys over 29.9% of the airline's stock, it would be required to announce a formal takeover.

Regardless of the merits of Sir Stelios' beliefs, or of his historic role, any public intervention by a non-executive minority shareholder to influence the big picture planning of a company is unwelcome, even at the best of times. It is often hard for an owner to recognise that, once he has sold down his shareholding, his role is automatically drastically altered.

But, with nearly 40% of the airline's stock in family hands, he is naturally interested to ensure that he receives some dividends - and may well have a shorter term view of that than does the management. One thing is sure: this is not a welcome development for the airline.
Profit down - but not so badly
easyJet yesterday reported a pre-tax profit of GBP110m, a reduction of 45%, for the year to September 30. Higher fuel costs were mainly to blame.

Operating profit fell to GBP91 million, from GBP172 million in the previous 12 months to 30-Sep-07.
To grow or not to grow
The central issue at stake appears to be whether easyJet should grow at the rate which had been planned long before the economic downturn hit, when the carrier was ordering new aircraft (although Sir Stelios also refused to approve the accounts on the basis of several disagreements on accounting procedure)

Sir Stelios yesterday made his view clear and public: "I would like to place on record that I believe that with careful cash management and, in particular, more prudent capital expenditure, easyJet and its shareholders will be the winners in European short-haul aviation. We must focus on cashflow forecasts and not on carrying more passengers."

Faced with an "economic outlook (which) remains very difficult and highly uncertain", easyJet management is in any event relatively downbeat about capacity expansion in 2009, relying on capacity control and lower utilisation to limit expansion: "In order to limit margin dilution over the winter from the impact of higher fuel costs easyJet has withdrawn lower yielding flights, and as a result aircraft utilisation this winter will fall to an average 9 hours a day from 11.6 hours in the previous winter."
easyJet profit before tax margin and Net profit margin: 2004 to 2008 (year ended 30-Sep-08)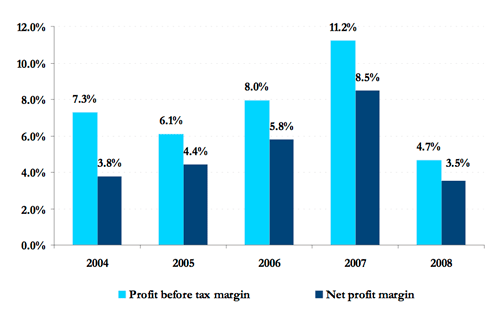 Nonetheless, forward bookings are holding up surprisingly well: "...easyJet's forward bookings for the first quarter of the financial year are currently slightly ahead of prior year."

But the capacity equation also needs to be viewed in light of easyJet's competition. Seat numbers flown will remain flat over the winter, but "we expect competitor capacity on easyJet routes to fall by 7% in the same period."

Then the upbeat part of the message - and the core of the carrier's strategy: "There is also evidence of a "flight to value" for both business and leisure passengers which means that easyJet's total revenue per seat flown for the first half of the year is expected to be slightly ahead of last year on a constant currency basis."

That said, easyJet does have a swag of new seats arriving in 2009.
| Manufacturer | AircraftType | In Service | Order | On Option | Storage | Grand Total |
| --- | --- | --- | --- | --- | --- | --- |
| | A319 | 111 | 79 | 88 | | 278 |
| | | 9 | 26 | | | 35 |
| | A321 | 6 | 1 | | 1 | 8 |
| | 737 (NG) | 27 | | | 1 | 28 |
| Grand Total | | 153 | 106 | 88 | 2 | 349 |
easyJet fleet plan for aircraft deliveries: (as at 18-Nov-08)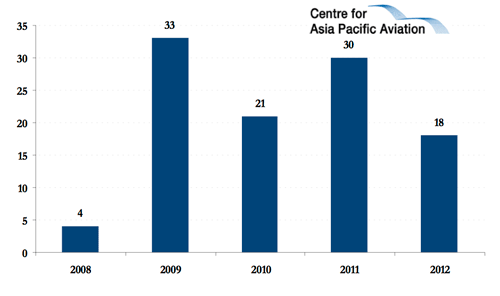 Faced with this non-operational drama, easyJet shares traded as low as 14% down yesterday, as the market digested, then regurgitated, the Stelios dogma. At close of trade, the stock was down an ugly 9.2% on the day.
easyJet share price (closing share price): 22-May-08 to 18-Nov-08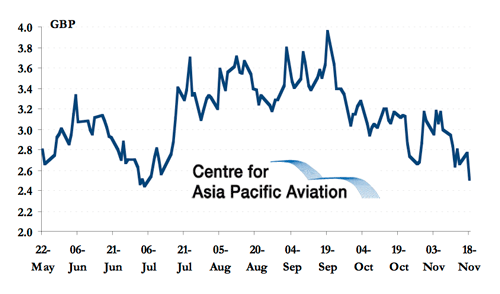 Recent traffic growth
easyJet has certainly expanded explosively over the past four years, culminating in the latest reporting period with a 17.3% increase in passenger numbers, which was very healthily outstripped by revenue growth.
easyJet passenger numbers growth and revenue growth: 2004 to 2008 (year ended 30-Sep-08)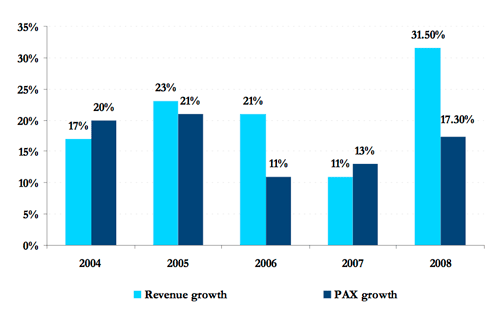 Clearly the low January season will hurt, as yields, traffic and load factors decline, but as noted, easyJet appears relatively confident of weathering this short term storm.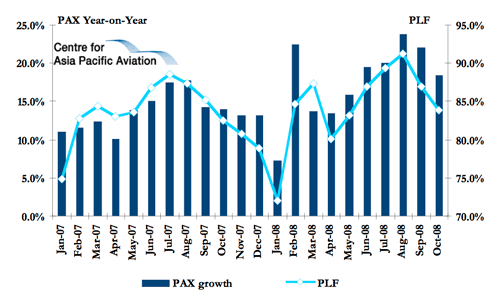 Will there be a happy ending?
In his letter to the Board, published in yesterday's report, Sir Stelios concluded:
"As to the details of our future strategy, these are best discussed in our boardroom in Luton and not in the newspapers."
Is there a seconder for that emotion?