Dubai Airport to become the world's second largest international airport from November
Analysis
Dubai is currently the world's fourth busiest international airport in terms of monthly passenger traffic, having recently overtaken Frankfurt International Airport. The UAE airport handled 4.7 million passengers in Jul-2011, a 9.7% increase year-on-year. The monthly figure was more than 400,000 passengers above the previous monthly record. The largest growth was seen on routes from the GCC, Indian Subcontinent, Western Europe and North America.
Year to date traffic at the airport rose 9% to 29.3 million. Dubai hopes to top 50 million passengers p/a this year and it has the runway and terminal capacity to handle a 50% increase over that.
Dubai Airports CEO Paul Griffiths said that the airport aspires to take over the number three ranking from Hong Kong International Airport by the end of the year. (In Jul-2011, HKIA handled around 5 million passengers, with growth of 5.7% year-on-year).
However, a CAPA analysis of seat capacity has shown that the upcoming Winter 2011/2012 schedule will catapult Dubai into second spot - ahead of HKIA and Paris CDG.
World's top 7 international airports: international seats per week: Aug-2011 to Jan-2012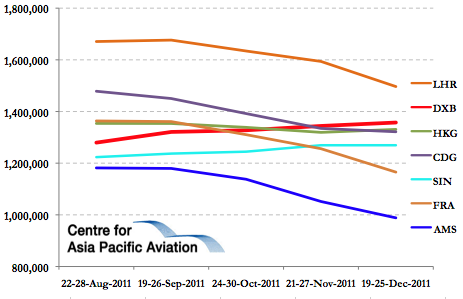 CAPA's Airport Rankings tool shows that airlines at Dubai Airport will offer more than 1.3 million seats per week in Nov-2011. Dubai will hold this advantage through December and into the New Year.
The capacity hike comes about as a result of the seasonal upswing in capacity offered by airlines based in the Gulf, as well as increases in traffic connecting between Europe and the Asia Pacific via Dubai. Also aiding DIA's leap is the effect of lower seasonal traffic levels in Europe during the early winter period, which will push Paris CDG down to fourth spot as Christmas approaches.
The question is whether Dubai can maintain its grip on second spot once the Northern Summer schedule commences in 2012. Seasonal traffic in Europe soars, as European carriers re-jig their schedules, while traffic in the Gulf slows, particularly through the second quarter.
Aiming for number 1
DIA's stated ambition is to outstrip London Heathrow as the busiest international airport in the world, a position it estimates it can reach by 2015. By 2020 Dubai Airports expects DIA to handle around 98 million passengers per annum.
According to Airports Council International, for the year to May-2011, London Heathrow was the largest airport in the world, with 24.8 million international passengers and growth of 9.9% year-on-year. Paris CDG was second with 21.4 million, up 6.9%, followed by HKIA, with 20.9 million passengers, up 5.5%.
However, London Heathrow has little spare capacity for expansion, with just two runways already operating at near peak capacity. HKIA faces runway and airspace capacity constraints, and is pushing for closer collaboration with the other four airports in the Pearl River Delta, as well as the development of a USD17 billion third runway. Of its larger rivals, only Paris CDG is relatively unconstrained in terms of capacity, but has been consistently outstripped in terms of growth by DIA.
If recent rates of growth continue, Dubai could maintain its position (from Nov-2011) as the world's second busiest international airport through 2012 and could overtake Heathrow before 2015.