Double-digit yield contractions for Norwegian; Eight months of PRASM reductions for JetBlue
Scandinavia's largest LCC, Norwegian Air Shuttle, reported another double-digit yield reduction in Dec-2009, with an estimate of NOK0.55 (EUR 6.72 cents) for Dec-2009, a 17% year-on-year fall. It follows a 20% reduction in Nov-2009, for the sixth month of yield contractions at the carrier since Jun-2008.
Norwegian Air Shuttle yield growth: May-2008 to Dec-2009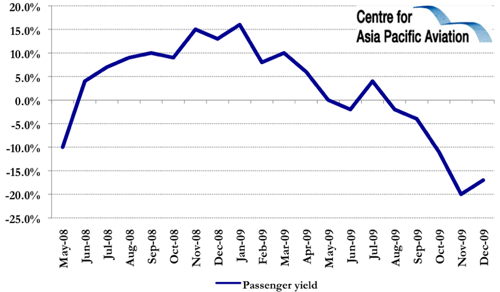 Dec-2009's year-on-year yield reductions are related to the removal of fuel surcharges that covered 2008's record high fuel prices. The yield figure also reflects the LCC's significantly adjusted route portfolio (the carrier added a total of 63 routes in 2009) and the introduction of new aircraft with higher capacity and lower unit costs (these factors are estimated to account for approximately 70-80% of the yield reduction, according to the carrier). The yield contraction also comes off a strong base, with yield growth of 13% in Dec-2008.
The yield reduction was partially offset by a 2 ppt increase in load factors to 76%. Also in the period, passenger numbers were up 25% to 816,000 (in the full year, the carrier handled 10.8 million passengers. an 18% year-on-year increase).
The carrier's unit revenues were also down by double digits, to NOK0.42 (EUR 5.14 cents) in the month, for the second largest monthly year-on-year contraction since the carrier commenced reporting monthly unit revenue data in Apr-2009.
Norwegian Air Shuttle unit revenue (RASK) growth: Apr-2009 to Dec-2009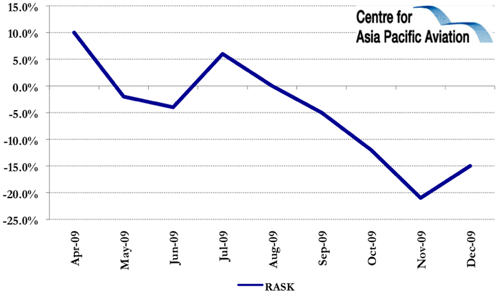 Eight months of PRASM reductions in Dec-2009 for JetBlue
JetBlue reported a 3% reduction in passenger revenue per available seat mile (PRASM) for Dec-2009 (off last year's positive base of 15%), for eight consecutive months of PRASM reductions.
JetBlue PRASM year-on-year increase: May-2007 to Dec-2009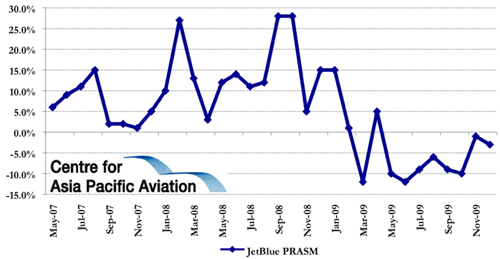 Also in the month, the carrier reported a 6.4% increase in revenue passenger numbers to 2.0 million, as traffic (RPMs) increased 7.5% on a 6.6% capacity (ASMs) increase, resulting in a 0.6 ppt load factor improvement to 80%.
Ryanair's pax up 12% in Dec-2009; may raise FY2009 forecast
Ryanair (shares down 2.0%), in an Investor Day Briefing on 07-Jan-2009, stated it may slightly raise its FY2009 earnings forecast, following a "strong 3Q2009".
The carrier also reported a 12% increase in Dec-2009 passenger numbers to 4.9 million, with load factors up 2 ppts to 81%. The carrier handled 65.3 million passengers in FY2009, with an average load factor of 82%.
The carrier noted that, following the termination of talks with Boeing for a 200 aircraft order in Dec-2009, planned capital expenditure will now decline from EUR1.2 billion in the current year to as little as EUR100 million p/a in the fiscal year ending Mar-2013. Accordingly, the carrier expects current cash reserves of EUR2.5 billion to grow substantially by Mar-2013, and plans to distribute surplus cash to shareholders from that date.
The carrier also stated that over 50% of the carrier's anticipated fuel needs for FY2011 have been hedged at approximately USD720 per tonne. The carrier also denied speculation that it is preparing another bid for Aer Lingus, stating a third bid by the carrier remains 'highly unlikely'.
For more LCC analysis, please see The Centre's landmark Global LCC Outlook Report.
Selected LCCs daily share price movements (% change): 07-Jan-2010