Do&Co shares gain 13.9% on first day; Fraport examines Spanish airports
Analysis
India's GMR Hyderabad International Airport Ltd (GHIAL), the GMR Infrastructure (+0.7%) subsidiary that operates Hyderabad International Airport, stated it expects to achieve a break-even result in the current fiscal year. The result will be driven by increasing revenues through the user development fee and an expected 16% growth in passenger traffic and 26% growth in freight traffic this year.
Meanwhile, Fraport (+3.4%) spokesman Thomas Uber stated the company is examining investment opportunities at Madrid Barajas and Barcelona El Prat Airports following Spain's decision to privatise the country's largest air traffic hubs. He stated: "At the moment, we are examining the parameters, like we do with other possible investments." He added that it has been aware for some time of the Spanish Government's privatisation plans.
Spain's Prime Minister Jose Luis Rodriguez Zapatero on 01-Dec-2010 announced the government plans to privatise the airports under a licence system. Both hubs have been remodeled recently and expanded to absorb increased passenger traffic in coming years.
Selected airport operators/investors daily share price movements (% change): 02-Dec-2010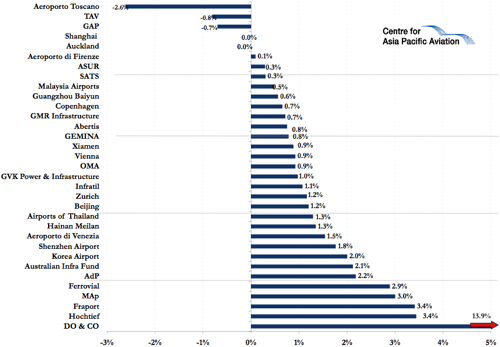 JCDecaux (+5.2%) reportedly plans to consider paying a dividend for the first time in three years given its strong cash generation, according to Co-Chief Executive Jean-Charles Decaux.
Selected airport suppliers daily share price movements (% change): 02-Dec-2010