Deteriorating Asian airline traffic "undermines any optimism a recovery is under way" - AAPA
Analysis
Asia Pacific airlines hit by the global economic downturn are now feeling the effects of the swine flu outbreak. Preliminary figures released today by the Association of Asia Pacific Airlines (AAPA) showed that its member airlines carried a total of 10.1 million international passengers in May-2009, down 14.8% year-on-year. According to AAPA Director General, Andrew Herdman, the May-2009 figures "undermine any optimism that a recovery is already under way - we're still seeing a deterioration in market conditions".
AAPA international passenger traffic measured in RPK terms also fell by 15% year-on-year.
AAPA RPK growth and ASK growth: Jun-08 to May-09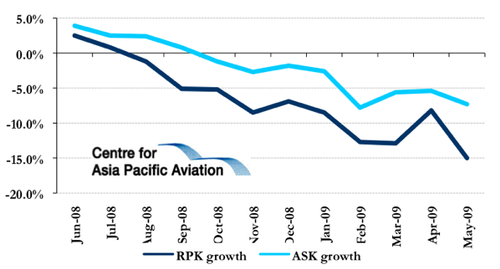 With overall seat capacity being reduced by only 7.3%, the average AAPA passenger load factor tumbled 6.0 ppts to just 66.5%.
AAPA PAX growth and PLF: Jun-08 May-09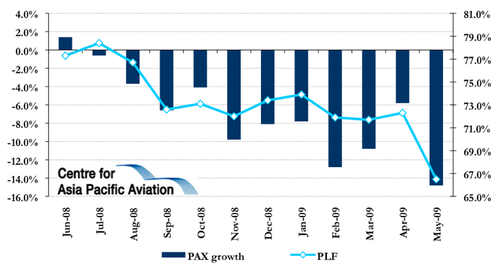 Some freight improvement, but business remains "severely depressed"
AAPA international freight traffic measured in freight tonne kilometres (FTK) saw a year-on-year decline of 18.6% last month. Cargo capacity was cut by 16% and the average international cargo load factor was 64.8%.
Mr Herdman noted, "the air cargo business remains severely depressed following the slump in international trade, but does appear to have stabilised. AAPA international air cargo traffic in May was down 18.6%, a slight improvement on the average decline of 23.2% seen during the first five months compared to the same period last year."
AAPA FTK growth and FATK growth: Jun-08 to May-09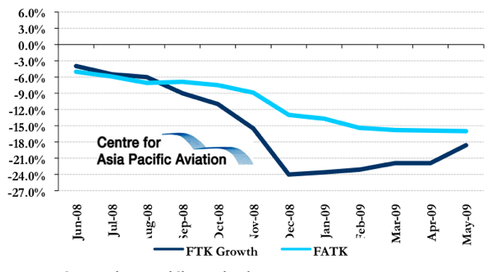 AAPA RPK growth and FTK growth: Jun-08 to May-09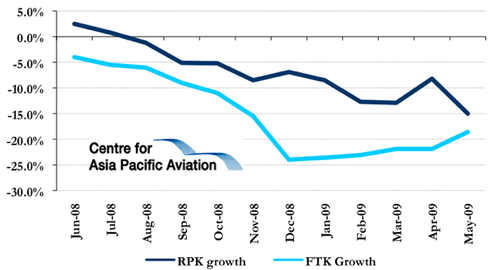 Outlook: Governments urged to avoid placing further restrictions on travel
Overall, Mr Herdman stated the operating environment remains extremely challenging.
He added anxiety over the spread of swine flu is exacerbating the problem, with the imposition of border controls or travel restrictions by several Asia Pacific governments, despite advice from the World Health Organisation on the contrary, subjecting the travelling public to "unnecessary inconvenience". AAPA urged governments to "carefully review their actions, and to take full account of the wider economic and social impacts, before imposing further restrictions on the movement of people around the world".