Denver airport marks a milestone anniversary with solid passenger growth and promising prospects
Analysis
Denver International Airport marks an important milestone in 2015, celebrating its 20th anniversary on a good note after reaching its highest passenger levels in four years during 2014. The airport also marked a banner year in 2013 when United inaugurated Denver's first service to Asia with the launch of flights to Tokyo Narita.

The airport has a good representation of all the airlines business models, serving as a hub for United, Southwest Airlines' fourth largest base measured by ASMs and ULCC representation from Frontier Airlines, which is headquartered in Denver, and Spirit.

But obviously the airport is not resting on its laurels as it reaches its anniversary. It is in intense competition with other airports to secure additional long-haul flying, angling for service to Asia and Europe and perhaps flights to the Middle East and South America.
Denver records solid growth in international passengers in 2014
Denver handled approximately 53.5 million passengers during 2014, a 1.7% rise year-on-year and a reversal of a 1% decline in 2013. Its passenger levels during 2014 were the highest since 2011.
Denver International Airport annual passenger numbers: 2011 to 2014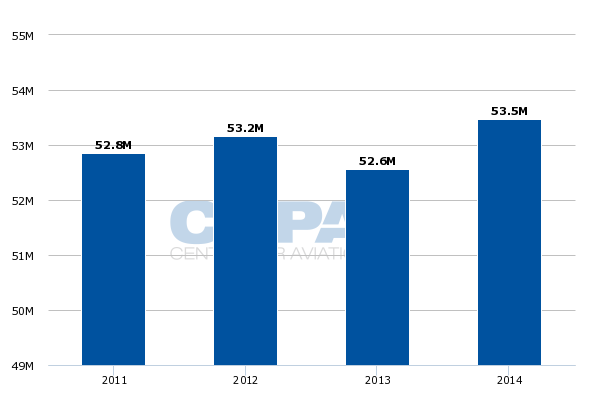 Denver International Airport annual passenger growth: 2011 to 2015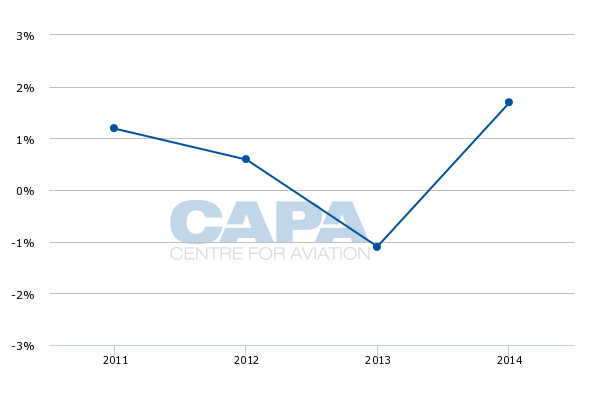 The new service launch to Tokyo in 2013, coupled with new service in 2014 to Panama City by United, and Guadalajara and Chihuahua by Mexican low-cost airline Volaris, helped Denver reach record international passenger levels of 2.2 million passengers. The airport estimates that overall international passenger traffic grew 12% year-on-year during 2014.

Denver's international offerings (9-Mar-2015 to 15-Mar-2015) include London Heathrow operated by British Airways, Frankfurt operated by Lufthansa and United's Narita service. Icelandair offers flights to Reykjavik and Air Canada operates service to Toronto. United also operates service to Calgary, Edmonton, Winnipeg and Vancouver. Aeromexico, Volaris and United all serve Mexico City Juarez and United, Frontier and Southwest all serve Los Cabos and Cancun. United and Frontier also serve Puerto Vallarta, while Frontier operates service to Cozumel, Ixtapa and Liberia, Costa Rica.

Data from CAPA and OAG show that for the week of 9-Mar-2015 to 15-Mar-2015 roughly 10.5% of Denver's ASMs are deployed into international markets.
Denver International Airport international vs domestic capacity (% of ASMs): 9-Mar-2015 to 15-Mar-2015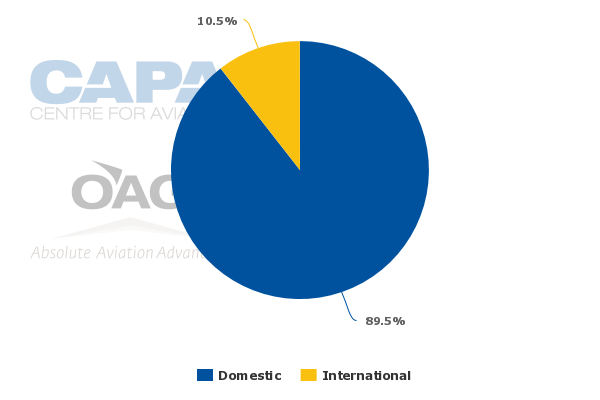 Denver keeps working to attract more long-haul service
Obviously Denver's goal is to sustain the positive momentum it has seen during the last couple of years, but it obviously faces some challenges as it works to secure more long-haul service. Denver does not enjoy the gateway status held by United's other hubs including Houston to Central and Latin America, San Francisco to Asia and New York Newark to Europe. By comparison, roughly 50% of San Francisco's ASMs for the week of 9-Mar-2015 to 15-Mar-2015 are deployed into international markets even as the airport recorded fewer passengers than Denver in 2014. Approximately 47.2 million passengers travelled through San Francisco in 2014.
In addition to its status as a hub for United, a number of international airlines serve San Francisco, boosting its international passenger numbers.

In early 2015 Denver International Airport CEO Kim Day told the Denver Business Journal that markets of interest include the Middle East, Asia, additional service to Europe and service deeper into South America. Ms Day has remarked to the Denver Post that airport management is looking at Turkish Airlines and China Southern Airlines as potential airlines; but the airport is likely holding discussions with numerous airlines as securing long-haul flights is a years long process.

One short term challenge is the economic weakness outside the US, particularly in Europe. Some US and European airlines have cited overcapacity in the trans-Atlantic during the last year, which coupled with the economic conditions is likely making some European airlines hesitant to start a raft of new service.

US airlines have also cited overcapacity in the Pacific, which could prohibit any serious consideration for additional long-haul service to Asia unit the medium term. However, Ms Day told the Denver Business Journal in 2012 that at that time roughly 550 passengers per day were travelling from Denver to Asia on non-direct flights, in excess of the 219-seat capacity of United's Boeing 787-8 widebodies used on the flight to Tokyo.

United seems to have enjoyed reasonably strong load factors in the initial roll-out of service from Denver to Tokyo. Data from the US Bureau of Transportation Statistics show that the airline's load factor on the route from its launch through Aug-2014 was mostly above 80%.
United Airlines Load Factor from Denver International Airport to Tokyo Narita Airport: Jun-2013 to Aug-2014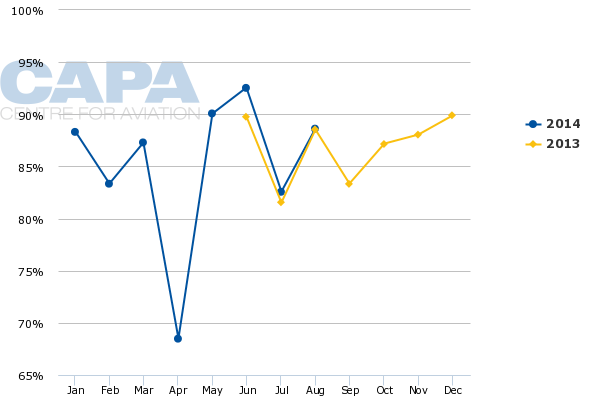 Southwest keeps growing in Denver as Frontier makes some cuts from the airport
As it works to secure more long-haul flights, Denver does have the advantage of becoming Southwest's fastest growing city in the airline's history. Southwest represents a 28% share of Denver's ASMs, and as previously stated, the airport is the airline's fourth largest base measured by ASMs.
Denver International Airport capacity by airline (% of ASMs): 9-Mar-2015 to 15-Mar-2015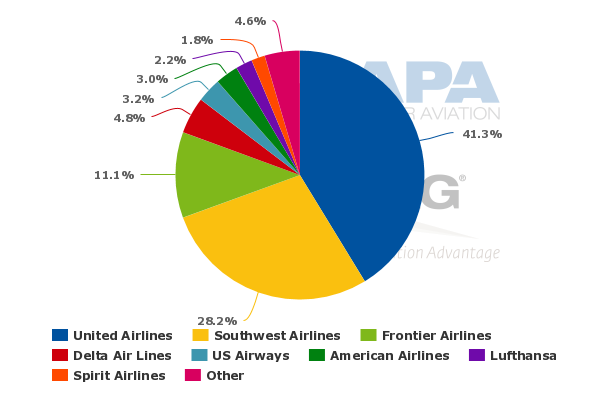 Southwest Airlines global top 10 hubs/bases/stations by seats: 9-Mar-2015 to 15-Mar-2015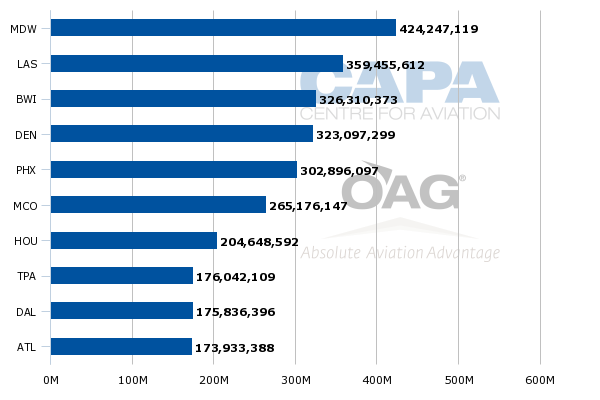 Data from the airport show that Southwest's passenger numbers in Denver increased 5% year-on-year in 2014 to roughly 14 million.
Frontier Airlines' plans are more complex as it again changes shape
It is less clear how Frontier Airlines plans to leverage Denver in the future as it works to complete its transition to a ULCC. Starting in late 2014 and continuing through Apr-2015, Frontier is eliminating about 20 routes from its largest base and headquarters, mostly smaller markets that it deemed were generating high-cost, low revenue connecting passengers. In late 2014, the airline claimed that landing fees in Denver had grown 30% during the last three years; but as previously reported by CAPA the airline's public claims could be a negotiating tactic as Frontier was in talks with the airport on lease renewals.

The reality is Denver has seen firsthand the ups and downs of Frontier's network and business realignment during the last couple of years, that included a brief headquarters move to Indianapolis during the airline's time as a subsidiary of Republic Airways Holdings, and then a return to Denver. Given the rapid fire changes at Frontier during the last couple of years, Denver has likely been looking for ways to offset Frontier shrinking its presence at the airport. However, Denver is still Frontier's largest base by a wide margin, so the airline will continue to maintain a strong presence in the market for the foreseeable future.
See related report: Frontier Airlines opts to resize Denver airport operations, citing higher operating costs
Frontier Airlines global top 10 hubs/bases/stations by ASMs: 9-Mar-2015 to 15-Mar-2015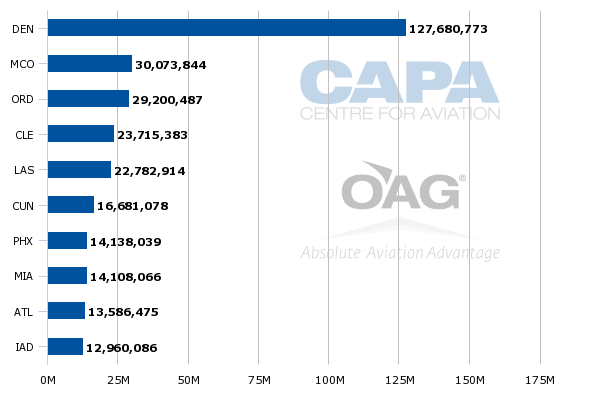 Denver also enjoys service from ULCC Spirit, injecting some ultra low fares into Dallas/Fort Worth, Chicago O'Hare, San Diego, Fort Lauderdale, Houston Intercontinental, Las Vegas and Phoenix.
Although Spirit has a small presence in Denver, its offerings do ensure that passengers in some of the airport's largest markets have different options, from ultra low fare airlines to full service airlines.
New hotel and rail will add to Denver's attraction as it seeks new air services
Two projects underway by Denver International Airport could add to its attractiveness to airlines evaluating potential new service from the airport. The first is a new 519 room hotel and conference centre on the airport property set to open later in 2015 and a new commuter rail service, offering key access to downtown Denver, which is scheduled to debut in 2016. The airport is located about 40km from downtown, and the addition of the rail line is key, especially for a facility looking to broaden its international network.

Additionally, Denver also aims to develop the area around the airport, which spans 53 square miles, into an "aerotropolis", which is a concept to develop business infrastructure around airports to expand economic development. But there is some controversy surrounding the idea. Denver officials and representatives of neighbouring Adams County have been in private mediation regarding a 25-year old land use agreement that was struck when land was annexed from Adams after a vote to develop and build Denver International Airport, according to the Denver Post.
Denver remains on solid footing as it works to seek additional service
Denver International Airport marks its 20th year in operation on a strong footing, enjoying service from every major airline. It serves as a headquarters for a ULCC and is one of Southwest's top markets in addition to United, one of the three largest full service airlines, holding status as the airport's largest airline.

Denver has significant stability in the post-consolidated US marketplace holding a unique position of offering solid levels of both O&D and connecting traffic. In 2013 roughly 58% of its passengers were O&D and 42% were connecting.
The airport is also no doubt working assiduously to secure coveted new long-haul flights, but in the meantime it is enjoying steady passenger growth, providing a solid foundation as it works to generate interest among international airlines.