Delta Air Lines' loss at Dallas Love Field is Seattle's gain, but Alaska Air still feels more pain
Analysis
Now that Virgin America has emerged as the victor in the contest for two gates at Dallas Love Field, Delta Air Lines has a bit of free capacity to deploy elsewhere in its network.

Delta appears to be reallocating the capacity originally pegged for Love Field to its growing hub in Seattle, creating more headaches for the Alaska Air Group. Delta's latest crop of new services from Seattle is different in that the markets are more O&D oriented rather than designed to optimise connections.

Delta is ratcheting up competition with Alaska in leisure markets such as Cabo San Lucas and Puerto Vallarta, creating another layer of competition for Alaska in Seattle. Alaska has responded to Delta's latest moves by declaring 11% departure growth in Seattle by Spring 2015, opting to grow in markets where Delta is not presently a huge threat.
Delta's new routes are the latest in a pronounced and aggressive push from Seattle
The latest moves by Delta in Seattle are no surprise given the carrier's aggressive build-up in the market during the past couple of years. By YE2014 it will operate service to seven of Seattle's top 10 markets measured by seat deployment – San Francisco, Los Angeles, Anchorage, Las Vegas, Phoenix, Portland and Minneapolis.
Seattle/Tacoma International Airport top 10 routes by seats: 26-May-2014 to 1-Jun-2014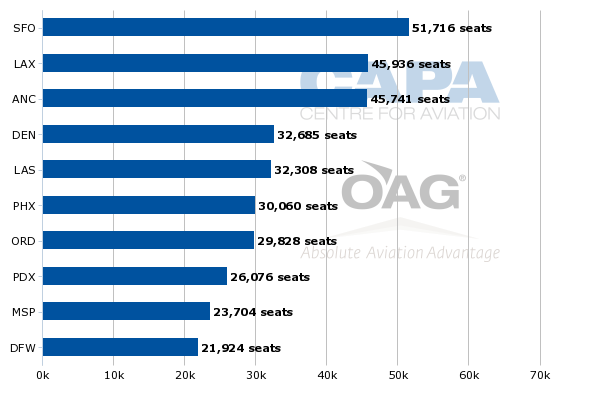 Previously Alaska had estimated that it will overlap with Delta on 13 city pairs from Seattle by YE2014 as Delta grows to roughly 80 daily round-trips from Seattle.

See related report: Alaska Air continues to face a menacing Delta but still posts strong 1Q2014 results

Delta's domestic build-up in Seattle using its own aircraft (versus further exploiting a long-standing relationship with Alaska) has been driven by its international expansion from Seattle. By mid-Jun-2014 Delta will offer approximately 2,500 daily international seats from Seattle to Amsterdam, Beijing, Paris, Shanghai, Tokyo Haneda and Narita, London, Seoul and Hong Kong.

Other new US domestic markets Delta is adding from Seattle include, Juneau, San Jose, San Diego, Palm Springs, Tucson and Jackson Hole. The airline is also introducing new transborder service from Seattle to Vancouver. Alaska serves all of those markets from Seattle with the exception of Jackson Hole.
Alaska works to keep its scale in Seattle as Delta continues to accelerate its growth
As Delta builds up Seattle, the airline is removing its code from Alaska's service to Las Vegas, Los Angeles, San Diego, San Francisco, San Jose, Vancouver, Anchorage, Houston and Phoenix by YE2014, with more routes likely to follow as Delta works to maximise its own revenue in Seattle.
But as Delta increases its seat share in Seattle, Alaska is working hard to maintain its scale in the market.
Data from CAPA and OAG show that for the week of 26-May-2014 to 1-Jun-2014 Alaska's seat share is roughly 50% with Delta representing a 14% share. For the week of 3-Nov-2014 to 9-Nov-2014, Alaska's share grows to 55% and Delta's increases to 19%.
Seattle/Tacoma International Airport capacity by carrier (% of seats): 26-May-2014 to 1-Jun-2014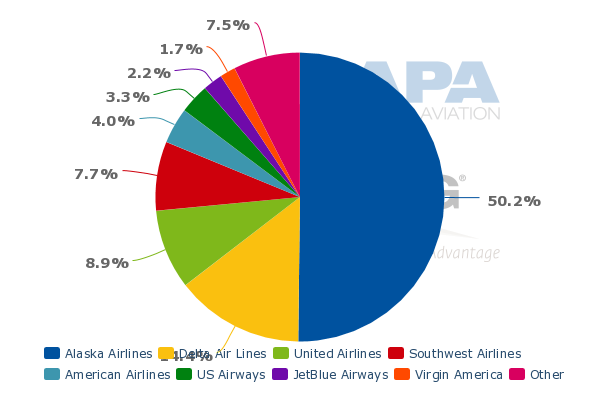 Seattle/Tacoma International Airport capacity by carrier (% of seats): 3-Nov-2014 to 9-Nov-2014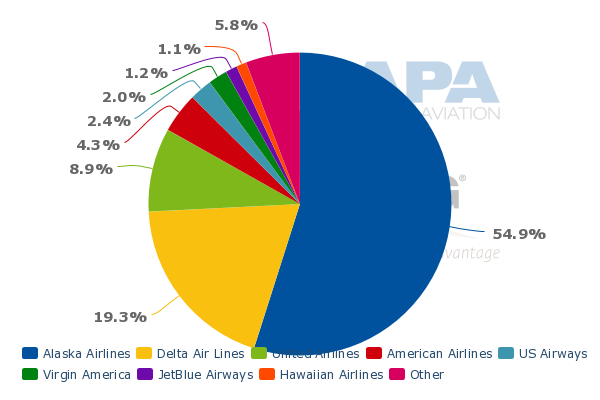 Both Delta and Alaska recently outlined new growth in Seattle, which will result in overall capacity growth at the airport. After failing to gain access at Dallas Love Field through gates divested by American Airlines as part of the American-US Airways merger, Delta abandoned plans to launch service from Love to Detroit, Los Angeles, Minneapolis and New York LaGuardia. Shortly after Virgin America secured the gates, Delta announced new service from Seattle to Calgary, Spokane, Bozeman, Maui, Los Cabos and Puerto Vallarta.

See related report: Virgin America vies to inject competition at Dallas Love Field, as Southwest, Delta, Spirit line up

Those markets are somewhat different to Delta's recent spate of additions from Seattle as the carrier remarked that the new routes are popular ski and resort destinations.

It is not clear if Delta sees long-term value in those new routes, or is quickly re-deploying capacity originally pegged for Love. Both Delta and Virgin America tabled new routes from Love Field before a final decision was rendered by the US Justice Department and the City of Dallas.

Delta's latest markets from Seattle, scheduled to launch in Nov-2014 and Dec-2014 create even more pressure for Alaska, which serves all of Delta's new destinations. Air Canada also serves Seattle-Calgary and Hawaiian operates flights between Seattle and Maui. Delta's new Seattle-Maui pairing is particularly interesting given that until recently there was oversupply between Hawaii and the US mainland, which pressured Alaska and Hawaiian's unit revenues. At the very least Delta's entry into the market will lower fares in the short term as Hawaiian and Alaska will move to match Delta's introductory fares in order to secure their respective passenger bases.

See related report: Alaska Air Group faces tough 2Q2013 as competitive capacity hurts yields. Cost crunch looms

In the other markets Delta breaks Alaska's monopoly, which will create additional pressure for Alaska. Previously Alaska has acknowledged unit revenue pressure in markets where it is facing additional competitive capacity. Now Delta is creating even more pain for Alaska in Seattle by increasing the competitive overlap that will add more revenue pressure to Alaska.
Alaska turns to Salt Lake City to diffuse some pressure it feels in Seattle
Alaska's response to Delta's aggression in Seattle has been a two-fold strategy of making a push from Salt Lake City and introducing new service from Seattle where there is no competitive overlap with Delta.

After introducing service from Seattle to Salt Lake City in 2013, and deeming the route a success, Alaska during Jun-2014 is adding flights from Salt Lake City to Las Vegas, Los Angeles, San Diego, San Francisco, San Jose, Vancouver, Anchorage, Houston and Phoenix.
As Delta continues to pound Alaska in Seattle, Alaska is opting to up competition with Delta at Salt Lake City, one of Delta's smaller hubs. Delta serves all of Alaska's new routes from Salt Lake City, in some ways making Alaska the aggressor in that particular market.

Previously Alaska has outlined new service from Seattle to Albuquerque, Baltimore, Detroit, Tampa, Cancun and New Orleans scheduled to begin in 2014. Of those new markets, Delta only serves its Detroit hub from Seattle, giving Alaska some power to leverage its strong brand in Seattle on the new pairings. It faces no competition in Tampa and Cancun and will compete with Southwest on the new service to Albuquerque and Baltimore.
Alaska attempts to avoid Delta in planned departure growth from Seattle
Shortly after Delta unveiled its latest routes from Seattle, Alaska outlined plans to increase its departures from the airport 11% by Spring 2015, which includes the six new markets launched in 2014.

Alaska plans to add 27 new roundtrips, bolstering service from Seattle to Boise, Boston, Chicago O'Hare, Denver, Fairbanks and Sacramento (the airline is adding a single daily roundtrip in each market). Other service additions include two more daily roundtrips from Seattle to Los Angeles, and three additional daily flights from Seattle to Portland. Delta does not serve Seattle-Boise, Boston, Chicago and Denver, which is likely the driver for Alaska's additional service in the markets.
But O'Hare is served by United and American and Denver has ample service by United, Frontier and Southwest along with Alaska's existing flights. In some markets Alaska may risk adding dilutive capacity that could lead to depressed pricing. Alaska competes with JetBlue on flights from Seattle to Boston and with Southwest between Seattle and Sacramento, so Alaska's capacity additions in those markets could be more easily absorbed.

In response to Delta's entry into the Seattle-Spokane market, Alaska plans to upgrade two of its 16 daily roundtrip flights in the market from 70-seat Bombardier Q400 turboprops to Boeing 737 narrowbodies. Delta is operating four daily flights from Seattle to Spokane with two-class, 65-seat Bombardier CRJ700 jets.
Delta and Alaska both do some chest beating as they up the ante in Seattle
The latest moves by both Delta and Alaska in Seattle show a certain level of determination by each carrier to mark their territory in the market. Delta's brazenness continues as it openly attacks Alaska at every turn, while Alaska is making more lightfooted moves to ensure its top standing in Seattle.

It is questionable if all the additional capacity in Seattle is necessary; but the tit-for-tat occurring between Delta and Alaska shows no signs of abating.
After remaining mostly silent as Delta has rammed its way into Seattle during the last year, Alaska is declaring that it will offer 280 daily departures from Seattle by mid-2015, showcasing strength in its home market. But as Alaska's network moves show, its strategy for the time being appears to be centred around dodging the Delta bullet for as long as it can.