Debate over impact of American's moves on distribution channels
Analysis
American's decision to pull its flights from Orbitz and the subsequent counter attack by Expedia has everyone debating how this will affect the carrier. But perhaps a debate over the future of Global Distribution Systems (GDSs) would be more in order and this may be why American management is confident that the carrier will come out on top.
American throws down the GDS gauntlet
It may be right given the coming internet changes. For now, the fallout for the two contestants – American and Orbitz – should have little impact, at least in the short term. Even so, the bigger story is yet to come. Part of that story will unfold in 2011 as the contracts between American and Sabre, Travelport and Amadeus – the GDS empire – expire. But the rest will be played out by new players who now have almost nothing to do with travel distribution.
For the most part, most agree that the current model is well and truly broken. Forrester Research analyst Henry Harteveldt is convinced the real war will not be with Orbitz, but with the GDSs.
"The problem with GDSs is the business arrangement reflects when airlines owned the CRS vendors," he said. "Today, airlines bear the entire brunt of distribution and the travel agents don't. What we need is a new distribution model where the cost is spread between the stakeholders and benefits create a win-win situation for all. Right now travel agents benefit from the fact that they have a one-stop shop that goes across every airline. It is easy and efficient for them. The airlines benefit from easy communication and wide, secure distribution. We need to look at a new business paradigm that benefits both airlines and travel agents.
"This is less about online travel agents and more about the economics of distribution with the GDSs," he continued, noting that many others in the travel chain benefit from the current distribution model and thus should be paying more. "Airlines are just tired of paying 100% of distribution. The current system is sorely outmoded and is like using a 1960s-era jet to compete against more fuel-efficient models. We need a more cost-effective distribution model. OTAs cannot ignore a company that generates USD800 million or more of revenues. They have to find a way to make the model work so it's a win for both. The real test comes in 2011. I expect American to go to the negotiating table with an aggressive stance because it is so frustrated with the costs of the current model."
Given all these factors, it seems clear that GDSs and OTAs and those who support them are on the wrong end of this argument. Pushing for the status quo, ignores the fact the industry has already changed and there will be new competitors on the distribution scene in the not too distant future. For them not to change in the face of the coming competition would be foolhardy and would only accelerate making them an anachronism. It would also stifle the innovation that a 21rst century marketplace demands.
Perhaps the best explanation of the problem comes from the airline-sponsored Open Axis Group which explained its stance in a You Tube video, The Case of the New Cookie, comparing airline seats to cookies and how distributors block the introduction of a new cookie. It is really quite brilliant and the media campaign surrounding the launch of the new video included sending out actual cookies and directing reporters to their website openAxisGroup.org/cookie.
Indeed, many see the latest fight as only a continuation of a battle that has raged since the 1990s.
"Airlines cut out brick-and-mortar travel agents long ago, refusing to pay a commission; what's taken them so long with online travel agencies and meta search," asked Airfarewatchdog.com Founder George Hobica, who noted that airlines and distributors have been fighting for a long time. "This isn't the first time AA has had a spat with Orbitz; and Southwest had a spat with Kayak for listing fares without permission, even though Southwest wasn't paying a commission for the bookings.
"Southwest is doing famously well not listing their fares on OTA's or metas. Profitable Allegiant Airlines also sells on their own site only," Mr Hobica continued in his commentary. "Are other airlines looking over Southwest's shoulder and wondering why they can't do the same thing? When consumers go directly to the airline's site, the airline can sell ancillary products, hotels, car rentals, vacations, frequent flyer credit cards, and much more. When they go through an OTA, the OTA gets to sell these things. Bottom line, this will make airfare shopping harder ... just like in the old days when you called up each airline in turn to find the lowest fare."
When asked about Southwest and its successful avoidance of online sites, Mr Harteveldt noted that Southwest has a number of unique features that make its decision work, citing free bags, a very positive customer image and reputation as well as its position as the nation's largest domestic carrier.
American, conversely, is viewed as being similar to, and interchangeable with, its legacy peers, making it far less likely that consumers would specifically seek its services, except perhaps in places like Miami or Dallas where the airline is dominant and where many customers are loyal to AAdvantage.
Southwest continues to have a significant effect on the legacy group as witnessed by its unwillingness, thus far, to match the USD10 one-way/USD20 round-trip fare increases just announced by the legacy group. Many believe that the increase may not stick if unmatched by WN, but if it should, there will be even less incentive to compare WN fares with those not broadly represented on sites like Orbitz.
Contestants say they will not lose
In its statement announcing the loss of American's data, Orbitz said: "Revenue earned on American Airlines tickets and the associated ancillary products – including destination services, car, hotel and insurance – booked on our Orbitz.com and Orbitz for Business sites accounted for approximately 5% of Orbitz Worldwide total revenue for the nine months ended September 30, 2010."
But that is just Orbitz, it will have a more telling impact on Orbitz owner Travelport which has already suffered two similar blows. Other airline actions includes United's notice to Travelport that in 2012 it will move to HP's SHARES system, according to TNooz, which pointed out that United was one of the company's largest customers. The publication also noted that Travelport was already dealing with Northwest's migration from the Worldspan-hosted PARS system to the Worldspan-hosted Deltamatic reservations system.
Both American and Orbitz say they are still trying to seek a resolution but Orbitz also pointed out that between 4Q2009 through the third quarter, Orbitz generated USD800 million in sales for American. However, American, while it hasn't disclosed revenue from Orbitz, indicated Orbitz's number seemed high, especially when put into perspective that it comes from lower-yield, higher-cost bookings. Orbitz went on to say it expects most of American's ticket volume will be made up by other suppliers and it will continue to earn most of the associated ancillary revenue.
Stifel Nicolaus Analyst Hunter Keay suggests that the actual fallout from the Christmas-time changes will not be known for at least a couple of months, given booking behavior and how far out travelers book. He also doubts the scuffle will have any meaningful impact on American given the small percentage of revenue coming from Orbitz. Through the third quarter, American posted USD16.5 billion in operating revenues.
TNooz also reported that American has a lot to gain despite the fact Orbitz, according to Mr Hartveldt, is one of the airline's least costly third-party distribution channels. TNooz quoted a research note from Soleil Securities analyst Jake Fuller explaining the economics of American's Direct Connect program. By cutting out the GDS middle man, American stands to save around USD9 per ticket in GDS fees. In addition, OTA's would lose about USD5 per ticket, according to Mr Fuller, who said that money comes from incentives paid by the GDSs. Mr Fuller went on to explain that such incentives amount to about 5% of Expedia's and 15% of Orbitz's revenues, making them that much more vulnerable to GDS-bypass initiatives.
Current fallout
American, on Wednesday, indicated bookings were up since its December 21st move with Orbitz and subsequent action by Expedia to remove its fares from its searches. Interestingly, American's Expedia contract expired on 31-Dec and it remains to be seen if Expedia will take action to remove American completely.
American noted a year-over-year increase in its overall ticket sales in the wake of the Orbitz and Expedia actions. However, that increase was consistent to what it saw in early December before the actions. It cited a shift in ticket sales to other channels, notably Priceline.com, and referrals from metasearch engines, such as Kayak.com, as well as increased volume on its own website, AA.com. American also said it has not seen a drop in Expedia bookings.
"Our results to date show that consumer choice is alive and well and that our customers continue to have thousands of options to purchase American's competitive fares and convenient schedules," said American Vice President and General Sales Manager Derek DeCross. "It is also clear to us that other online travel sites and traditional travel agencies are capitalizing on this market opportunity to gain business. Beyond that, we want to thank our customers and travel partners for their continued loyalty and support. We appreciate your business."
Mr DeCross touted the carrier's Direct Connect saying it "offers a path to a new era of buying and selling travel services. Traditionally, airline products have consisted of different flavors of airfares. In the future, however, we envision the world of travel evolving into a much wider variety of products and services beyond fares. Our direct connection will help travel agencies help their own customers by giving them access to customized choices and delivering the best value to travelers. We do not envision a future in which we only sell to our customers through our own branded website. Our goal is to have broad distribution channels and choices for our customers, with our products and services delivered efficiently and without unnecessary costs flowing through the process."
Orbitz display on SFO-JFK route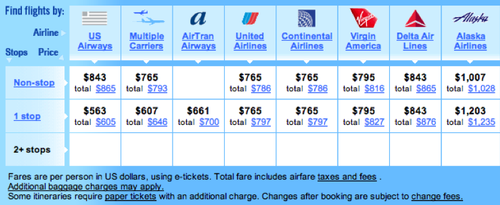 Expedia dispay takes four extra clicks to find American's price

Travelocity display

Observers, however, suggest that American cooked the books on its stats. The Business Travel Coalition doesn't buy American's bravado, saying the statistics have "a hole large enough to fly an Airbus 380 through".
Pointing to heavy 15% to 20% discounts emailed to Orbitz and Expedia customers, BTC Chair Kevin Mitchell, who has waged a battle against American's Direct Connect for nearly a year, said discounting skewed American's numbers.
"In such a price-sensitive environment for consumers, discounts of this magnitude no doubt increased AA's bookings likely masking the true negative impact of its actions and business predicament," he said. "Indeed, these discounts represent the price AA now has to pay to maintain market share. In addition to having to now 'buy' the business to maintain share, substantially more revenue is at risk for AA than the USD800 million in annualised sales Orbitz was delivering to AA. Indeed, sales from Orbitz and Expedia of AA's airfares may not be a true proxy for the revenue at risk for AA."
That may be true, but so what? There is another way to look at those discounts. American has to do something to increase the visibility of the distribution change and its discounts are really just an investment in maintaining market share.
"Yes, we did offer discounts to customers who had previously booked on Orbitz and Expedia - but the discount was for booking on AA.com," an American spokesperson told CAPA. "So, what Mr Mitchell doesn't recognise in his ongoing rhetoric is that we've seen other sites - like Priceline, Travelocity and Kayak have upticks as well. The incentives don't apply to those bookings, yet they are still up. We're funding the discounts from what it would have cost us to sell the tickets through Orbitz and Expedia. We're working with other partners to distribute our tickets as well as through our own channels."
The uptick in Travelocity traffic seems to confirm Mr Harteveldt's theory that taking American off Expedia is counterproductive because it only makes Travelocity that much more valuable. This is ironic since Sabre came out in support of Orbitz/Travelport, he said.
Marching to a different drummer
There is no question that American is a different bird and the reasons why are well known. It refused to go into bankruptcy which put it at a USD600 million labour disadvantage. It also severely cut back domestic services to concentrate on the top business markets both in the US and abroad. Finally, it came extremely late to the alliance party – not for lack of trying – only to play catch-up to Star and SkyTeam.
These moves have left analysts unconvinced and 2011 will be a telling year for the carrier as it awaits increasing labor costs at other carriers to reduce its labour-cost disparity. It also awaits the promised USD500 million impact of its British Airways-Iberia joint business and a similar venture with Japan Airlines.
In the midst of all this risk comes the OTA fight. About the only thing clear is American is taking a huge risk while other airlines stand on the sidelines, no doubt silently cheering American on. After all, they can't lose. They are likely to gain some market share and if the carrier really gets into trouble they could gain more than that. But that is unlikely to happen.
While Delta removed itself from CheapOAir, OneTravel and BookIt, that is far less risky since together they don't account for much of its revenue, according to Mr Harteveldt, who added they were poorly run and in and out of bankruptcy. Consequently, American still holds the biggest risk. Mr Harteveldt does not see Delta's move as a preliminary to following American.
It is not as if American is falling on its sword for the team. It became the guinea pig because its contracts were expiring first, according to Brigham Young University Marriott School of Management Assistant Professor of Marketing Darron Billeter, who has been observing consumer behaviour and thinks this will be a plus for American.
"It is easy for others to sit back and let American take the brunt," he said. "And, in the short term, it could hurt American. But in the long term, other airlines will have to jump in when their time comes. Quite honestly, if they don't jump in and behave similarly, they will be fairly short sighted, especially looking at the competitive environment and the competitive impact it will have on consumer decision making. American is taking a pretty strong position but from the consumer perspective, I see things going and moving."
Indeed, it must be remembered that, under previous management, American was always the innovator that introduced major paradigm shifts in the business. Sabre and frequent flyer programmes are just two examples.
Observers weigh-in
Mr Harteveldt made some good points that, in this fight, American will likely be the biggest loser. He agrees with Keay, however, that the impact, at this point, is largely unknown and depends on whether or not people switch travel agencies.
"The more likely outcome will be travelers just booking what they can find on Orbitz and Expedia and American will lose share," Mr Harteveldt told CAPA. "As for the impact on Orbitz, American is only 5% of Orbitz revenues. If they are not able to reach agreement that USD800 million will move to other airlines."
Mr Harteveldt likened American's move to the Intercontinental Hotel Group's IHG move to pull out of Expedia. Expedia saw no meaningful loss while IHG remained silent on the impact. "Even if American lost 10% of its business, that is a USD80 million chunk of change that evaporates from American's top line," added Mr Harteveldt. "Expedia probably generates more than USD1 billion in sales for American and if 10% of that is lost that is USD100 million off American's top line. That is an expensive game of e-commerce distribution chicken."
But, then again, American's marketing moves have shown it is not exactly standing still.
Perhaps the most troubling impact may be the loss of those who search on Orbitz but book on AA.com, Mr Harteveldt suggested. "What Forrester Research has found is half the people who shop on an online travel agent go on to buy from a supplier's site," he said. "So that is an additional challenge American faces. It not only loses Orbitz revenue but the people who don't see the airline at all are less likely to consider it. Not only will Orbitz revenue disappear but so will the other revenue that would otherwise have gone through Orbitz to book directly with the airline."
BTC's Mitchell cited a PhoCusWright report issued in May-2010 saying 87% of travellers start their shopping process on the internet and only 28% of shoppers at online travel agencies end up purchasing on suppliers' websites.
"Consumers who start the shopping process on Orbitz and Expedia before going to airline.com will miss AA offerings and end up on AA's competitors' websites," he said. "This could represent a much bigger number and bottom-line impact than AA was prepared for or is willing to acknowledge. Or, perhaps the 'buy-the-business' discount initiatives represent tacit acknowledgment."
AA may be leading the market
Mr Harteveldt pointed out that the market has already changed. "The risk to the supplier is whether, when they disappear, it will be an out-of-sight-out-of-mind experience," he said. "On the other hand, American has a strong brand and more than 60 million in the AAdvantage programme. It has a strong network. American has ways to mitigate the impact but I'm just not sure it will be enough. It is going to be a challenge for them."
But he went on to argue the flip side of the same coin. "There are ways American can work around it, but to lose a USD800 million piece of business is significant," he said. "American is now the fourth largest airline. It is no longer number one and won't be for awhile. It doesn't rule the air and American's product is not that compelling. American is also facing more competition from airlines like Southwest and Virgin America so travelers have more options. Southwest is going to be expanding with the AirTran merger so it is getting stronger including in the key New York City market where American also competes with United, Delta and JetBlue who are all making pitches to American's corporate travel accounts."
The latter is especially significant since United's and Delta's international alliances are so much more mature than oneworld. Meanwhile, American remains confident that when it comes to the most important business markets, oneworld has an edge.
Mr Harteveldt wondered about the impact of British Airways/Iberia/American codeshares and whether that may be an additional back door in booking American. What happens, he asked, to the BA codeshares that are operated by American and whether BA has the ticketing authority.
"That may be one of the strategies it plans to use in mitigating the Orbitz loss," he said.
American told CAPA that AA flights as well as AA-marked flights, codeshares, are off Orbitz. However, a BA or IB flight purchased on Orbitz that is part of the joint business agreement would result in revenue being shared with American.
Consumer impact
While those opposing American may be on the wrong side of the argument when it comes to the business side of the issue, they may have something in their point about the impact on the consumer.
Consumer advocates call American's move a blatant attempt to soak consumers. "At its core, this dispute has nothing to do with business agreements, legal arguments, or distribution technologies," said Consumer Travel Alliance Director Charlie Leocha. "This is simply a heavy-handed attempt by American Airlines to prevent consumers from easily searching and comparing its fares against those of other airlines. In short, the only 'direct connect' American really seems to want is a 'direct connect' to consumers' wallets."
In a twist on American's marketing slogan – We know why you fly – Mr Leocha said: "American appears to have no idea why we fly. We fly to get from point A to point B in the most convenient and cost-effective manner possible. We don't fly to be manipulated by proprietary airline reservation systems that limit our choices, prevent comparison shopping, and hide the real cost of travel. American should end its strong-arm tactics and abandon this anti-consumer direct connect program."
BTC's Mr Mitchell agrees. "The stakes in this conflict are clear: either an improved airline industry and distribution marketplace centered around the consumer, or one that subordinates consumer interests to the self-serving motivations of individual airlines endeavouring to impose their wills on consumers and the other participants in the travel industry," he said. "Single-supplier, direct-connect proposals, like the one advanced by American Airlines, can cause massive fragmentation of airfares and ancillary fees depriving consumers of the ability to compare the total cost of air travel options across all airlines."
Mr Mitchell also pointed out over the course of the last year, American has repeatedly changed its rationale for why Direct Connect is needed, arguing at various times that it is about cost containment, product customization and technological innovations, among other reasons. Even so, it is really about all three.
"When an airline must constantly change its rationale for implementing a programme, or in the case of Orbitz, resorts to threats to gain acceptance of a new business model, it vividly demonstrates that there is in fact no unmet market need requiring a solution," said Mr Mitchell. "Whether in North America or Europe, what American Airlines is selling, nobody in the downstream distribution chain, to BTC's knowledge, is saying they want."
He also reported interim results from an on-going survey of corporate travel managers
94% of surveyed travel managers indicate access to all airfare and ancillary fee information is either indispensably important or very important for their corporate managed travel programmes.
87% believe that in advocating its Direct Connect strategy American Airlines is endeavoring to secure higher fares by undermining the independent travel distribution system and corporate managed travel programs and by driving more consumers to AA.com where comparison-shopping, expert advice and corporate travel policies are non-existent.
88% of travel managers who oppose American Airlines' Direct Connect believe that the programme will result in fragmentation of airfares and fees and that without access to all air travel options travellers will pay higher prices.
98% do not support American Airlines' Direct Connect strategy.
The National Business Travel Association agrees with Mr Mitchell. "American Airlines' decision will lead to higher prices and confusion for corporations, business travelers and consumers alike," said said NBTA executive director Mike McCormick. "Travelers wanting to fly American will now need to bounce back and forth across multiple websites to book a trip. American's decision does nothing to help business travelers or their employers – it adds an unnecessary obstacle to smooth business travel booking and will lead to higher costs in the end. NBTA believes it is critical to maintain a fair, transparent and competitive buying environment for business travel, and American's decision is in direct opposition to this goal."
Future trends
While observers watch the events between American, Orbitz and Expedia battle to own the customer, at least one expert on consumer behavior is applauding American's strategy, calling it a "brilliant, long-term move".
"I like their strategy," Mr Billeter told CAPA. "Why not recover the fees they pay? The global distribution systems and Orbitz and Expedia only facilitate the notion that price is the only thing that matters. One of the reasons I like this is because it could put marketing back into some of decision making from a consumer perspective. This could lead airlines to invest more in customer service. At least that is what I hope this will do."
He explained that under the current distribution regime the only thing a consumer sees is price and schedule, marking the only comparisons during the decision making process. "So airlines are competing on price and the OTAs and GDSs are reinforcing that," said Mr Billeter, who once worked for US Airways. "That removes the incentive for airlines to market their brand or focus on customer service. Of course, they have some incentive to do that but price and schedule are such a huge driver in the decision-making contest. When passengers are sitting there making up their mind once they get the price, they reflect on what their experience was on their last flight. That's where customer service comes in."
He noted that when consumers are driven to the airline's website then loyalty plays an increasing role in the decision. "If they are asking what websites they are going to search, their question then becomes who they are loyal to," he said. "If you change some of the consumer choices you'll see more airlines investing in customer service."
Clearly, competing on customer service has worked for Southwest so an emphasis on customer service can't come too soon for the beleaguered coach traveler who has been left in the dust as airlines focus on business and first in pouring on amenities. Many travellers are saying the real test of customer service is how airlines treat their least lucrative travellers rather than how they treat their best customers. After all, with all the ancillary fees, these least-lucrative travellers, as Mr Harteveldt pointed out, are becoming more meaningful to the bottom line.
Considering that ancillary fees accounted for all the third quarter profits, it is more than ironic that, despite all the hard work managements have devoted to making airline business fundamentals better, they have still failed to change the industry fiscal dynamics as much as ancillary revenues.
Mr Billeter called the OTA and GDS fees a relic of the past and likened it to the travel agent where someone else pays them to do the search for you. He sees the pending Google-ITA merger the next step in travel search.
"Google has proven it can make money by offering free search and I think you are going to see distribution move in that direction in the long run, especially now that it has proposed to buy ITA," he said. "That is yet to be seen but Google is sitting on a lot of cash providing free search and has now decided to enter this market and throw its resources in that direction. That is a game changer. GDSs can keep clinging to fees, but, in the long run, if Google wants to come in with free travel search, they have a way of getting customers to participate. It will be a big change and it may not be too far in coming. They will have the infrastructure by purchasing ITA and will probably invest more resources in continuing to improve. They will take the next step and could change the whole market in terms of customer search. It will be a fun thing to watch how all this shakes out."