Crunch time ahead for Air New Zealand
Analysis
Air New Zealand, despite its small size, has consistently performed well in recent years, boxing well above its weight in a highly competitive marketplace. And its 2008 full year results are no exception. The carrier unveiled a 1% reduction in net profit and a 24% fall in operating profit for the 12 months ended 30-Jun-08 - results that were broadly in line with expectations. Margins have been consistently positive over the past five financial years - a credit to the current management team.
Air New Zealand Group EBIT margin and net profit margins (%): 2004 to 2008 (year ended 30-Jun)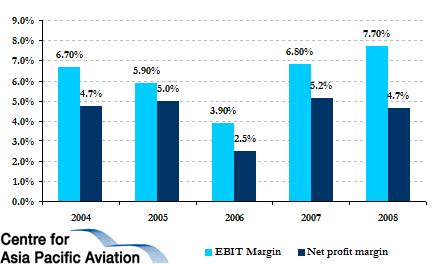 Air NZ ended the financial year in a strong cash position of NZD1.3 billion, armed with a productive work force, a young fleet and a cost and revenue effective international and domestic network.
Air New Zealand Group revenue growth and operating costs growth (% change year-on-year): Years ended 30-Jun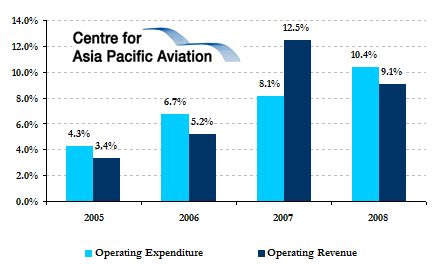 Operating revenue was up 9.0%, while pax numbers grew 5.6%, a yield improvement mainly due to currency fluctuations.
Air New Zealand's passenger numbers (millions) and passenger load factor (%): 2004 to 2008: Years ended 30-Jun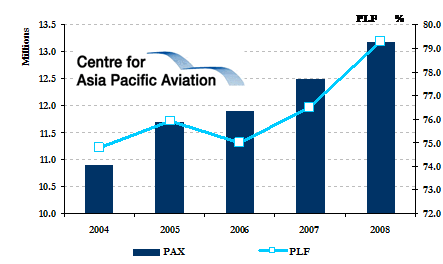 The government-owned New Zealand flag carrier has achieved some mighty feats, battling much bigger competitors and suffering the geographic realities of a home base which is 3,000 km from its nearest neighbour.
That's the good news. The airline's shares have fallen 36% this year (more than double the 17% drop of the benchmark NZSX-50 index), as investors feel - justifiably - and sense of foreboding about the outlook.
For much of the carrier's future will now be determined by factors over which it has no control: changing traveller preferences; the level of competition in the market; the ability of the airline's Treasury division to meet the challenges of future fluctuations in oil; gyrations in currency markets and an economy that appears headed for recession. The strength of the NZD against the US dollar has helped during the recent period, but that is not a given for the future.
Rising capacity in an environment of high fuel costs would be foremost in the minds of investors - and of the airline's management. Several markets crucial to Air NZ are under threat. Pacific Blue is launching an aggressive trans-Tasman expansion next month (in addition to its domestic service roll-out), V Australia is commencing trans-Pacific services by year-end, with connections over New Zealand, Thai Airways is likely to re-route Bangkok-Auckland services via Sydney or Melbourne. This latter would be a significant blow to the local tourism industry and will stifle one of the better (and cheaper) access routes for European tourists to the land of the long white cloud.
Emirates will also upgrade service to much larger A380s to New Zealand from early 2009 and could fill some of the void left by Thai Airways in longer-haul source markets. But there are inevitable pressures from Air NZ's majority owner to fill gaps like the Thai and EVA withdrawals from the New Zealand market.
Australia stands as Air NZ's biggest strategic opportunity and threat. An opportunity because of its size and importance as an inbound market - still with considerable growth potential.
GDP per capita (USD)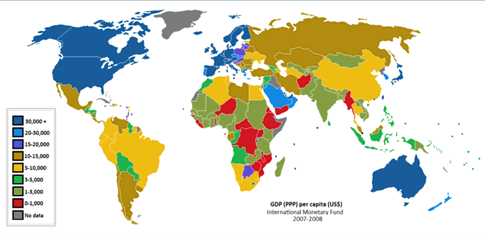 But it is a threat because Australian airlines have a scale advantage and have much more capacity entering their fleets in future. The fleet order figures below gives a picture of future market dominance.
Boeing and Airbus fleet orders: Australia vs New Zealand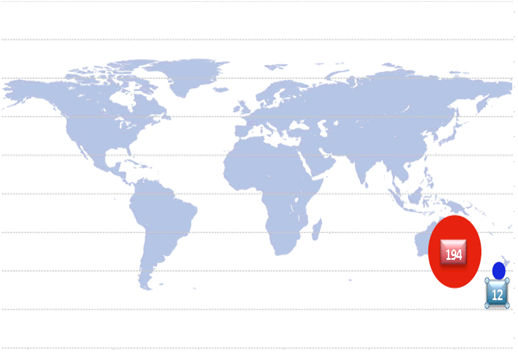 Demand is slowing. CEO, Rob Fyfe, stated that the carrier saw load factors begin to weaken at the end of the financial year, "as a result of increases in ticket prices introduced to cover higher fuel costs. He added, "we are acutely aware of the need to stimulate demand and will continue to sharpen our domestic and short-haul prices". As short-haul capacity continues to surge, the outlook for yields in short-haul markets is concerning.
Air New Zealand's modus operandi in recent years has been small, tactical changes, following the disastrous play for Ansett at the start of the decade. This 'quick and nimble' philosophy has helped rebuild the balance sheet, and with implicit government support, has laid a solid foundation for steady expansion. Under the airline's current management and New Zealand Government, no abrupt changes to the carrier's current strategy are likely.
Air New Zealand's passenger yield (NZD cents per RPK) and passenger traffic (RPK) growth (% change year-on-year): Years ended 30-Jun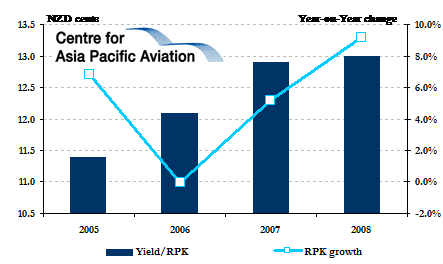 Based on careful hedging and network plans, Air New Zealand expects to operate profitably in 2008/09, if the average price of fuel stays below USD140 a barrel. But large-scale competitive shifts in the aviation sector are set to overtake and further marginalise the carrier over the medium to long term. An unfavourable combination of just a few of the external variables could see Air NZ turn quickly into negative territory.